Creativity, In-store Experience, Transformation
3D Printing: Bringing Retail to Another Dimension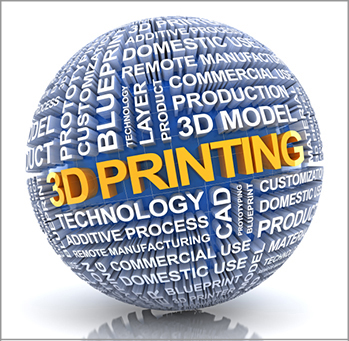 Everyone knows that the retail landscape is constantly in flux. Generational and cultural dispositions, social attitudes, and customer expectations change all the time, and the ways in which retailers frame the shopping experience to accommodate these changes are always on display. But the biggest paradigm shifts in our industry always come from advancements in technology—and sometimes those advancements do more than change the way we do business.
Enter 3D printing. Once a prohibitively expensive niche technology used exclusively in the early stages of the design cycle, 3D printers have recently become a lot more affordable—and they're on the cusp of bringing some really cool developments to the world of brick-and-mortar retail. We've summarized the four biggest effects 3D printing will have on how we sell and how we shop.
Personalization & Customization
More than anything, customers have always wanted and will always want entirely unique products and experiences—and 3D printing is going to deliver on both. As the ultimate DIY technology, 3D printing allows end users to play a role in designing the products they purchase. Don't like something about what you see on the shelf? Go ahead and change it. Make it your own before you own it. 3D printers turn one-size-fits-all into one-size-fits-you. No two ears are the same size and shape, so why not mold the earbuds we use to listen to music to fit our own ears? Well, there's a company right now doing just that with 3D printing. The technology will also result in some serious savings on cost—and time—for services like the alteration and production of clothing.
Direct Digital Manufacturing
Need a screw to hang a piece of art on the wall? New frames for your sunglasses? Maybe a replacement part for your car? This is all stuff that can be produced right now with a 3D printer. Imagine what it'll be like in ten years! Direct digital manufacturing (DDM) puts manufacturing in the hands of the end user, and anyone who doesn't own a high-end printer will still have easy access to one—at their neighborhood retailer. Whatever a customer needs, retailers will be able to print right then and there. Just imagine not having to deal with the monumental costs of manufacturing, distributing, and maintaining finished goods inventories! Retailers are also going to take full advantage of all the ways in which 3D printing can dazzle the senses. They'll harness the technology for everything from advertising and promotional materials to displays, signage, and fixtures—all of which is sure to bring some exciting changes to the in-store experience.
Products / Services
The ubiquity of 3D printing will mean that big-box retailers will shift from being product-centric to being service-centric. They'll devote entire sections of their stores to printers and hire staff to guide customers through the process. This will result in a kind of reverse showrooming, where customers will find something they need on their cell phone and then go to their local store to have it printed. As mentioned, the flip side of that coin is that retailers won't need to devote all that space to inventory—because supply will equal demand.
Raw Materials
With the proliferation of 3D printing, demand will shift from end products to the materials those products are made out of. Right now, most 3D printing utilizes nylon plastics (of which many incorporate reusable materials), but who knows what the future will bring? As printing capabilities expand, so will markets for the "ingredients" we'll need to feed into those printers, causing seismic shifts in the cost and availability of raw materials. We're already printing everything from chocolate bunnies to artificial internal organs—so the possibilities are pretty much endless.
So, what do you think? How can 3D printing improve the ways you engage and delight your customers?
Let's Create a Meaningful
In-Store Experience!