Strategy, Creativity, Pop-up Retail, In-Store Marketing, Consumer Behaviors, Case Studies
A Decadent Experience: Lexus Merges Culinary and Cars for a Magical and Surprising Retail Pop-Up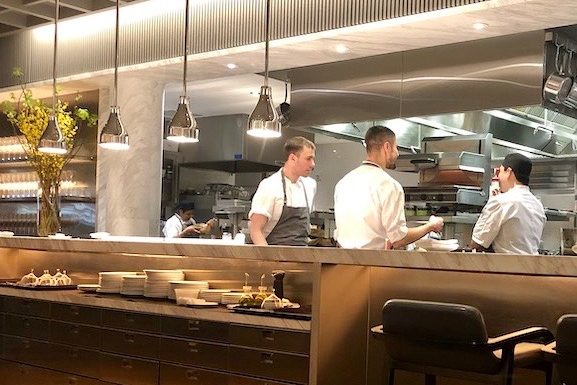 A delicious fluke crudo. A crisp Sancerre pairing. A sleek open kitchen. And…a luxury car? This is the exciting and unique retail pop-up experience that Intersect by Lexus created.
Lexus recently partnered up with Union Square Hospitality Group – the brainchild of legendary restaurateur Danny Meyer – to create a fine "dining car" showroom. The restaurant, which has a ground-floor café, a top-tier service staff and an immersive art installation at the top, will rotate executive chefs every six months. When we went, famed Parisian chef Gregory Marchand was in charge.
According to the restaurant's site, it "is a place where creative minds meet and share ideas; where inspired people intersect with sublime expressions of culture to experience the amazing. Neither a dealership nor a traditional retail space, Intersect by Lexus is a place for guests to be entertained, inspired and educated."
And we certainly were inspired. Here's what we learned from this unique experience.
A smart partnership
The culinary world is no stranger to retail pop-up. For years, professional chefs have been hosting pop-up restaurant events. In a world where restaurants are incredibly risky real estate investments, temporary pop-up culinary experiences are a genius alternative to long-term rent – just like with retail.
Joining forces, Union Square Hospitality Group and Lexus created a new realm of pop-ups. And while Intersect by Lexus is a permanent restaurant, it has the feel of a pop-up with the chef rotation and artistic installations. Think Bloomingdale's Carousel but with caviar and wine.
There's no physical car (for a time there was, but it was swapped out for a different tire-like installation), but you still feel elements of the automotive. Maybe it's the wall of toy cars before the bathroom. Or the black plates that resemble tires. Or the decorative car parts that guide you up the stairs. Either way, you can feel it subtly as the restaurant walks a fine line between providing an experience and outright selling.
So why does this work?
It's pretty simple. Food has always been an important element for retail pop-up. You want to give your audience a memorable experience – and what better way than through delicious and exclusive food?
It's about the sensory experience. Now, whenever an Intersect by Lexus customer has a delicious meal or sees a Lexus car, they're transported back to a fabulously memorable experience – painting the brand in a positive light. [bctt tweet="The next time they shop for a car, the major difference between a BMW and a Lexus will be that meal." username="medallionretail"]
Know your audience – and yourself
What seem like disparate and possibly conflicting brand concepts marry perfectly because of one thing: luxury. It comes down to knowing your audience. A consumer who buys a Lexus is likely a connoisseur of everything luxury. They frequent world-class restaurants and pursue the best experiences the world can offer. So when you think about it, the pairing makes sense.
Lexus also dug into their brand's mission. "At its heart, Intersect by Lexus is a manifestation of Omotenashi, a Lexus core value characterized by an unwavering commitment to exceptional hospitality. The spirit of Omotenashi is one of absolute consideration to ensure that Intersect by Lexus and its staff are completely in tune with and can anticipate guests' needs before they even arise."
Unparalleled customer service is a pinnacle of fine dining. And at Intersect by Lexus, the staff certainly provided it.
This is not to say that every brand should aim to create a restaurant concept worthy of a Michelin star. But food has its place in retail. A retailer brand selling trendier products like Five Below could consider a pop-up with a purveyor of great "fun food" like Roy Choi and his gourmet Korean BBQ food truck. It's a fantastic opportunity to be truly creative with a surprising partnership.
Reeling in attention
When's the last time you visited a car dealership for fun when you weren't in the market for a car? Now think about the last time you went to a restaurant. A good dining experience is something consumers want again and again. And even if they're less inclined to visit the same restaurant more than once (variety truly is is the spice of life!), the rotational chefs invite people to come back.
It's also newsworthy. The New York Times restaurant critic Daniel Krieger wrote a review – giving Lexus a new and interesting sphere of influence with food readers. And he'll likely be back when the next chef swings by for a residency. Our guess is that there's a high correlation between NYT readers and Lexus buyers!
On the top floor there's also a space for artists. The latest exhibit was an interactive, tech-heavy piece where audiences could see their own auras. So now there's opportunity for art sections to cover the space. And most importantly, there's potential for shares on social media (with lots of   Lexus tags). How often does this happen for car dealerships?
The bottom line is that this idea seems almost silly (cars and fine dining, who would have thought?), but it's actually sublime. It's brand awareness. It's experiential retail. It's a seamlessly brilliant campaign.
Reach out to Michael Decker or me at Medallion Retail at engage@medallionretail.com.
What's a surprising retail partnership that you want to see play out in real life? Comment below!
Ready to connect to your customers in a more meaningful way?
CONTACT OUR TEAM