Strategy, Creativity, Retail Marketing, Case Studies
Athleisure Isn't Going Away, It's Going Up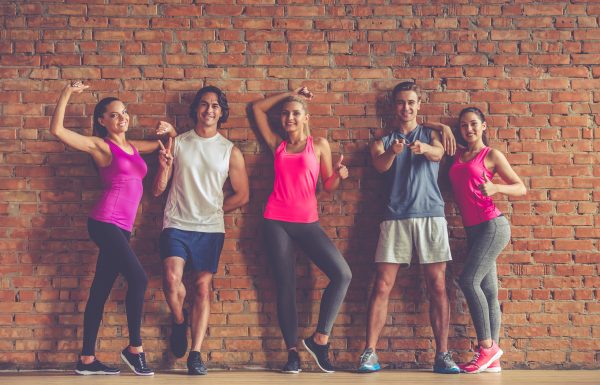 Sports brands aren't just for athletes anymore.
Athleisure has been disrupting the sports and fashion industries for some time. But now this trend is gaining massive momentum beyond the confines of these two sectors.
In 2016, for the first time ever, leggings outpaced jeans in online sales, marking a huge shift towards athleisure casualwear. Consider that for a minute – it's quite a shocking statistic.
This is a huge opportunity for the sporting goods and athletic apparel market: a wider audience means more potential for sales. To properly capitalize, sports retailers need to follow the athleisure example of inclusivity.
Broadening the lifestyle reach
LeBron James. Serena Williams. Tiger Woods. These elite athletes are all tied together by generous Nike sponsorships, marketing the excellence of the brand through their excellence on the court (or course).
But a lot of athleisure brands are disrupting this mentality.
In an interview with Vogue, Outdoor Voices founder Tyler Haney said, "With Nike and so many other brands, it's really about being an expert, being the best. With us [Outdoor Voices], it's about how you stay healthy – and happy."
[bctt tweet="Such is the idea for many trending athleisure brands: they're for everyone, not just all-stars." username="medallionretail"]
Walk down the streets of Manhattan on a work day and you'll see men on their way to the office wearing sneakers and women in leggings with sweaters. It's become ubiquitous: people are now donning athleisure clothing at work, parties and more.
Lululemon's men's pants are comfortable, stretchy and sweat-resistant. And with belt hooks lining the top, they'd pass the country club dress code. Tucked within a slew of leggings and sports bras, Gap-owned retailer Athleta offers simple dresses, many of which are trendy and stylish enough for the office – or a night out.
Lifestyle isn't just limited to apparel in this space. A lot of these brands are ramping up their experiential offerings, hosting fitness classes both in-store and out. Outdoor Voices has kayaking, jogging and meditation, while Lululemon has been hosting yoga classes for years. It's all part of establishing athleisure as a lifestyle – not just something you wear.
Amplifying personalization of displays
Athleisure brands like Fabletics and Outdoor Voices have solidified themselves as accessible to all – athlete or not. Their inclusive nature plays out well in their branding and store set-ups. My family is a perfect example of athleisure brands' inclusiveness. I recently bought a pair of Athleta linen pull-on pants only to have my mother anddaughter both say they wanted the same pair for their wardrobes.
But larger sporting goods retailers have a lot to learn from the democratization of audiences.
As it stands, non-athletes who walk into a sporting goods store looking for athleisure clothing can feel alienated rather than aspirational. Everywhere they look, there are hardcore athletes on display, pro players as brand partners and an intimidating, overwhelming organization of products.
Non-athletes looking for running shoes or leggings for everyday wear will be more inclined to shop online or reach for a more inclusive athleisure company that speaks to everyone.
To combat this, sports retailers need to appeal to a wider audience through displays.
Take a page out of the fashion retail book: develop fictionalized shopper personas (the dedicated athlete, the comfortable dresser, the occasionally active consumer) and create customized displays that fit the distinct needs of each one. None of your in-store displays should alienate any of your shoppers!
Show men pairing sneakers with casual wear, or a woman in yoga pants sitting in the park; show the business traveler who needs clothes that serve double duty, looking sharp on a plane and at the hotel gym. The athleisure merchandise is already in the store. Retailers just have to display it properly to entice this wider audience.
Pushing sports gear into daily life
The opportunity for inclusivity doesn't stop at apparel. We live in a health-conscious era. Pharmacies are now wellness hubs– and sporting goods stores should be, too. Sports and activity are gateways to health.
Water bottles are lifestyle must-haves (with an expected market valuation of $10.19 billion by 2024). Fitness trackers are wellness diaries. Gym supplements are normal daily additives. And all of these are offered at sporting goods stores.
Dick's Sporting Goods has sections dedicated to electronics – not TVs or phones, but accessories like headphones, watches and speakers, that all encourage an active lifestyle.
In any sporting goods store, these products need to be part of the "Regular Joe" displays – targeting anyone who wants to live a life of leisure and activity.
At the end of the day, the sporting goods industry needs to take another look at the audiences they're missing, and reassess their in-store displays and organization to follow the shift to inclusive, healthy lifestyle over aspirational performance.
Need help revamping your in-store messaging and displays? Medallion Retail is on your team. Reach out to Michael or Chris today at engage@medallionretail.com.
Ready to connect to your customers in a more meaningful way?
CONTACT OUR TEAM