Creativity, Social Media Integration, Pop-up Retail, In-Store Marketing, Case Studies
Beautifying Experiences: Tech-Savvy Services Boost Beauty Retail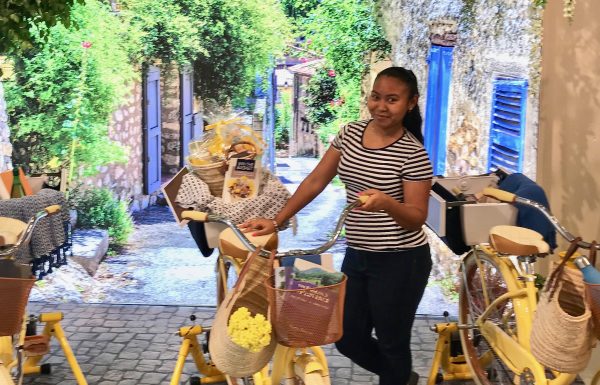 Beauty retail is booming. Of all retail sectors, it's the one that appears unstoppable, pushing the boundaries of what is possible in brick-and-mortar shops.
The greatest way we see beauty retailers innovating right now is through the marriage of tech and service. The biggest names in beauty – Sephora, Ulta, Target, Macy's – are all battling it out to give their shoppers unforgettable experiences. And it starts with tech.
Getting back to the consumer
We know that customer service capabilities rise with tech. The more tech support you have, the more time staffers can spend helping customers instead of stocking shelves. But beyond just taking care of menial tasks, innovative tech options have become service products themselves. "Try-on" app technology is the first frontier in beauty.
Macy's  just launched in-store kiosks powered by virtual mirror technology across 50 stores nationwide, allowing customers to digitally try on over 250 of their beauty products. It's all part of their ambition to become the place for beauty – reclaiming a position they held for generations.
This digital test technology has a lot of benefits. Retailers can reduce inventory by cutting down on the amount of product needed for sampling. Shoppers don't have to deal with lipstick stains on wrists or streaks of foundation on their hands, and no one has to worry about lip and eye product contamination. And big bonus: tech is also fun. Have consumers take a picture, try a makeover and maybe even post the selfie on social media with a branded hashtag for good measure.
Target is going even further. Beyond their AR screens in ten stores (with more to come), they're offering the same technology online and via mobile for a greater reach. The mass merchandiser is also complementing this technology with beauty experts ready to answer questions in-store and via text or chat.
Industry leader Sephora isn't slowing down either. The retailer has launched two Studios in the past year, in Boston and Hoboken, with a third that just opened end of September in trendy Williamsburg, Brooklyn this fall. These concept shops boast virtual AR technology, plus a scannable Color IQ to match foundations and concealers to consumers' skin tones.
But Sephora is amping up their service offerings even more. Beauty Studio Check-In allows for online reservations, their Client App is available for quick customer service and mobile checkout, and they have countless concierge services – all key ingredients in the recipe that's driving their momentum.
Personalized, memorable beauty experiences
[bctt tweet="Technology doesn't just enhance the shopper experience with helpful services – it has the power to amplify each moment." username="medallionretail"]
The purpose of the intimate Sephora Studios and their larger Beauty TIP workshops (Teach, Inspire, Play)is to give consumers memorable experiences that are tailored to their wants and needs.
L'Occitane en Provence is also going all in. The French beauty company launched a new flagship NYC store (which we had the opportunity to see in person) is all about the shopper experience, and it's using tech to do so.
The store features a social media area of inviting yellow bikes in front of a Provence backdrop for Instagrammable pics that are featured automatically on a live video feed. There was a long rain-shower sink to test out hand products – not technically tech, but experiential nonetheless.
But the real kicker was a virtual reality (VR) headset that transported audiences to a 360-degree hot balloon ride over the South of France. The VR was great, but L'Occitane connected the senses even further, offering simultaneous hand massages with lavender products, using scent to transport the shopper to lavender farms. Overall, the experience was memorable – and something we haven't experienced elsewhere. So is the tech worth it? We think yes.
Retailers shouldn't sit on their haunches, though. One opportunity to improve consumer experiences would be to expand the VR moments. Diverse, rotating experiences can keep your products alive – and get the shopper to come back again and again. So why not take the consumer on a VR journey through an orchid garden with a real-life spray of Néroli & Orchidée Eau de Toilette? Or show how shea tree nuts are turned into the shea butter that constitutes many of L'Occitane's hand creams?
More than tech for tech's sake
The increase in tech capabilities is a great thing all around. We've written extensively on the topic – and we're excited for what's to come.
The technology that you use in-store has to work seamlessly with your brand and the story you're trying to tell. Consumers are ready and willing to enjoy a plethora of tech-driven experiences. But it's easy for these to become overwhelming. A slew of unnecessary tablets and excessive VR/AR excitement can distract from your ultimate message.
You need to think about what you want the shopper to take away from the experience (and we're not talking swag bags). For L'Occitane, the goal was to give consumers a memorable experience driven by the senses – and they did. The VR experience of soaring over the fields of Provence would have been cool, but by tying it together with the luxurious scent of the lavender hand massage they elevated the total experience (emphasis on total) and product benefits. Anytime the buyer puts on the cream at home (or anything else that's lavender scented), they are transported back to the moment of flying over the fields.
Moving forward, L'Occitane would benefit from amplifing the signage around the experience and clearly pointing consumers toward the VR section, creating teaser signage to guide the way. They could also boost the sensory moment by separating the VR area from the rest of the store, giving consumers distinct, fully dedicated interactions.  We loved the overall experience, regardless!
Technology has the opportunity to significantly impact the shopper experience, and we anticipate seeing it in-store and online in a seamless way more and more. To get there, retailers need to rely on innovative creative teams that enhance each tech experience.
That's where Medallion Retail comes in. We join signage and displays to make in-store tech truly shine and reach its full potential. Get started with beautiful ideas today by reaching out to Michael or Chris at engage@medallionretail.com.
Ready to connect to your customers in a more meaningful way?
CONTACT OUR TEAM