Strategy, Permanent, Temporary, Corrugated Display, Retail Marketing, In-Store Marketing, Retail Display
Bringing the Power of the Beauty Vloggers In-Store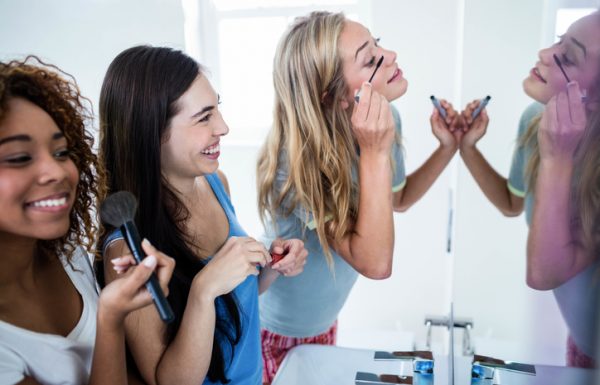 Vlogging, or video blogging, is revolutionizing the beauty market. Social media influencers with YouTube channels and Instagram feeds are raking in funds – often enough to subsidize an entire career – to make videos promoting brands. Beauty vloggers dedicate hours to craft videos where they demonstrate makeup trends and hairstyles and do brand comparisons. In turn, consumers spend hours online devouring the content.
[bctt tweet="Health and Beauty retailers and retail brands need to start leveraging the beauty vlogger phenomenon and bring its impact in-store." username="medallionretail"] Because unlike online, brick and mortar holds a big advantage: the ability to experiment, see colors, and feel textures without first having to purchase.
 Leverage displays to educate, demonstrate and inspire
It's time to bring these brand–vlogger partnerships to life – and offline. Incorporate these videos into your display and seamlessly integrate the social media into your retail space.
One of the benefits of using social media influencers is that they're seen as everyday people. They're not necessarily professional makeup artists – they're self-made. This makes them more approachable and relatable. Consumers trust them more than pros and look to them for "real" advice. Their less-than-perfect model looks, along with the absence of high-priced budgets, make them accessible to a wider audience that is hungry to be inspired and primed to be taught.
To segue from online to in-store, you have to be strategic. At home, consumers may watch a 3-minute video, but they're much less likely to do so in the middle of your store. Create short, 30-second teaser videos that link to longer online tutorials.
The content should amplify trending looks. For example: feature three products to perfect this season's "no-make-up" natural look. Contrary to its name, to achieve this effect takes a lot of skill! Use a popular vlogger to demonstrate how in a quick video. Follow through with counter cards and a link to the longer tutorial or your video channel.
Bring vlogger videos to life with in-person experimentation
Even more than just watching videos for beauty tips, consumers are using vlogs to get product recommendations and to really see how products work best. Beauty products are such an important part of daily life – and are often considered an investment in confidence – that consumers want to make sure they're making the right decision. At $36 for a high-end lipstick, $65-plus for foundation and up to hundreds for moisturizers, consumers are wary of making an expensive mistake.
Stores already provide tester tubes, but it's time to tap more into the experiential and interactive. Sephora has been vastly successful at this in the past few years with their new Beauty TIP and Sephora Studio concept shopsthat hone in on the customer experience. The stores have dedicated tables where consumers can try and experiment with products, and get full-hour consultations from beauty advisors. Sephora also offers educational classes for smoky eyes, teen makeup, false lashes and more.
But there's opportunity to go further. Beauty can be very social. Before big events, women (and even men!) often get ready together and share tips and products to look their best. Group classes geared toward friends – like a wine and painting night, but instead with margaritas and makeup – can be an exciting evening out where consumers learn about trending makeup styles and try out new products. Better yet, bring in vloggers to lead the groups. You'll be able to take advantage of the currency of their influence with social media promotions.
Pump up the excitement for events that address seasonal needs: bridal and wedding party looks, pre-prom preparation, and quinceañeras and sweet sixteen parties. Complement your teams of in-store make-up artists with a guest vlogger. If you're cramped for space or want to create a special atmosphere, install a mobile pop-upright outside your doors. And be sure to include a lead-in to your bigger permanent structure.
Beauty shoppers think of the products they buy as a source of personal expression, and take purchasing seriously. These shoppers want more than ever before. Go beyond by offering exciting new experiences and opportunities for brand experimentation with trending social media personalities. Vloggers are a thrilling way to leverage online reach and draw consumers in-store.
Learn more about the intersection of in-store and social media for beauty displays by emailing Michael Decker at engage@medallionretail.com, call 212-929-9130, or check out our portfolio at medallionretail.com.
Ready to connect to your customers in a more meaningful way?
CONTACT OUR TEAM