Strategy, Brand Positioning, Retail Marketing, In-Store Marketing, Case Studies
Clicks and Bricks: The Smartest Mix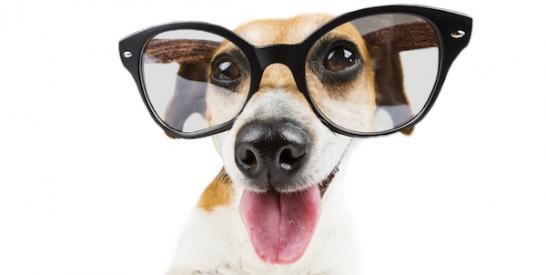 What do black horn rim glasses, impractical shoes, sensible slacks, a mechanical pencil and a shirt scattered with flowers have in common?
Two things:
I wore them all in my eighth-grade class photo.
They are top products sold by online retail brands that have done a superb job of creating a brick-and-mortar presence.
Brilliant thinking. Not by me, clearly. By Warby Parker, JustFab, Bonobos, ThinkGeek and ModCloth.
These brands understood that the synergy between online and brick-and-mortar shopping experiences is now critical to retail success. The future is "All Channel."
Why is it a smart idea for online retailers to create an offline presence? Seven reasons:
When people experience products in person, they're more likely to buy them. Holding the product in one's own hands can also help dismiss doubts, and convince a shopper that she is making a good choice.
Customers who pick up and exchange items in store tend to buy even more stuff. Click & Collect (buying online and picking up in store) is very popular, both with customers and retailers. People with complex working hours like the convenience of product pick-up. Retailers like this offline approach because it's good for business: according to UPS's 2015 research Pulse of the Online Shopper, 45% of customers who click and collect end up buying extra products while picking up their order in store.
In-store returns can be ideal for shoppers and retailers. The UPS research reveals that three out of five shoppers would rather return in-store than have to send an item back via mail or courier. At the same time, 70% of shoppers returning products in a physical location end up purchasing something else – making in-store returns a win-win for retailers.
One-on-one customer service increases sales. It's hard to offer a personalized customer experience online. Despite the popularity of online shopping, the human touch is still (and will probably always be) good for business.
Customers demand a brand experience – a Shopper Moment. There's a lot of competition in retail, and it can be hard to stand out, especially online. By moving offline, these retailers build an opportunity to create immersive Shopper Moments. Forward-thinking retailers are not opening physical locations primarily to sell stuff. Their showrooms and concept stores are first and foremost places where customers can be immersed in the brand culture. These retailers know it: in-store atmosphere is a key differentiator for brands, and if done right, it can be a great way to create lasting impressions – and returning customers.
In-store is a great market research environment. Although data collected from the e-commerce store can be useful to understand customers, retailers can learn much about their customers' preferences and habits just by watching them shop and interact with the space and products offline.
In-store shopping will boost traffic to a brand's e-commerce portal. When retailers open physical stores, the traffic to their e-commerce store increases dramatically, say experts. As stores are opened, the online traffic grows; and when the brick-and-mortar locations multiply, so do the numbers of people mentioning the brand and searching for it online.
Ready to connect to your customers in a more meaningful way?
CONTACT OUR TEAM