Strategy, Social Media Integration, In-Store Marketing
Combatting Meal Kits — How to Get the Grocery Shopper Back to the Store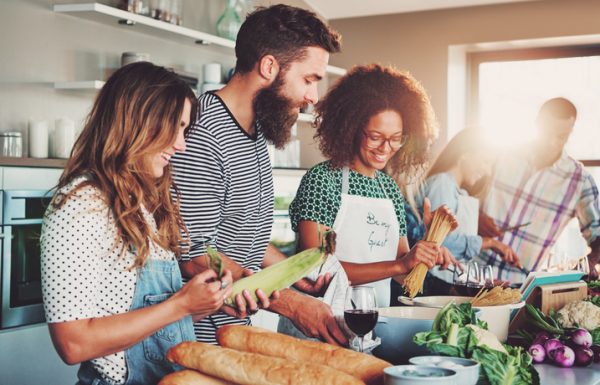 Blue Apron. HelloFresh. Green Chef. The food world is getting a makeover. Meal kit delivery services are waging a battle to take over consumers' kitchens and wallets.
The appeal is clear. These delivery kits eliminate the hassle of a grocery store trip, save consumers precious time, ensure quality fresh ingredients and create a fun cooking experience.
In creating this easy buy system, the meal kit delivery services are allowing consumers to bypass grocery stores. But the war isn't over yet. Grocery stores and food retailers can still fight the good fight to get foot traffic through their doors. Here's how:
Channeling In-Store Shopper Moments™
Today, shopping – whether at the specialty food shop or a supermarket – is all about the experience. Trends and sales numbers show that consumers crave a unique experience – what we call a shopper moment. National retailers like Sur La Table offer cooking classes for aspiring chefs to try out kitchen tools and create a delicious meal. At the local level, Eataly NYC excels at giving customers the experience of eating a scrumptious snack or meal while picking up groceries in its lively marketplace. The Eataly founders have even turned a modern version of the Italian market into a sought-after location for a date night.
Although in-store demonstrations and dining are great options for engaging the buyer, it may not be feasible for every store. Another way to allure the consumer is with the senses, starting with the smell of irresistible foods. Though a lot of chefs say that you eat with your eyes first, your nose picks up on tasty spices and fresh herbs well before you even see a plate.
Physical stores have an opportunity to create a delicious environment full of enticements. Setting up sampling stations so shoppers can smell – and taste – some of their best products is a lucrative way to draw in your consumers. Over a quarter of people who try samples end up buying the product. Not only that, but the value your store gets in boosting the retail customer's experience leads to loyal consumers returning again and again.
Capitalizing on Convenience
Meal kits go beyond the experience of cooking. They're about ease and efficiency as well. To cater to those personas in search of convenience, retailers could take a page out of the meal kit book and organize food in a ready-to-go way.
Let's take a look at Kroger. Clocking in with 2,800 stores nationwide, Kroger is already testing the meal kit trend in 200 stores with the Prep+Pared Meal Kits concept. For the shopper looking for a quick, easy-to-cook meal (plus maybe a few other items while in the store), the kits are a lifesaver. The produce is already cut, everything is in the same box, and it's a fresher, healthier meal than a microwaveable dinner.
Even further, grocery stores could offer a "meal of the week" as Whole Foods is currently testing, and group the necessary ingredients in one convenient display for their shoppers. No need to run around the store looking for everything on the dinner list – these shoppers can just grab-and-go.
Think about how many recipes are actually easy to cook but have incredibly time-consuming and tedious prep. Our family loves a Moroccan vegetarian stew. Throw all the veggies in the crockpot in the morning, and at the end of day you have a super delicious, healthy dinner waiting. The cooking itself is simple – but chopping the vegetables and preparing the ingredients is a hassle. Now, think about a retail display with all these ingredients pre-chopped, arranged together, and united by a free recipe card (or a link to the recipe via the retailer's app). Can it get more consumer friendly than that?
Bonus! Picking up items in store is a lot healthier for the environment, too. One of the biggest knocks against delivered meal kits is the excessive packaging. Do you think it's just a coincidence that Kroger also promotes its commitment to sustainability close to the meal kit section on its home page? Or is it savvy messaging?
At the end of the day, there are many ways for grocers and specialty food stores to combat the rise of online meal kits. It's time to stop thinking of these kits as the enemy of the food retailer. Instead, think of them as a way to get creative with merchandising and retail signage design, and to re-engage your customers with new ideas.
Interested in learning more about retail display solutions that can turn your brand into a dinnertime savior? Email Michael Decker at engage@medallionretail.com, call 212-929-9130, or check out our portfolio at medallionretail.com. We're always cooking up creative ideas.
Ready to connect to your customers in a more meaningful way?
CONTACT OUR TEAM