Creativity, Permanent, Temporary, Corrugated Display, Retail Marketing, In-Store Marketing, Retail Display, Consumer Behaviors, Case Studies
CPG Converts March Madness into Retail Theater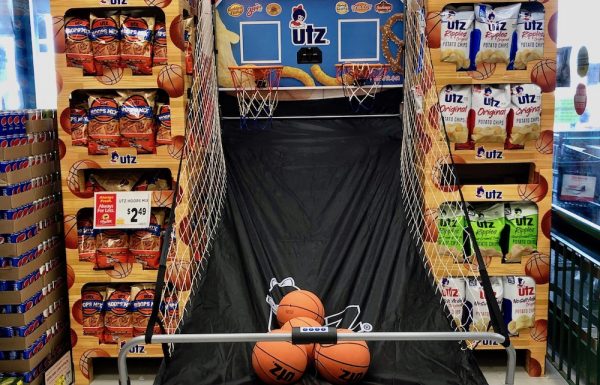 It's coming down to the final wire. We've spent the past few weeks glued to our TVs and live streaming devices, cheering on our favorite college basketball teams. It's March Madness (though it's almost April!), and it hasn't just infiltrated our psyche, it's made inroads in our markets – supermarkets that is. Consumer packaged goods companies know that where there's an emotional hook, there's the potential for launch retail theater (and the sales that go with it!)
Sports tie-ins have been a staple of CPG since Wheaties put Lou Gehrig on their cereal box in 1934. Over the decades, promotional displays tying into football, basketball, baseball, hockey and the Olympics have become almost de rigueur.
But in the last couple of years, displays have taken a more elaborate turn. CPG brands are turning from two dimensional displays – along an aisle or endcap inside the supermarket – to three dimensional, interactive extravaganzas that dominate the entire retail space. We call it retail theater.
In the zone
Perhaps the most obvious examples are in beverages and snacks. The sky-high stacks of soda, beer, chips and candy create entire zones, commanding significant floor space. (Football tie-ins like to use the moniker "zone", especially when it comes the mother of all possible tie-ins, the Super Bowl.) "Party Zone" and "Snack Zone" are just two of the phrases we see used to connect sports fans with their favorite indulgences. You could call it the super-sizing of display.
And it's not limited to a single brand or product line. With so much space, some of the largest players in CPG create multi-brand, U-shaped floor displays or arches. [bctt tweet="Shoppers don't just walk up to a display filled with chips, candy, or soda, they walk into it and under it. In essence, they become part of the display tableau." username="medallionretail"]
What's driving this desire among CPG brands for can't be missed in-store retail displays? Three factors. The first is the internet. With online outlets and home delivery making trips to the grocery store less of a necessity, CPG companies need to capitalize on every opportunity to connect with shoppers when they walk into physical retail. These displays engage and entice like no shelf talker can. And if a shopper has their kids with them – watch out! Kids are the perfect audience for retail theater.
The second driver of retail theater is technology. Advances in engineering and cost-efficient materials such as corrugate have made the impossible not only possible, but affordable as well. Three-dimensional floor displays that were unthinkable a few years ago, either because they were too expensive or too complex to quickly and easily assemble in-store are now in supermarkets across the country. These break-through yet temporary and light-weight structures have changed the game in CPG temporary display.
The third is gaining non-traditional placement in the front of the store or another high visibility area that you might not expect to find a particular product in.  A dynamic display will not only catch the attention of customers, it also provides a highly appealing option to buyers who are on the look-out for something unique, especially during key seasons or promotional windows.
Interactive and entertaining
Which brings us back to March Madness. The NCAA "Big Dance" is one of the heaviest TV viewing periods during the year. With 67 games over 19 days, live game coverage averages 12 million viewers, while live streaming brings in an astounding 69.1 million views. With that kind of dedicated audience over an extended period of time, March Madness presents the perfect time to leverage an interactive in-store display.
CPG brands are jumping on the March Madness display bandwagon, with floor stickers that look like the free throw lane on the hardwood and signage that comes quite close to registered NCAA branding (it's a legal tightrope but can prove to be astonishingly effective). Some companies are even co-opting the beloved "Pop-A-Shot" basketball arcade game and building displays around them. Consumers can stock up on chips while they shoot hoops.
This kind of active engagement instantly creates an emotional connection for shoppers of all ages. Just as grocery stores used to strategically place coin-operated pony rides next to their entry/exit doors for a fun childhood experience, brands are bringing fun inside stores with displays that invite interaction.
Stew Leonard's is one of the pioneers in retail theater. The Norwalk, CT-based grocer didn't create today's large CPG displays, but it did excel at retail theater with singing, dancing and talking animatronic cows, chickens and farmers throughout its stores. It's a shopping Disneyland that generations of families can't get enough of.
Staying power
As a marketer, one of the most appealing aspects of March Madness is the staying power. This year, the first round of games kicked off on March 19. The championship airs on April 8 but that three-week timeframe is a bit misleading. Under the halo of March Madness, league games to get into the NCAA Tourney start weeks earlier. In essence, brands benefit from over five weeks of relevant, passionate, exciting exposure when they tie-into the madness.
This is equivalent to the exposure length afforded by two of the biggest shopping "holidays" – Christmas and Halloween – where displays can be up for 6 weeks or more.
Grocers are facing more competition than ever before. Between online purchasing and curbside/parking lot pick-up, supermarkets need to find more reasons for shoppers to come into their stores, and to maximize purchases per visit. In CPG, as in the entire physical retail sector, the survival of brick and mortar depends on delivering entertaining experiences and creating compelling retail theater.
If you're looking for what's innovative and exciting in retail display, talk with us. Medallion Retail creates retail theater for everything from candy to coffee. Reach out to me or Michael Decker at engage@medallionretail.com or 212-929-9130.
Who do you have winning the NCAA championship?
Ready to connect to your customers in a more meaningful way?
CONTACT OUR TEAM