Strategy, Signage, Permanent, Temporary, Corrugated Display, Pop-up Retail, Retail Marketing, In-Store Marketing, Consumer Behaviors
Discovery and Disruption: Supermarkets Can Break the Routine with DTC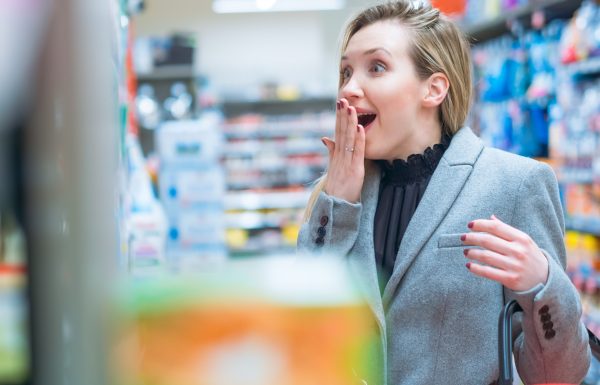 The Routine is Real
No matter how nice a grocery store is, at some point the "been there, done that" monotony of shopping trips can be pretty uninspiring…especially when you realize you've been contemplating salad dressing for more than five minutes. After a while, even the most fervent foodies tire of the weekly slog up and down the supermarket aisles (follow the directional arrows, please!). It's ironic that it's called a "trip" to the supermarket when it's less of a journey and more of an ordinary, repetitive routine.
We're all aware that in retail, the sure way to disrupt the customary is to introduce the experiential—to pull in something new in the forms of browsing and discovery. Experiential retail has been the buzzword of the day for quite some time now and a handful of retailers, including Showfields, have made it their raison d'être. Examining their special take on retail has inspired us to wonder: What if that weekly grind through the supermarket could be disrupted in a small but substantial way? 
We've got an idea for that.
Curated Boutiques for DTC
New York City is slowly reopening again, with Showfields among the businesses welcoming customers back in. CEO Tal Zvi Nathanel recently explained how Showfields's "arts-focused display designs" create a more interactive and engaging customer experience. Showfields, self-proclaimed as the "most interesting store in the world," houses three floors of curated and highly designed pop-up shops. Although the store model is loosely built on the concept of the traditional department store, its philosophy is to "challenge the retail status quo by merging Art + Commerce and reimagine the shopping experience through the eyes of the customer using immersive experiences, great service and discovery." On the brand-facing side, Showfields offers a highly visible platform for digitally native DTC brands to have a presence in the brick-and-mortar world of physical retail.
DTC has long sought methods for brand awareness and customer acquisition, and physical retail is one of those tried and true methods. Physical retail provides a platform for forming direct relationships with customers, necessary for forecasting and responding to consumer tastes and habits, and for providing the customer "intel" required to facilitate product development. While not a low-cost way of achieving market exposure, the burden of operating a storefront is often justified as an investment in advertising.
Establishing a presence in physical retail has often been the last stepping-stone in the path to successful brand-building efforts in the DTC sector because it is the most difficult step to take. Opening a brick-and-mortar store right now, especially, is not viewed as a viable investment option. Retail outlets across the nation have opened and closed their doors in the wake of COVID-19; and as the virus wanes in the Northeast, many consumers remain wary of spending their shopping time in nonessential businesses.
The Supermarket Boom
Among only a few essential businesses, supermarkets and grocery stores have stayed open through the onslaught of the coronavirus. As restaurants quickly closed and consumption patterns shifted to dine-at-home, supermarket and grocery sales increased substantially, so much so that promotions were curtailed to prevent a run on specific products and to keep store shelves filled, according to Market Watch. The rock-solid and unwavering sales performance that the grocery sector became a beneficiary of can be seen as an anomalous gift.
Now, about those ideas we mentioned…
Disrupt the Routine with Discovery
Why not add some surprise and delight for the loyal grocery and supermarket chain customers who have made inroads to shop in store and in person during the good times and the more recent, unnervingly bad ones? Supermarkets stand to gain even more by bringing new experiences in the forms of browsing and discovery to their customers.
Shoppers at large supermarket chains are greeted by empty fronts of store where once there were ATMs, before the convenience of online banking. Supermarkets could take some of that empty space or use a similar area at the front of the store to design an experiential boutique within each of their stores. Taking a page from the Showfields model, direct-to-consumer brands and products could be cycled through the boutique on a monthly or bimonthly basis. This would create an affordable platform for DTC discovery while providing a foothold in physical retail as conditions continue to fluctuate. We've written before about how DTC can utilize pop-up to grow offline, and this is a similar idea. But in this scenario, the financial investment for the sector would be less onerous.
Signage and Display
The boutique would need colorful, energetic signage and displays to break away from the bland supermarket interior. A modular display system could be designed that would be useful for a variety of product sizes and shapes. Signage and print collateral could be enhanced with AR and QR to grant browsers and purchasers access to rich content like video and promotional games and opportunities, which would provide the brand with usable customer data.
This concept would be a win-win-win for the chain, supermarket customer and DTC brand. The chain can enter into a series of short-term leases with their new DTC partners to fill the boutique and offset the cost of creating the space. By building the boutique, the chain enhances the in-store experience for their customer base, who now has the expectation that they'll stumble upon something new and unusual during their usual jaunt in to fill the larders. And the brand that signs on with the chain affordably invests in an opportunity to get their products into the line of attention and hands of an entirely new audience.
A Different Path to Customer Acquisition
There is no shortage of stories about brands being innovative and pivoting for greater success during this time. Emerging wellness and fitness brand Ghost Flowers is one of them. Susie Peebler, geophysicist and active lifestyle enthusiast, started Ghost Flowers after becoming injured. Opting for rehabilitative care through resistive stretching and yoga rather than surgery, Susie began tracing the lines of the energy meridians that are used in acupuncture and traditional Chinese medicine on her workout clothing. She quickly realized that she could design beautiful activewear with a deeper purpose by incorporating these same lines into her designs. What we find relevant about the Ghost Flowers story is that Susie launched her business with trunk shows, distributing her product to local boutiques and holding home shows. And like our supermarket boutique concept, all are reliable methods for introducing a specific audience to a brand or product.
Medallion Can Help
Next to COVID-19, changes in customer behavior are the second most powerful force driving and shaping the retail market these days. It will be the companies and brands that acknowledge and react to these changes with a clear vision and strategy that will emerge most successfully. In June, former Unilever marketer Keith Weed remarked to global media platform The Drum, "Brands are pivoting and finding new ways to keep themselves relevant and engaging. If you don't show up in customers' lives you'll lose relevance and they'll forget about you."
Throughout our 50-year history in retail, Medallion Retail has seen markets fluctuate and has witnessed the corresponding changes in consumer behavior. We bring this expertise to our work in helping companies and brands remain relevant and customer-focused during difficult times.
Call Chris Gordon @ 646.677.5618
Ready to connect to your customers in a more meaningful way?
CONTACT OUR TEAM