Strategy, Creativity, Retail Marketing
Documenting Creative Success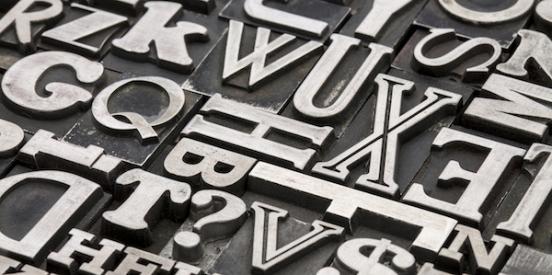 The red carpet has been rolled up, the awards distributed and the paparazzi have long gone. The lights come up and the beautiful cinephiles stand and stretch and discuss the dynamics of filmmaking and documentaries as they stride out of the theater. That is how a film festival, particularly one with a focus on documentaries, ends.
Or you just lose the Apple TV remote.
Either way, the illustrious Inspired-by-Film Festival is over.
I learned a lot, sitting in the dark and letting great stories and words and images wash over me through expertly crafted documentaries. But I'm probably like most people in advertising, design or marketing; I'm rarely content with the knowledge I have. I always want to know more.
I want to know so much and be so great at what I do that they make a biopic about me. That I show at my own film festival!
Until that happens, here are six other documentaries every creative should see.
I'm guessing you're familiar with Helvetica, perhaps the most popular typeface of the last half-century. You may not know that its history is rich enough to require a documentary (or documentaries, as the case may be).
It is. I promise. Created in 1957 by type designer Max Meidinger, Helvetica has never gone out of style. This film traces its fascinating development and impact over the decades.
The September Issue is an exposé of the most influential fashion magazine ever, Vogue, and the Editor-In-Chief who controls it all. Her name is Anna Wintour and she rules the world of fashion.
Anyone who's ever seen The Devil Wears Prada will be familiar with the story here, although to be fair our Anna is much more likable than Prada's icy queen Miranda Priestly.
That being said, Wintour is a strong woman, professionally uncompromising, who dictates the rules of fashion with an iron fist in a couture glove. She is exacting and somewhat intimidating. Unless you're Grace Coddington.
Coddington was once a model. When we meet her in the film, she is serving as Creative Director of Vogue. This basically means that she listens to Wintour, and then does what she wants. Because they are trusted frenimies, and Coddington is a fearless visual genius.
Objectified is a deep dive into the world of design by Gary Hustwit, who also directed Helvetica. In Objectified, he aims for more than a film purely about industrial design, and he hits his target.
The film examines the mandatory relationship that we as consumers have with the many products and objects that surround us. Discussion- and thought-provoking, Objectified shows us beauty in the mundane. It forces us to see behind and inside the items we take for granted, and the very human people who create them.
If you are a Banksy fan, then you already understand his take on street art and anti-establishment design. But don't watch this film to get to know him better. Because he isn't its subject.
That role is played by an eccentric French chap named Thierry Guetta. The movie chronicles the transformation of Guetta, an unknown filmmaker and wanna-be street artist, into Mr. Brainwash, a fresh talent who explodes onto the scene and celebrates his own work with a massive LA art happening.
What does it matter that Guetta has a wife and kids and absolutely no visible means of support? So what if he has no skill and his work is painfully derivative? Who cares that he has a flunky push him around in a red wheelbarrow as he puts the finishing touches on his show? This is a success story!
Or is it? Exit Through the Gift Shop may not even be a documentary so much as it is an elaborate, signature Banksy hoax. Some have opined that the film is a criticism of the over commercialization of street art. (He swears it is not.)
The controversy just makes it more watchable.
Milton Glaser: To Inform & Delight
Mention Milton Glaser to anyone associated with art, design or advertising, and the reaction is usually one of respect and awe. Glaser is responsible for some of the most important and archetypal pieces of graphic design done in the twentieth century, including the "I ♥ NY" logo, Bob Dylan's psychedelic hair, and the bullet logo for DC Comics. To say he is an icon would be to undersell the meaning of the word.
Miss Representation tackles the limited and limiting portrayal of women in the media. This smart film correlates the proportional dearth of female business, political and media leaders to continual objectification, both onscreen and off.
Throughout this important documentary, role models of all ages and genders shine as they detail their own experiences candidly. Interviewees include Nancy Pelosi, Katie Couric, Rachel Maddow, Margaret Cho and Geena Davis. Even today The Reputation Project continues to build a community around the film's mission.
Ready to connect to your customers in a more meaningful way?
CONTACT OUR TEAM