Strategy, In-Store Marketing, Retail Display, Consumer Behaviors
Fashion Inclusivity for Every Body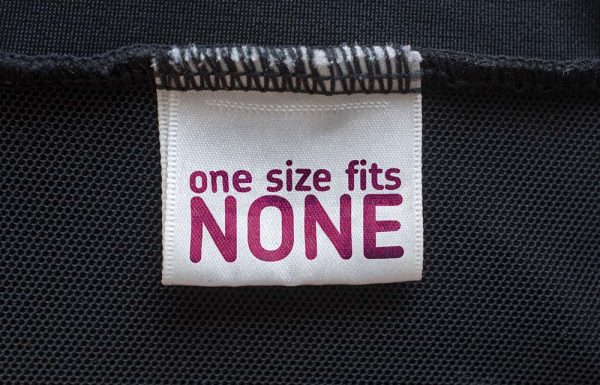 This post was adapted from our article published in Fashion Mannuscript on October 2nd, 2019
A couple of decades ago, labels like "big & tall" and "plus-sized" marginalized consumers with different sizing needs from the rest of the retail market. Fashion inclusivity was not a priority for most retailers. From drab displays to less-than-ideal placement, specialty sizing and other specialty items were often placed to the side, out of view, or merchandised with less verve than more mainstream selections.
Fast forward to 2019, where body positivity and fashion inclusivity on a brand level are a must. For retailers, it is exigent that messaging be size-inclusive. If you're not tailoring your retail environment to everyone, you could be missing out on a major part of the market coming through your doors and alienating many of your best customers.
Making your retail brand more inclusive is simple and direct. It takes a smarter approach—
How big is the market for alternative sizing?  
One third of women in the U.S. identify as plus-sized. The market for plus-sized clothing is anticipated to grow at a 4% CAGR—reaching $24 billion in annual sales by 2024, according to a report by Coresight. The plus-sized men's market is growing at a slower rate, but it's still becoming more of a focus for retailers as men become more vocal about size inclusivity.
The demand for more options is higher than ever before. And beyond that, consumers don't just want to have new specialty brands available to them—they want to be able to find and try on their sizes in stores and enjoy the same fashion accessibility as everyone else.
How can retailers be more inclusive?
[bctt tweet="To become more inclusive for all shoppers, retailers need to make the shopping experience more comfortable and the sales floor more inviting. One key way is to portray relatable role models in signage and displays." username="medallionretail"]
Standard-sized (that is, extremely small-sized) mannequins are becoming less and less common on retail floors. Shoppers can more easily relate to inclusive offerings when presented with a closer image of themselves—and their ability to imagine possibilities than multiplies. Striking, well-marked displays can highlight garments in every size and help customers feel more welcome.
Retail floor space is expensive and every square foot counts. It's not always cost-effective to carry every size in every color or variation. However, if there's one thing the retail industry has learned from Bonobos, it's that customers are willing to wait a couple of days to have the exact item they want shipped to them. Shoppers are embracing the convenience of showroom stores. The same model applies when it comes to plus sizes—a "showroom of styles" woven seamlessly into floor fixtures allows your customers to try for fit and order for specific preference. The result: the perfect blending of brick-and-mortar and e-commerce.
The goal is a setting that empowers all consumers to see themselves in an affirming, positive way, as well as the ability to see themselves in that lifestyle (office, family settings, home, travel, working out).
Who's winning over the market?
From big-box stores to direct-to-consumer brands, retailers of all types are adapting to meet today's customer needs.
Women's activewear brand Athleta has long been a pioneer of inclusivity, featuring a diverse cast of women of all sizes, body types and ages in its campaigns (and refusing to photoshop the models). Splashed across in-store banners and signage, the images help Athleta reinforce their mission of making all women feel healthy and confident—and making the shopping experience more comfortable for everyone. The proof is in the numbers: within the GAP portfolio, Athleta has the highest earnings growth and same-store sales.
Similarly, Aerie displays their signature loungewear and swimwear on models of all sizes and encourages shoppers to flaunt stretch marks and other imperfections. From unretouched campaigns to those individuals with special needs, the brand has gained a loyal following of empowered shoppers.
Target has made mass retail more inclusive by offering a majority of their premium private label styles in extended sizing and merchandising these sections in a more appealing way. Their plus-sized mannequins wear the very same trends seen across other departments. Unlike smaller-footprint stores, Target has the latitude for wider offerings in store—and the mega retailer's customers can try and buy in the moment.
E-commerce retailer ASOS uses technology in an innovative way to help customers navigate their way to the correct size. The brand leverages AR with its Virtual Catwalk app, where users can try on menswear or womenswear from the comfort of home and see available sizing. This application can easily be transferred in store by using AR-activated signage to bring an item to life and showing its style and usage through the lens of technology.
These examples demonstrate the myriad ways to make retail more universal—and show that creating inclusivity is not a complex goal. The most effective brand strategies take the "specialty" out of specialty sizing and simply offer a better, enhanced retail experience for all.
Making inclusivity proactive, not reactive
Consumers want to shop where they feel supported. Positive imagery, a wide range of size offerings and a welcoming in-store environment send the message that you respect your audience.
When looking at the sales floor, ask yourself, "Am I limiting who is able to shop at my store?"
Here's how to avoid projecting a one-size-fits-all atmosphere:
Do your mannequins reflect different body types?
Are your displays passive or are they empowering?
Are you making the in-store finding frictionless; helping the consumer to purchase or order in any size?
Are you looking at ways to enfold AR into the shopping experience so that shoppers can visualize themselves in the garment at whim?
Now, more than ever, it's important for permanent retail to cultivate and support a culture of inclusivity in order to remain relevant.
With over 50 years of retail marketing experience, Medallion Retail has the vision and insight to deliver new and innovative ideas to make the retail floor more strategic and inviting—capturing the imagination of your entire customer base. To learn more ways to boost your store's impact, visit us at medallionretail.com.
Ready to connect to your customers in a more meaningful way?
CONTACT OUR TEAM