Strategy, Creativity, Signage, Permanent, Temporary, Corrugated Display, Retail Marketing, In-Store Marketing, Retail Display
GlobalShop 2015: Insights from the Show Floor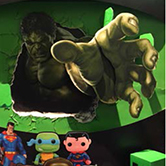 The biggest news out of GlobalShop 2015 was the affirmation of the staying power of in-store retail along with the inevitable (and very potent) convergence of in- and out-of-store shopper interaction.
Moving forward, the retail marketer's focus should be on creating meaningful experiences for the shopper, involving her in the brand at every touch point. In-store is critical; the shopper is seeking a return on her investment of time and energy.
From the GlobalShop 2015 show floor, we identified six signage and display mandates that evolved a retail space into a destination.
GIVE THE SHOPPER SOMETHING TO CONNECT WITH EMOTIONALLY.


Evoke a feeling from her; tell her "why," not just "what." Remind her of a romance with symbols of love or make tangible the wistful passing of the seasons. Excite her with color or give her an adrenaline rush with unexpected dimension.
MAKE IT PERSONAL FOR THE SHOPPER.


Allow her to find herself in the display. Give her choices, ask her questions, and make it easy (and fun) to find just the right style or model. Use interactivity to draw her into the brand and allow her to discover that you have something just for her.
DON'T WASTE THE SHOPPER'S TIME.


Demonstrate a respect for her time; give her an efficient door-to-register experience. Line management and beacon technology, on-the-fly aisle creation or even something as simple as reclaiming space to put products right at hand allow the shopper to navigate the space at her own pace.
SHOW THE SHOPPER SOMETHING NEW.


Transform existing displays into new experiences so that she sees something different on each visit. By using what already exists, a marketer can cost-effectively deliver the fresh experience a shopper demands. Dimensional aisle entryways, pegboard coverings, and wrap-around gondolas can redefine a space. Transforming product into the display itself is another way to use what you have to create something fresh (and delightful).
ENTERTAIN THE SHOPPER.


Make retail theater. Create a scene, a place where she can see herself as part of the story. Combine showmanship with a strong narrative and put the shopper in the middle of it. Give her things to do, explore, and try; empower her to control the environment.
MAKE THE SHOPPER SAY "WOW!"


Disrupt her experience with a visual or setting that is jaw-dropping. Demand attention by using unexpected materials in unusual ways. Play with scale, proportion, and perspective. Drive the shopper to marvel, "How did they do that?" Make the unimaginable real–the materials array is now so vast that literally anything is possible.
Ready to connect to your customers in a more meaningful way?
CONTACT OUR TEAM