Strategy
Holiday Moments in July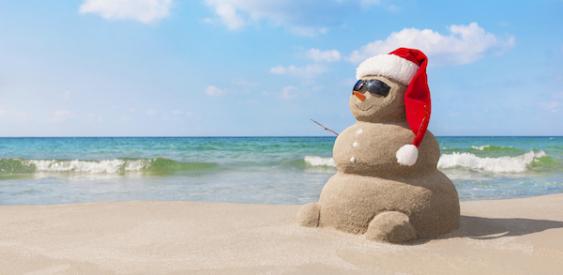 'Tis the season to get ready for the season that t'will be.
The temperature is hovering at a hazy 86 degrees; shaded benches, perfect for a sit and a sip of iced coffee, beckon; and Facebook feeds are overflowing with tanned, grinning faces on faraway beaches. The season is in full swing!
Happy holidays!
Because while all meteorological signs may point to a sizzling summer, retail marketers know that winter is closing in and Christmas begins in July.
Those retail marketers are already hard at work, pondering fake snowfalls, Barbies and big sales (rather than the baseballs, barbeques and rigged sails their friends are selfishly thinking about). The pressure is on; at no other time of the year are shopper expectations quite so high.
During the holidays, they seek mega-moments; meaningful, emotional interactions with kinfolk and friends that solidify relationships, delight the spirit and satisfy the heart. When they finally realize that they're not gonna find all that at the extended table with the extended family, they turn to the retailer.
The fact that shopping is a form of entertainment is never truer than during the holidays. The shopper asks a lot of retailers in the winter. She expects to find (sprinkled among the great deals and inspiring tableaus) authentic In-Store Shopper Moments. Her hope is that the transcending interaction that is eluding her at home will be found in the store. That's an opportunity for retail marketers.
So. No pressure. Just create the perfect holiday In-Store Shopper Moment. Or carry the weight of her crushed dreams on your shoulders forever. (Sorry. I get a little tense during the holidays.)
Following are some suggestions for in-store holiday In-Store Shopper Moments, with hopes that one will ignite a creative spark. Consider it my gift to you.
Learn to knit with Martha Stewart
Partner with Hasbro to invent a board game
Snuggle in for a reading of 'twas the Night Before Christmas by Patrick Stewart
Examine a snowflake through a microscope
Dance with an elf
Savor a gourmet dessert
Grab a selfie in Wonderland
Schmooze with a celeb designer
Score triple loyalty points
Hang with friends
Explore a holiday window behind the scenes
Take a VR trip to the North Pole
Sing carols with a Grammy winner
Climb an icy mountain peak
Dine at the world's largest Holiday Dinner
Toss a fruitcake
Build with giant Tinker Toys
Explore a life-sized gingerbread house
Take advantage of a re-charge station (for phones and tired feet)
Pose in a holiday window
Be inspired by curated gift collections
Green screen a holiday Vine
Shop with a stylist
Drop kids off at the in-store holiday playground
Personalize a stocking
Win a home visit from a home and style celeb
Smile in a wonderland photo booth (and upload to Instagram)
Ride a reindeer
Design a holiday window
Bake cookies with celeb chef
Marvel at an ice carving (they try it yourself)
Taste a flight of eggnog
Conquer a ski jump
Be part of a human wreath
Pilot a real sleigh
Attend the world's biggest slumber party
Win a milk and cookies eating contest
Create snow
Ready to connect to your customers in a more meaningful way?
CONTACT OUR TEAM