Strategy, Signage, Permanent, Temporary, Corrugated Display, Retail Marketing, In-Store Marketing, Consumer Behaviors
Home & DIY Retail Innovation with Tech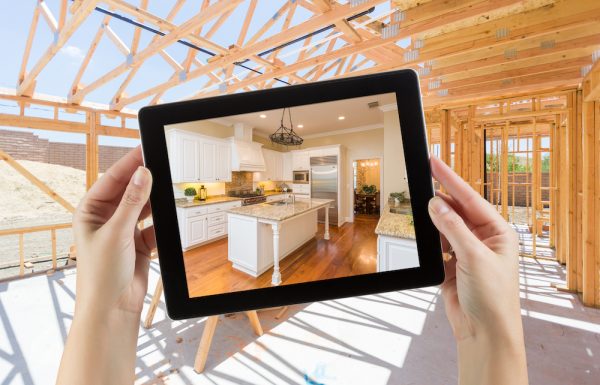 The 2018 U.S. Census Bureau survey reports that there are 128 million households in the country covering apartments, home rentals, and home ownership (over double the 1960 count of 53 million households). Whether you are a renter or an owner, being a fixer upper today isn't the laborious chore it used to be. Retail innovation brings the resources consumers need—easy-to-follow online tutorials, better quality materials, and energy-efficient options—more and more households are embarking on do-it-yourself projects.
Gone are the days of winging it when it comes to a project—home & DIY retail is revolutionizing the consumer experience and empowering more people to DIY through educational, informational, and convenient technical innovations. Let's take a look at the current landscape—and explore the untapped potential for retailers to build a better in-store experience.
Revamping the home in 2019
Americans currently spend upwards of $400 billion each year on home remodeling and do-it-yourself improvements. Even in an increasingly uncertain market (where homeownership is less and less common), nearly half of all consumers (47%) DIY their home improvements instead of hiring a contractor.
A majority of younger shoppers—Millennials and Gen-Z's—may be adopting more nomadic lifestyles (and renting shoebox apartments in droves), but the home improvement and DIY industry is still going strong. Modern dwellers need to renovate and update whether to add market value to their home or simply add personal flair, and DIYing lets them go for it while staying within their budget.
The home industry has always been tactile, but as technology evolves, there's a need to improve the shopping experience via retail innovation while still being able to touch and feel materials, see them up close, and measure, measure, measure. Consumers are seeking new ways to access the benefits of technology and find the right pieces, parts, and fixtures more quickly.
Integrating retail innovation throughout the aisles
[bctt tweet=" The key players in the home and DIY space are making the shopping experience smarter and giving customers in-store experiences that make them feel at home." username="medallionretail"]
For example, home improvement goliath Home Depot noticed that many customers were buying items online and picking up in-store, or doing extensive online browsing and research before heading to a brick and mortar location. Based on this trend, they brought the online experience in-store with an all-new app that gives customers in-depth information and reviews for items they see on-shelves—plus similar items that are either carried at a different Home Depot location or online only. The app also allows customers to bring a picture of a home item (like a broken door handle or faucet), search the catalog for similar options, and try on replacements using augmented reality (AR).
This kind of helpful, digital in-store interaction could then be leveraged to introduce other home improvements based on other customers who have been through similar projects. Bringing Amazon's tried and true methodology into the store via AR – "other customers who bought new faucet handles also purchased this built in soap dispenser – and we will discount it for you 10%!"
For crafty consumers, JOANN is leveraging technology to make realizing their creative vision simpler. The fabric and specialty store partnered with Glowforge to offer 3D printing across stores after introducing the technology at a first-of-its-kind crafting concept shop. Other in-store enhancements include upgraded ordering kiosks, DIY tutorial videos, and live-streaming classes.
These types of store upgrades make it possible for customers to embark on projects seamlessly. If an item is out of stock or the wrong size—or a customer isn't sure what they actually need—shoppers can easily locate the right piece or search for options to execute their vision.
 Empowering customers to DIY
In tandem with educational components, retailers are implementing additional technologies that empower customers to take on DIY projects.
Home superstore Lowe's recently rolled out what it calls a "virtual reality DIY skills-training clinic": the Lowe's Holoroom How-To. The room uses virtual reality (VR) headsets to immerse consumers in a room or outdoors—wherever they would complete a project—to walk through tasks like putting up a fence or tiling a bathroom prior to attempting on their own. The VR segments are step-by-step, photorealistic quality, and effective: in a consumer trial comparing VR to a YouTube tutorial, 30% of VR participants had better recall of the project than their counterparts.
The VR demonstration is not only tactile enough for consumers to take away real knowledge of how to renovate their home, they have an added bonus. The consumer is already in the store to pick up valuable knowledge andthe components they need—and ask staff any burning questions.
While AR and VR technologies might seem foreign to older shoppers, retail leaders are making it possible for the less-tech savvy to access the new knowledge. Retailers like Lowe's and Home Depot are leveraging training technology so that employees can walk shoppers through the processes in an easy-to-follow way.
Powering an even smarter home shopping experience
 All of these in-store innovations are leaps and bounds ahead of where DIY retail was just a few years ago. But there's always room for, shall we say, improvement. Consider how to engage consumers on a deeper level and bring projects to life before they make a purchase, giving them the confidence needed to DIY.
Just think of the possibilities that might give your store an edge:
Is your app easy to pull up? What if customers could access specific features through AR-enhanced signage—and, for example, try on a paint color more quickly?
Are your sustainable, energy efficient items easy to identify? Imagine if customers could track the life cycle of mulch or project how much energy they'd save with a certain washing machine.
Are customers able to picture items in their home? What if customers were able to not only place an item in their home, but see how it would look as the light changes throughout the day?
Can you bring landscaping to life? Imagine letting a shopper hover over a perennial or annual and see how the plant will look once it has fully bloomed.
With over 50 years of expertise, Medallion Retail holds the blueprint of excellence to help modernize your consumer experience and make your aisles even more competitive and compelling through retail innovation. Reach out to Michael or me at engage@medallionretail.comto learn more.
Have you seen any unique technologies in the home improvement space? Let us know!
Ready to connect to your customers in a more meaningful way?
CONTACT OUR TEAM