Strategy, Creativity, Signage, Permanent, Temporary, Corrugated Display, In-Store Marketing, Retail Display
Hot Retail Design Trends: Retail@StreetLevel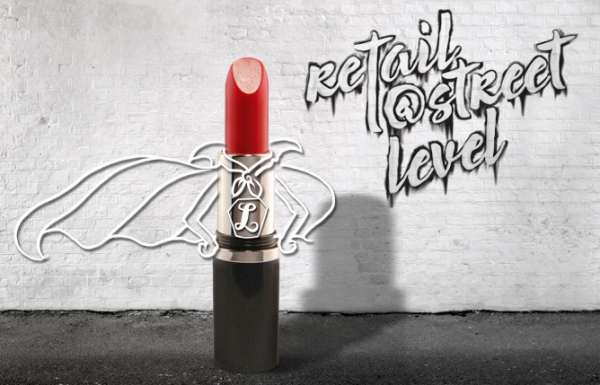 It's a challenge to continuously produce fresh retail design to visually present your brand and your products to an already over-stimulated shopper. How do you grab her attention? "Wow" her? Draw her into your story?
That takes something new.
Lucky for you, we know new. The Medallion Retail team literally hits the streets, exploring store windows and displays to discover what's hot in retail design. Take a look at what we found on our latest journey, and be inspired.
Perspective Manipulation
It's not what you see. It's how you see it. Retail designers are playing with POV and scale to present enhanced and delightfully distorted views.
When a director wants us to fall into a character's eyes, he or she uses a close-up. Retailers are adapting this approach by framing small products in large windows, drawing shoppers in and forcing their focus. By visually pulling the sides of the viewing space into a highlighted center, great retail design creates exquisite "jewel boxes" to frame items and give them star status.
Designers are also employing forced horizon lines, staircases to nowhere and unexpectedly sized props to create vistas and tableaux that pull the eye along, up and over. These scenic journeys effectively showcase both specific items and broader brand stories.
Product as Hero
In many cases, those visual lines lead directly to the product.
We often see the artful centerpiecing of fashion and beauty products; jewelry and leather goods and lipsticks gloriously alone and bathed in the light of a pinspot. What was fresh to us was the elevation of the not-traditionally-glamorous item: a humidifier, dinner plates, a bathroom scale or a running shoe.
It's a matter of finding the sculptural in the practical. These designers are using lighting and placement to underscore the inherent beauty of an otherwise forgettable object. They are making art that is accessible; playful shrines to everyday life.
Community Building
As the store becomes more and more about experience, its connection to its physical and philosophical communities becomes stronger. We noted cues and communiqués reaching out to various publics from store windows and in-store displays.
Whether it's a neighborhood fun run, a dog adoption event or a global environmental call to action, signage and display are used to encourage shoppers to learn more and take part. These invitations to engage are rendered clearly and simply. First-person stories, neighborhood maps and "Sign up here" messaging are presented using window clings, "handwritten" fonts and corrugated, infusing the work with authentic personality.
Sightline Journeys
Particularly interesting is the trend towards crafting sightline journeys through the creation and placement of large and small vignettes. This physical and thematic linking of displays and windows is a powerful way for retail design to tell a linear story.
It's basically a game of connect the dots. A concept may begin in a large window, continue across three small windows and culminate in a front-of-store display. The shopper follows along, gathering information as she goes. The vignettes can be appreciated individually and in their totality.
Unexpected Juxtapositions
Dresses and dishwashers and cakes, oh my!
Retail designers are having fun mixing all kinds of items and brands, redefining "lifestyle" with an emphasis on "style." They are building unusual compositions of mannequin and product. Their equation? Fashion plus ordinary item equals retail art.
But the creative mixing and matching of products is just part of why this trend is intriguing. What is most imagination and eye-catching is the beauty of the everyday items themselves. Designers are using repetition, gradient color, gravity-defying placement and complex patterning to make everyday items seem otherworldly and worth second (and third) looks.
Ready to connect to your customers in a more meaningful way?
CONTACT OUR TEAM