Strategy, Brand Positioning, Retail Marketing, In-Store Marketing, Case Studies
How Healthy Is Your Promotion of Wellness In-store?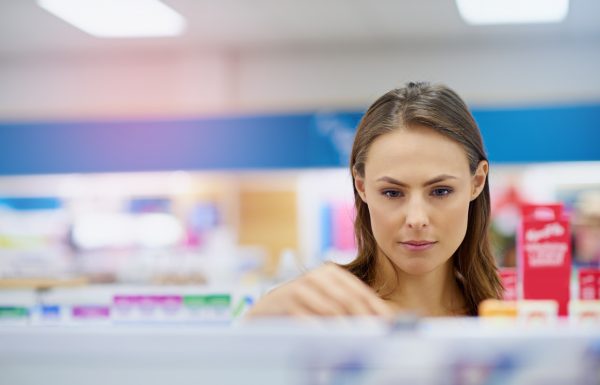 Time was you only went to the drugstore when you felt under the weather or needed a prescription refilled. Today's drug stores have evolved and expanded to extensively cover almost every part of our lives: medications, health and beauty offerings, pantry staples, office supplies, and more, so much more in the promotion of wellness in-store. Perhaps nowhere is change more evident than in how these retail cornerstones have embraced the wellness sector and are actually promoting wellness.
This metamorphosis is so complete that CVS, with 9,600 retail pharmacies and 1,100 walk-in medical clinics, changed its corporate name to CVS Health in 2014. And everyone knows Walgreens' catchy tagline: "At the Corner of Happy and Healthy." [bctt tweet="Wellness is big and shoppers are thirsty for information that guides and helps them sort through the array of in-store offerings." username="medallionretail"]
Wellness In-store
Inside the doors of "the drug store," consumers will find a plethora of wellness offerings. Yes, there is the expected pharmacy, but also the walk-in clinic where you can get your annual/school/camp physical as well as your flu shot – all part of keeping well. A dietician may be on-site to advise customers on how to control their blood pressure, diabetes or weight – all in the name of improving individual wellness. Speaking of diet, shoppers can still get their quotient of chips, gummy bears, Häagen Dazs and soda, but they will also find a refreshing array of healthier treats, such as salt-free nuts, whole wheat crackers and bottled water galore.
You would almost think this is counterintuitive. Don't drug stores profit from people being sick? Don't they sell more prescriptions, more pain relievers, more over-the-counter aids when folks have to combat illness? Apparently, there's more money to be made in helping the population stay healthy.
When CVS made a bold decision to stop selling tobacco products in 2014, it knew its bottom line was going to take a hit. It bet on generating good will and revenue from shelves filled with products that wouldn't compromise their customers' health, promoting wellness in-store.
Guiding the Customer to Good Health
The new "wellness store" is packed with good-for-you products. The crucial point is making the shopper aware of what's available and how it can help them. Unlike the sales clerks at clothing stores, who know the inventory and can help customers pull together an outfit, cashiers are not expert at which products best prevent a sunburn or ward off a cold. When the pharmacy is slow, shoppers can ask the pharmacist for advice, but what happens when there's a line, which is the more typical scenario.
There's a more efficient way to guide shoppers to what they need to stay well – the silent salesperson commonly known as signage and display. And there are plenty of cross-location opportunities to position these hard-working assets in proving wellness in-store.
At the entry: Address the season's biggest pain point right when a customer walks in the store. Whether it's cold, flu, allergy or sunburn season, speak to what's on the consumer's mind, products for prevention as well as remedy, and what aisle they can be found in.
In the aisle: Consider the cold relief section – what can help to short-circuit a cold? Create a visual composite of items from vitamins, homeopathic products and hand sanitizers to hydration and nutrition. Provide a helpful checklist and you are on your way to being a healthcare hero – and to upselling.
At the pharmacy line: Customers waiting to pick up a prescription are primed to buy all they need to keep them on the road to good health. Signage can provide the information and an endcap can display the items all together. It's all within easy reach – the customer doesn't even have to get out of line.
At the walk-in clinic: This queue is probably where customers have the most time to become informed. Usually set slightly off from the rest of the store, customers are looking for things to engage them. Whether video or print display, you have their attention, so make the most of it. Provide tips about nutrition, sleep and exercise, along with product info.
At checkout: The last opportunity to upsell your customers before they walk out the door. A "did you forget" display or "did you know" sign keeps your customers' needs literally front and center and maximizes revenue per visit.
Helping your customers stay healthy is more than a slogan. It's an opportunity to become a trusted and relied-upon resource. When this happens, you not only generate more revenue per sale, you generate shopper loyalty and repeat visits. The signs are clear: wellness is good for you, and it's good for business. Learn more about having a healthy and robust display program. Email Michael Decker at engage@medallionretail.com, call 212-929-9130, or check out our portfolio at medallionretail.com.
Ready to connect to your customers in a more meaningful way?
CONTACT OUR TEAM