Signage, Retail Marketing, In-Store Marketing
How Retail Technology Helps Mass Merch Make Human Connections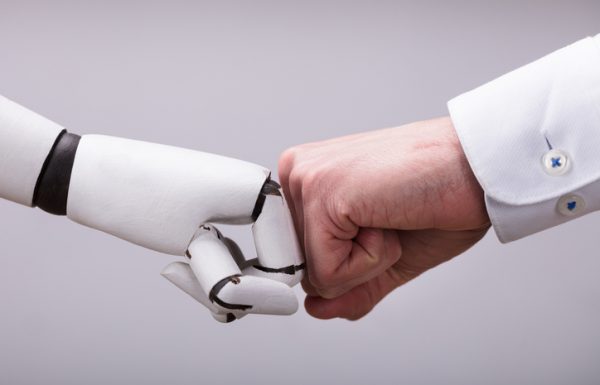 Technology is everywhere. We pay with our smartphones, ask a virtual assistant for a weather update and keep our lives on an invisible cloud. And that's just as consumers. But what about retail technology?
In the retail space, companies constantly use retail technology to improve the shopper experience – both online and off. And for mass merchandise retailers, who have such a wide breadth of offerings across a large space, technology is a great tool for streamlining processes.
But one of the best and most important uses of technology in retail? Freeing up salespeople to interact with shoppers.
The human edge over e-commerce
E-commerce giant Amazon boomed because of its emphasis on speed and convenience. A seamless mobile app offering immediate purchases and guaranteed 2-day delivery appeals to the busy, results-driven shopper. In that way, Amazon is a supersized convenience store.
Research from Salesfloor shows that 58 percent of shoppers believe that online shopping lacks the level of high-quality service from in-store sales associates – something they desperately want.
Beyond that disconnect, when a shopper encounters a problem while online shopping (as they so often do), they want a special type of help. A study by Calabrio shows that 79 percentof consumers would rather interact with a human than a chatbot or online form.
While Amazon does a pretty good job of providing human customer service representatives, they're still lacking the knowledgeable and helpful hands-on sales associate team to guide the consumer on their journey. When was the last time you ever called Amazon and said, "I'm looking for something on your site, can you help me find it?"
That's where mass merchandisers come in.
[bctt tweet="Defined by their brick-and-mortar presences, the Targets, Walmarts and Costcos of the world have this innate edge over Amazon: the ability to connect with consumers on a human-to-human level." username="medallionretail"]
Revamping customer service
Imagine you walk into a mass merchandiser for double-sided tape. The store is so ginormous and you don't really know where to start to find your items. Is tape considered an office supply or an organization tool? The aisles are packed with shoppers and large carts. You circle around aimlessly hoping to find what you need, but no luck – and no shop assistant to help.
This frustrating scenario is all too common. But luckily, it's not a death sentence. More than just hiring a bigger sales team, retailers can use retail technology to help their salespeople get where they need to be.
Many people think of technology as the antithesis of human interaction. That's not true at all. Merchants can leverage retail technology to improve customer service opportunities, and customers are on board. In the Calabrio survey, 54 percent of respondents said they don't think companies are wasting money when they invest in new tech to improve the customer experience.
Target is already doing a remarkable job with this, getting closer to its goal of being "America's easiest place to shop." The company has invested massive resources into automating monotonous tasks to get more employees on the floor to help their shoppers. Most recently, they announced a plan to add automatic cash-counting machinesto all stores by the end of the year, freeing sales associates to interact with customers.
Walmart is taking this idea to the next level. They've invested in Bossa Nova robots to make sure shelves are always stocked. The bots roam the aisles, scanning shelves, checking inventory and letting salespeople know if products need to be restocked or moved to the right shelf – all up to three times faster than humans.
The best part? Since sales associates don't have to do this time-consuming, mind-numbing work, they can spend more time doing what robots can't: engaging and helping customers.
Taking signage to the next level
We've always talked about how signage is the silent salesperson. In moments when a sales associate isn't available, signs point the consumer in the right direction and give them the information they need.
Plus, while many consumers crave assistance from salespeople, there are still a number of shoppers who prefer to go it alone. While brands need to respect their independence, signage is a great way to educate consumers and encourage them to buy.
Signage can also be delightfully friendly and drive happiness. It can provide human moments through strategic images and emotional phrases. As much as we all cherish the advances of retail technology, it's the human touch that stays in our hearts.
Want to take your signage and sales team support to the next level? The friendly, knowledgeable people at Medallion Retail are here to guide you. Reach out to Michael or Chris today at engage@medallionretail.com.
Ready to connect to your customers in a more meaningful way?
CONTACT OUR TEAM