Strategy, Creativity, Retail Marketing, In-Store Marketing, Consumer Behaviors, Case Studies
Hudson Yards Opens in NYC – Is This the New Face of Retail?
If you live in New York City, you've watched it grow. If you work in retail anywhere in the world, you couldn't escape the media blitz. It's finally arrived – Hudson Yards opened on Manhattan's far West Side last Friday. We sent our Medallion Retail team to experience it in person. Emphasis on "experience it" since that's one of the tipping points that differentiates this new mega, mixed-use expanse.
Which brings us to our first question: what to call Hudson Yards? Covering 28 acres, is it a city-within-a-city? A playground for the ultra-wealthy? A vertical palace? Vertical retail? Vertical hospitality? Hudson Yards comes complete with residential high-rises, office buildings, The Shed performance space, the Vessel sculpture and a retail complex. Of course, it's the retail element that draws us.
Looks are a 10, but have we met?
With glass, polished chrome and elevators that glide up and down seven floors, the The Shops & Restaurants at 20 Hudson Yards looks like a modern version of a mall, bringing to mind The Shops at Columbus Circle in the Time Warner Center further uptown. On looks alone, it's quite beautiful, but its in-store resemblance to to its uptown sister left us a little nonplussed.
Selection is huge, but so is the median price point
[bctt tweet="Hudson Yards is geared toward a very elite clientele and it delivers big time on the big names in luxury retail." username="medallionretail"] Cartier, Tod's, Fendi, Chanel, Louis Vuitton—the list goes on. But with more than 100 storefronts, the shopping mecca also needs to have a little something for those not in the top 1%. So, there are also retailers you would find in your regular (upscale) mall: H&M, Banana Republic, Uniqlo, Lululemon, Athleta, Aritzia, Kate Spade, Zara and Madewell.
Neiman Marcus is the linchpin to the HY retail complex — its store is gorgeous, the mannequins are stunning, the array of luxury products is sublime. The visual merchandising aptly showcases cutting-edge fashion trends with both texture and relevance.  The net result is displays that beckon customers to buy their products right out of the windows and right off the mannequins' backs!
This is NM's first store in Manhattan, and true to their Texas roots, they've done everything big, grand  and impressive — starting with the store's outdoor (and outsize) logos. The logo dominates the glass-wall entry and can be seen from almost every angle within the complex.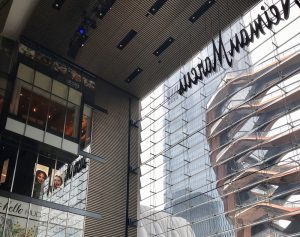 The store also features original, museum-quality artwork on every floor. A signed lithograph of artist Robert Indiana's famous work LOVE adds a pop of fun (and flaunts museum-like attribution signage); it's just one of the many pieces of art we saw throughout the store. Original artwork is not limited to Neiman's, it's pervasive throughout the "mall" – there are 12 public art installations. The largest is in the center of the Yards, but more about that in a little bit.
Experience it, interact with it, buy it
We've written a lot about the need to create In-Store Shopper Moments® to complement online shopping with "real world" brick-and-mortar retail experiences. The developers and retailers at Hudson Yards heard this siren call loud and clear.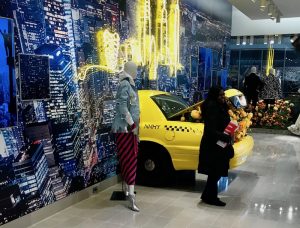 There's an abundance of interactive and social media-friendly displays, throughout Neiman's and the rest of the retail center (out of respect to the Hudson Yards' developers, we'll try to refrain from using the word "mall"). Our eyes and iPhones were caught by the already famous yellow cab jutting from a wall artistically lit with the New York City skyline. Its neon presence and open trunk overflowing with beautiful spring flowers was an inside shopper magnet. International shopper tourists were lined up to take snaps and selfies…and of course, post immediately. Neiman's couldn't have bought this much media reach across the globe if they tried.
The Hudson Yards "Floor of Discovery" is definitely a new and innovative concept. According to the developer's press release, "The second floor features immersive experiences from digitally native and established global brands, new eateries and marketplaces and snarkitecture's Snark Park, an immersive permanent exhibition space." You can get your tried-and-true goods at Coach, Stewart Weitzman or Tumi on Level 1; then, climb to the next floor and dive into the first brick-and mortar forays for brands like Mack Weldon ("smart underwear for smart guys), Rhone (men's premium activewear), and Lovepop (3D pop-up cards). If these names are not immediately familiar to you — all started online —they soon will be. More familiar names like Uniqlo, Muji and M.Gemi, that already have permanent stores, promise unique immersive experiences. We'll report back at a later date on these as there was so much to cover in our first trip!
Giving visitors more than shops
We also like having eateries interspersed with retail stores. We've never been fans of "food court Siberia." To us, the retail center felt akin to walking a street in NYC's toniest shopping districts. (We're thinking the Meatpacking District, alongside the Highline and just a few blocks from HY's doors. At its northern end, the Highline terminates at, you guessed, it, Hudson Yards). Why not meet at Patek Philippe to buy a fabulous watch and then celebrate the purchase with an equally fabulous meal at Thomas Keller's TAK Room? It almost sounds like an evening in Paris (except you can't get Thomas Keller in Paris, but here you can).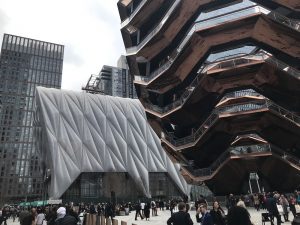 Not everyone is coming to Hudson Yards for the luxe life experience. Experiences of another kind also await. One is called "the Vessel." Standing 150 feet high, it's an immersive ziggurat stairway that dominates the landscape and visitors' attention. Tickets to enter and climb the Vessel were already sold out by the time we arrived so we went back and climbed it the following evening.
And it wasn't just New Yorkers that clamored to climb. Based on all the languages we could overhear, it's an instant tourist destination leading inevitably to what tourists also love to do… eat and shop.
HY also plans on being a new destination for the performing arts. "The Shed" promises to be a welcome addition to New York's cultural scene. We can see how it will help attract shoppers at night. Before you see megawatt international star Renee Fleming in a new production, pop into Dior for a new dress or maybe a blazer from French luxury brand Cremieux.
Could the high-low, anti-mall design be the future?
While not everyone can afford a $900 Sally Hershberger haircut or $890 Gucci sneakers, Hudson Yards tries to breathe new life into a decades-old concept. Just as people incorrectly predicted that movie theaters would go the way of the dodo, we believe naysayers will have to re-evaluate, as urban, vertical retail serves new customer needs, and thrives. In this case, it brings people together from across the city and across the world, enticing shoppers to explore and encouraging retailers to experiment with new concepts and immersive retail elements. Does it have its faults? For sure. Is it worth coming back to again and again? We think so. And we'll let you know when we make our next trip to this retail paradise on the far West Side .
If you're looking for what's new and innovative in retail display, talk with us. Medallion Retail is at the epicenter of the retail-sphere. Reach out to Chris or me at engage@medallionretail.com or 212-929-9130.
Hudson Yards – yay or nay? We want to hear exactly what excites or disappoints you.
Ready to connect to your customers in a more meaningful way?
CONTACT OUR TEAM