Strategy, Creativity, In-store Experience
Infographic: Personalizing the In-store Retail Experience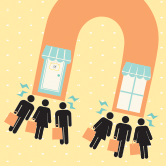 Every type of shopper prefers a more personal shopping experience. In fact, almost half (46%) of shoppers said they will buy more from a retailer that personalizes the shopping experience. Most U.S. retailers (75%) believe that developing a more engaging in-store retail experience will be critical to their business in the next five years. Our infographic focuses on the power of personalization and tips for retailers to offer a one-to-one retail experience.
Let's Create a Meaningful
In-Store Experience!