Strategy, Creativity, Retail Marketing, In-Store Marketing, Consumer Behaviors, Case Studies
It's Raining Menswear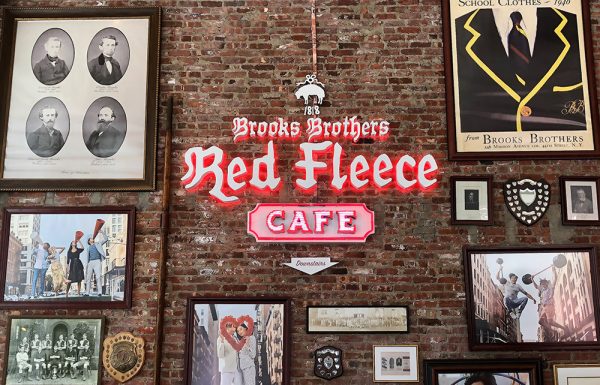 Since the dawn of time (or at least since the start of mass-market retail), womenswear has been the dominant force in the apparel market. Dresses, shoes, blouses, handbags—you name it; driving sales in these apparel categories was the ultimate goal underlying retailers' marketing strategy, and menswear was second-fiddle.
But now, an unexpected shift is fast-approaching: sales in men's fashion apparel is growing at a higher rate than the womenswear market. [bctt tweet="By 2021, data analytics firm Euromonitor predicts global sales in menswear will hit a 1.9% growth rate, compared to a 1.4% rate for womenswear. " username="medallionretail"]
Times, They Are A-Changin'
So, how exactly will this about-face change the future of in-store apparel marketing? That's a billion-dollar question. For apparel retailers, addressing a pivotal change in customer demographics can't just mean a bit of new shelving and more "masculine" signage (after all, not all men are enticed by the dark wood, brown leather aesthetic so often associated with menswear boutiques).
To come out on top, it's critical that brands consider the challenges in marketing apparel and analyze the different approaches some retailers are already taking. So kindly step aside, Ann Taylor: it's time to give menswear the marketing scrutiny it deserves.
What Do Men Want?
First, let's take a step back. To successfully market men's fashion to menswear shoppers, retailers need to start by learning what it is that their target demographic wants from an in-store experience. This means separating common assumptions about male shoppers— that they hate shopping or are averse to curating a personal style beyond chinos and Oxfords —from reality.
So here are the facts. While it was once accurate to assert that men buy, while women shop, this statement has lost some ground over time. Today, men (especially those in the Millennial and Gen Z generations) spend more time considering apparel before making buying decisions —more time than women do, In fact, 54% of male shoppers report regularly conducting apparel research online before making a purchase, compared to 47% of women. And while men make more online purchases than women do, they're also more likely to shopin-store at traditional retailers like Walmart and Macy's. Funny, considering the commonly-held notion that shopping is to the average Joe as kryptonite is to Superman.
More Convenience, More Assistance, More Style
In-store, men crave a convenient, human shopping experience. 73% of men rely on sales associates for help with finding apparel products and styles, and 28% say a lack of responsiveness from associates is their biggest pet peeve when shopping. And again, convenience is key—for both men andwomen. 60% of both groups report wanting more convenient store locations, and 30% say  they look for stores that offer food and beverage options and a space to lounge.
And as for personal style? Well, the new generation of menswear shoppers care more about how they look than ever before. But of course, men's style is not one-size-fits-all. In-line with their affinity for convenience, many men still take a rational approach to shopping: find one perfect cut of jeans or style of suit, then buy it in bulk.
Capturing the Male Gaze
So, how are retailers using this insight to market men's fashion? The approaches vary, though one theme stays constant: make men feel at home.
At its specialty menswear location in Lower Manhattan, Saks Fifth Avenue is using sneakers as a "gateway drug" to snare tentative male shoppers—and entice them to venture further into the depths of the lavish 16,000 sq. ft space.
"Men are having a fashion moment. Probably for the first time ever," said Marc Metrick, president of Saks. But, he adds, "right now, they don't have a base."
Saks wants to be the new home plate for menswear by making high-fashion more accessible to the high-earning male demographic. The downtown store location is a start: centered in the financial district, the store is convenient for those men who need to look good at work, starting with footwear. This is especially important as more top companies opt to relax traditional business-wear dress codes (looking at you, Goldman Sachs). A suit-and-tie uniform is no longer the status quo, but never fear: Saks is here to assist. And it seems customers are there to spend: while Saks is closing its downtown womenswear store, its menswear shop is staying open, thanks to promising sales.
In-House Style Stations Add to Overall Appeal
But first, shoes. Saks positions its shoe selection front-and-center, just beyond the entrance— along with the aforementioned sneakers, there's plenty of variety. In-store design details set the tone of the space, but not in the way you'd expect. Instead of dark mahogany, the floor is covered in porcelain tile in silver and white, a style mirrored in many womenswear stores.
Between racks of luxury apparel brands, Saks offers added convenience: there's a leather and shoe repair station, tailoring, a "tech bar" with innovative accessories, in-house barbershop and even a coffee shop.
The approach is smart and forward-thinking. Saks makes its store appealing and approachable to its target clientele, without falling into cliché menswear marketing traps.
Brooks Brothers Makes Menswear Cozy With Coffee (and Wine)
Like Saks, Brooks Brothers is on the hunt for Millennial businessmen—but instead of shoes, they're skipping straight to the snacks. Leveraging the appeal of its Red Fleece brand (which offers styles for a younger demographic of both men and women), Brooks Brothers opened a Red Fleece shop and Red Fleece Cafe in our own New York City's trendy Flatiron district.
For young working men, the store is a comfortable, inviting space. The retail footprint is fairly small relative to the brands' other stores, so inventory is carefully curated, which, for men, is not a bad thing. Not too many decisions, so they can get-in and get-out in less than 15 minutes. For added ease and clarity, each garment section shows the items styled in different ways: here's a button-down with shorts, perfect for a barbecue, and the same button-down with slacks for a date night. Just add a jacket, and you're ready for your big interview. Easy.
Downstairs, though, is where the magic happens (or at least the happy hour). The Red Fleece Cafe is quite spacious —huge leather armchairs fill the space, offering tired shoppers a place to sit and enjoy a biscotti or latte. It's clear that this cafe isn't a gimmick—everything about the cafe, from the choice of sourcing high-quality baked goods to the robust wine list, is intentional. On the day we visited, the cafe was buzzing with patrons who were organically migrating into the retail sections.
It's time to think outside the box and look beyond conventional norms. The retail universe is becoming more fluid, as are expectations about what "retail" should be. Women don't want to be pandered to, and men want the latitude (and the information) to use style to express themselves. And everyone wants space that welcoming and engaging.
Looking to develop your menswear marketing strategy? Medallion Retail brings innovative retail ideas to life. Read our retail marketing case studies for inspiration, and for creative retail display solutions for your stores, reach out to Michael Decker or Chris Gordon at engage@medallionretail.com or 212-929-9130.
Ready to connect to your customers in a more meaningful way?
CONTACT OUR TEAM