Strategy, Creativity, Social Media Integration, Brand Positioning, Pop-up Retail, Retail Marketing, In-Store Marketing
King of Pop-up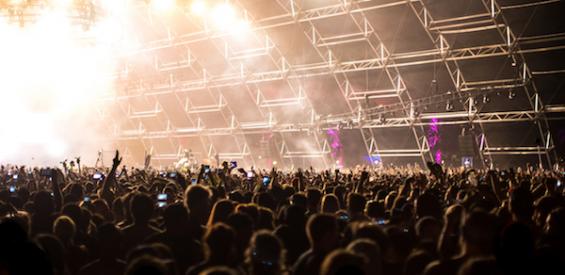 He is a performer, activist, fashion designer, producer, microphone hijacker and pop-up master. Kanye West is a visionary. Just ask him. The Kardashian husband is nothing if not self-assured.
"My role models are artists, merchants. There's less than ten that I can name in history. Truman. Ford. Hughes. Disney. Jobs. West," said Kanye a few months ago during his four-minute monologue at the MTV VMAs. It was a bold statement (yet it didn't top his announcement that he was running for president the year before).
That same monologue included a brief dissection of the creative brilliance of one of his recent videos, a shout out to his girl Taylor Swift and a rant against violence in inner cities. Because Kanye is, well, Kanye, it's easy enough to roll one's eye at his bravado. But whatever your opinion of his prowess, you have to appreciate the breadth of Yeezy's range.
And it is notable that when Kanye calls out his biggest influences and the massive footprints he chooses to tread in, he cites merchants as well as artists. Kanye's vision extends beyond music and falls squarely into commerce. He proved this by opening 21 pop-up stores worldwide in conjunction with his Saint Pablo tour.
For three days in August 2016, Kanye shops appeared in major cities including Singapore, New York, Amsterdam, Melbourne, Atlanta, Chicago and Las Vegas. The merch? T-shirts, hoodies, denim jackets and other Kanye-styled items emblazoned with the name of the city where the temporary stores were located or something having to do with the word "Pablo." (Like most clothes by Kanye, writing is in Gothic font by the artist Cali Thornhill.) Shoppers plunked down $400 for recycled Levis denim jackets, $350 for Pablo burgundy bomber jackets and $35 for "I Feel Like Pablo" blue beanies.
This was not Kanye's first pop-up extravaganza. In 2013, during his Yeezus tour, he opened a pop-up store on the Bowery that led to blocks-long lines and many of the Kanye-designed apparel items selling out in hours.
This time around, the story was similar. At the New York shop, fans waited overnight to be among the first in line. (Kanye announced the pop-ups on his Twitter feed.) At the Sydney store, only three customers were allowed inside at one time, and there was a limit on the number of items each customer could purchase.
While he will likely never quite be the marketing mastermind his wife is (and that's not an insult; there is possibly no one on Earth better at selling herself than Kim Kardashian-West), the "I am Pablo" pop-up explosion that was heard around the world is an indication that he knows the critical tenets of retail pop-up:
Go big
Tell a story
Surprise and delight (or stun and provoke)
Activate social media
Make it feel exclusive
Leave them wanting more
The fact that these also happen to be the rules by which Kanye lives his life doesn't make his pop-ups any less successful. In fact, the opposite is true. Mr. Ford and Mr. Disney would be proud.
Ready to connect to your customers in a more meaningful way?
CONTACT OUR TEAM