Strategy, Creativity, Brand Positioning, Consumer Behaviors
Thinking Ahead, Scoring Big—March Madness 2021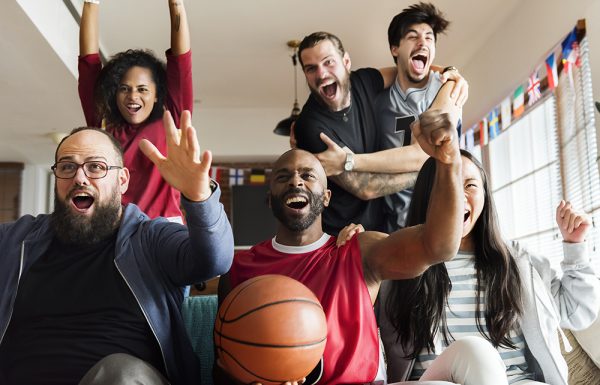 With no games to cheer this year and all celebrations put on hold, fans will have to look to the 2021 season to put on their team jerseys and plan out their home tailgating parties. As a result of missing this year's games, the 2021 season will be greeted with an even more enthusiastic passion by devoted fans, who are looking forward to being part of all the madness once again. For brands and retailers, this also presents an even greater opportunity to rebound and score big in the celebrations. When these devoted fans welcome back the games, why not meet them with open arms and new experiences at point of sale?
We all know that for the fans who follow and cheer college basketball, it's much more than another channel of competitive sports, like football's Super Bowl or baseball's World Series. College basketball, specifically March Madness, signals a time when competitiveness and the hometown loyalty of adoring fans are at an all-time high. This season is a prolonged period when team spirit is pumped and local towns proudly fly their colors—where entire families celebrate on the sidelines, in their living rooms, backyards or wherever there may be a widescreen TV.
Just as in the Super Bowl, home celebrations for March Madness tend to build over the 21-day tournament, and for many this means a regular schedule of game-watching parties, often with food, snacks and lots of beverages. It's a CPG holiday for sure, and retailers are smart to tap into this passion as a means to drive incremental sales and consumer engagement as the games ramp up to the Final Four.
In 2019, we explored how CPG companies were turning point-of-purchase displays geared to attract the March Madness crowd into retail theater by enticing shoppers to not only look at—but actively engage with—these displays.
We wrote: "The second driver of retail theater is technology." At the time we were directing this comment towards what we believed were advances in engineering and cost-efficient materials (such as corrugate) for these in-store POP displays; today, that statement has a somewhat different meaning.
Today, "technology" doesn't only include materials used in manufacturing of displays; it also includes technology designed into a display, turning a physical encounter with POP into a virtual one. It allows for an interactive and robust connection with the consumer at many levels, and can be targeted at specific audiences and specific interests.
March Madness fans are a very passionate and loyal audience. Their connections to their teams and to the series of games hold steady with interest ramping up as those games tick off towards the Final Four. For retailers and brands, this prolonged interest can present a whole host of opportunities to intentionally steer the consumer to their brand through diverse means, channels and campaigns.
Some have approached this annual sporting event by deploying various initiatives both in store and online. Within the past few years, some retailers have adopted technologies such as geofencing, Augmented Reality and in-store beacons for in-store promotions. While these approaches do have some major pluses, one particular challenge is convincing the consumer to opt in for the experience via a store app or social media platform.
Recently, however, brands like Nike have discovered the diverse and easily accessible attributes of Quick Response codes (QR), which require no special apps or platforms for use, just web access via your smartphone. And when considering the advantages of scaling an approach that can keep pace in real time with consumer interest, using a QR approach in point-of-sale display might be something to explore.
Using a QR approach for in-store marketing, most specifically Dynamic QR, can deliver to the March Madness audience more selective, personalized and timely experiences for your shoppers. Increased dwell time and driving purchases through coupon offerings are just two of the many benefits. In fact, according to Beaconstac.com, 5.3 billion QR coupons will be redeemed via mobile devices by 2022. When March Madness shoppers are faced with staging celebrations around 21 days of games, you can assume that coupon offerings will be at the top of their incentive "want" list.
However, there's so much more to be considered:
Imagine the ability of a brand to quickly pivot towards an alternate incentive or experience that aligns in real time with what is happening on the court. Imagine using POP to connect the brand and the game with the consumer, not only regionally or by store, but literally by the day or even the hour. Truly, it's a paradigm-shifting moment around the marketing value of a point-of-sale display when it is re-imagined as a direct-to-consumer portal.
If done well, an interactive approach using point-of-purchase display also has the ability to appeal to March Madness fans of all ages. The ideas and the opportunities are limitless. To help prime that creative pump and get you thinking, we've listed our three top ideas for using QR codes on in-store displays to produce experiences that might resonate with these basketball fans—ideas that could effectively and quickly turn your point-of-purchase displays into multidimensional champions for your brand and for your business.
Trivia Challenge (Kind of like Jeopardy for March Madness.)
Appealing to older teens and adults, the "Trivia Challenge" would carry on throughout March Madness and address topics like team stats, player bios or game history. As games advance, the trivia challenge would narrow to those teams remaining in the bracket. Post playoffs, the top 5 Trivia Quiz winners would be selected and rewarded based on number of correct answers. Coupons, promotional offers or select prizes could be awarded to the winners.
Partnerships /Spotify (Support your team and love their music.)
Partnerships with other brands or consumer services expand the audience reach. This approach might partner with Spotify streaming music. Using a QR code to launch, shoppers would be able to pull up a virtual "field" of players and select their favorite player featured in the current bracket. Selecting a player allows the shopper access to curated information about that player, including the player's own personally compiled Spotify list, available for download. Coupons, promotional offers and gift-with-purchase options could be tied-in and made available via download.
Basketball Slam-Dunk Contest (This is where your consumer becomes the star.)
In-store or on-product QR codes invite contestants to upload videos of their mad basketball skills to a brand website/landing page. Open for the duration of the tournament, videos would be judged by a few selected NBA star players or by popular vote.  The winner is flown to the final game and given the opportunity to have a courtside seat for the game.
There are so many ways to spin this March Madness and QR connection in store— too many to cover here. If you're interested in hearing more ideas on interactive point-of-purchase display, reach out to engage@medallionretail.com.
Chris, our courtside POP expert, will be happy to answer any questions.
Ready to connect to your customers in a more meaningful way?
CONTACT OUR TEAM