Strategy, Retail Marketing, In-Store Marketing, Consumer Behaviors
Partnering with Farmers Markets to Expand Your Brand: See What's Growing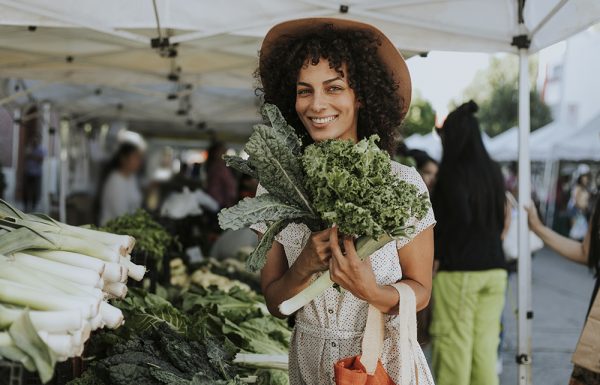 Farmers markets have been around for generations. Interestingly, while some aspects of retail are in flux, farmers markets are booming—expanding in both number and array of offerings. Today, there are more than 8,700 farmers markets across the U.S. No longer the domain of rural counties, farmers markets are a major urban draw—from New York's Union Square Market to Los Angeles's Original Farmers Market to suburban communities in between. These markets embody community spirit, local commerce and experiential shopping. So it makes sense that farmers markets could be an add-on to the commercial brand.
Big-box retailers like Walmart, Home Depot and Lowe's all add on to their businesses seasonally, most commonly with garden centers and holiday shops. Why not extend this further by housing a community farmers market connected to the store—where local business can be represented, where smaller brands can take center stage and where there is a sense of discovery worth sharing.
Drawing in the local community
The big-box store parking lot is some of retail's most valuable real estate. But during the week, and even on some weekends, a good portion of this blacktop is underutilized. What about turning this blank slate into a revenue-producing, community-building and foot-traffic generator?
[bctt tweet="By bringing farmers markets—or, for that matter, crafts markets or food trucks—to a high-visibility locale, brands can elevate their in-store offerings along with promoting local growers and artisans." username="medallionretail"] Here is the opportunity to unite purveyors that wouldn't necessarily be in the same space, which creates an interesting juxtaposition with the potential for a lot of cross-pollination. And if your chain store's corporate mission includes a commitment to sustainability, then aligning with a farmers market reinforces your company's values.
The challenge in merging local with big brand is making sure that the larger entity doesn't overpower or underrepresent the boutique producer.
Creating a balance
When it comes to resources for promotion and point-of-purchase display and signage, big-box stores have the advantage over their local and entrepreneurial business counterparts. But rather than being a looming presence, big box can be more like a big brother—giving a hand to the farmers and artisans. Big box can be the umbrella messenger by creating the large-scale signage seen around the community and the market. It can lend its merchandising expertise to set up retail displays, promote through media ads and social media posts, and use public relations to shine a light on this partnership.
And conversely, the large retailer can use the market as a vehicle for distributing flyers about what is happening in store—new products, special promotions or loyalty shopper rewards. It can position freestanding, AR-enabled signs to add value to both local sellers and big-box business.
Imagine this scenario: a farmer is selling herb plants at a Home Depot-hosted farmers market. A shopper strolls by and is intrigued. The basil looks fresh but the shopper is on the fence about buying. Say this shopper hasn't had much luck with growing plants, or she's concerned she'll have too much basil. She sees a sign next to the stall (courtesy of Home Depot) and reads directions for successful planting (get your plant food in Home Depot's garden center) or how to make a beautiful herb garden patio display (buy your decorative pots at Home Depot). The shopper is encouraged and informed—and she's sold. For an even deeper cross-sell and enhanced education, augmented reality could be used: the shopper points her phone at an AR-enabled sign and watches a video clip about the many uses of basil.
Another option is retail signage promoting discounts such as "Show your receipt from the farmers market and get 10% off your Home Depot purchase today."
For another type of successful partnership, try rotating in-store pop-up shops that feature local producers. Rain or shine, all week long, the local purveyor has a continuous presence.
All are win-win solutions that respect and promote local business, and draw traffic and goodwill to the chain.
A potential for growth
Along with boosting foot traffic and ushering in sales, the intersection of large stores and farmers markets provides the opportunity to reach untapped audiences. Potential shoppers can be enticed when they see you are more than just a giant product warehouse: you are a good community member.
In addition, the draw of these local producers in attracting their loyal base can increase your traffic. Loyalists regard farmers markets as appointment shopping. By hosting a market, you are giving shoppers who wouldn't typically visit your store an incentive to come in.
To grow your business, look to a signage and display partner that thinks outside the box. For more than 50 years, Medallion Retail has helped brands large and small deepen their connection with local communities. Reach out to Chris at engage@medallionretail.com to see how a creative retail marketing strategy can bring stores and shoppers together.
Have you seen any creative tie-ins at farmers markets lately? Let us know!
Ready to connect to your customers in a more meaningful way?
CONTACT OUR TEAM