Strategy, Signage, Permanent, Temporary, Corrugated Display, Retail Marketing, In-Store Marketing, Consumer Behaviors
Physical Retail: The Secret to Omnichannel Success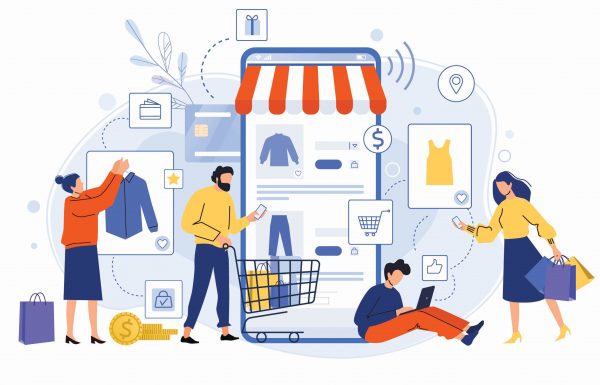 Who says summer break isn't meant for learning?
Here's how one lesson went down: A college kid bought his girlfriend a birthday present online. They then broke up before her birthday. The kid, used to only receiving gifts, had no idea how to return one, never mind how to return something through…the mail? What???
Enter SteveMadden.com, which wants to make life easier. In its packaging, the brand included directions for completing a return, one of the options being the Happy Returns Return Bar. Said college student simply provided his order number and a QR code was sent to his email. He then drove to the Happy Returns brick-and-mortar location at a nearby Harmon Face Values, walked up to the clearly marked Happy Returns counter where an associate scanned his QR code, and the refund was immediately initiated. He suddenly had money in hand for shampoo and body wash, which he purchased before leaving the store.
Besides showing why pricey gifts shouldn't be bought too far in advance when merely dating, this event illustrates how physical retail is a vital element of omnichannel retailing, capable of truly differentiating themselves from the e-commerce experience.
The Future of Physical Retail—A Quick Review
The last time Medallion Retail wrote about the future of physical stores, we pointed out that success is dependent on differentiation. Let's be realistic: Physical retail can't (and shouldn't try to) compete with e-commerce on:
lack of overhead
product pricing
flexibility and ease of shopping
breadth of stock
However, retail locations can offer what the internet can't:
Stores can achieve differentiation by examining their corporate brand and mission, aligning it with their customer and then creating great in-store experiences that will bring shoppers back for more.
Differentiation Is Imperative for Physical Retail—Here's Why:
Back in 2013, after the Great Recession had ended but before Covid came creeping along, retail expert Doug Stephens weighed in on the "retail is dead" chatter, saying, "The physical, human experience of shopping is in some ways of far greater value than the goods that can come along for the ride. So, while shopping is a means of acquiring the things we want and need, it's also a meaningful social activity that appeals to our deepest, human tendency to gather in tribes."
The retail apocalypse narrative is popular and powerful, but inaccurate and unproven. The future of physical retail is not dependent on the success of stand-alone brick-and-mortar stores, but of brick-and-mortar existing as a singular aspect of an omnichannel retail ecosystem, which is why differentiation is imperative. Physical retail is a foundational element within an omnichannel strategy.
Physical Retail and Post-Covid Shopping
Now that we have moved past Covid shutdowns, consumers are returning to stores in decent numbers, and sometimes even in droves (think Costco on a Sunday afternoon). Supermarket News reported data from The Feedback Group's Grocery Shopper Intention Monitor that shows 40% of consumers plan to shop more at physical stores for their groceries over the next 12 months, while 51% plan to maintain their current rate.
But not everyone is fully on board with shopping in store all the time. The Harvard Business Review (HBR) reports 40% of all Americans tried a new shopping method during the pandemic, and nearly three-quarters who tried curbside pickup, buy online/pick up in store (BOPIS) or home delivery want to keep using it. HBR also points out that consumers like BOPIS because they don't have to pay shipping costs. They also avoid wasting trips and time searching for items because they find what they want to purchase online, on their time and in the comfort of their home. And stores benefit, too, as 85% of consumers who use BOPIS make additional, unplanned purchases once they come in for their pickup.
The Flexibility of Physical Retail
While the pandemic did fuel the retail rush to digitalization, the physical store became and remains the best ally of e-commerce. And here's why—as an aspect of an omnichannel strategy, brick-and-mortar stores:
offer traditional in-store shopping
offer enhanced methods for immediately putting product into customer's hands
from right off the shelf
via in-store pickup
via curbside pickup
via home delivery from local store locations
are a physical form of advertising and brand awareness
offer direct access to product that can be experienced in a sensory manner
can function as last-mile distribution hubs
offer easy access for product returns (remember that college student?)
Physical Retail and the REIT Market
Investors are now eyeing brick-and-mortar opportunities as the next and newest direction in the real estate investment trust (REIT) market. The idea is "strong omnichannel growth means that retailers will maintain an extensive physical footprint even while paring back lower-quality locations," according to Morningstar. Even Amazon, the e-commerce Goliath, is heavily investing in store locations and continues to do so, despite recent flat sales in their current locations.
Further, in the REIT market, there is a newfound interest in freestanding retail stores, outside of the traditional shopping mall structure. The physical layout of these independent structures gives brands more flexibility with space and the opportunity to deliver more attractive benefits to the consumer. This makes sense, as it is becoming increasingly more attainable for smaller, independent brick-and-mortar retailers to build an omnichannel ecosystem at their own scale. Platforms like Shopify now allow for painlessly maintaining a website with payment and fulfillment capabilities, previously too daunting for smaller brands and retailers.
Omnichannel Means Increased Sales
Between 2016 and 2019, as the nation's strongest retailers built out their omnichannel ecosystems, sales in both physical and e-commerce divisions increased. Take Kohl's, for example, a Deloitte case study details how in 2016 the retailer leveraged digital to improve shipping and fulfillment, and converted associates from shopkeepers to fulfillment and service "ninjas," among other things. Going forward, the retailer is using store WiFi to drive deeper customer engagement: not only will it show each Kohl's property unique shopper patterns, but it will also help logged-in consumers navigate store locations to find items. Kohl's is utilizing digitalized personal messaging, especially to push information about specific products in shoppers' local stores.
In-Store Signage and Display Ensure Consistent Communication
Deloitte also points out that digitally-enabled promotions are increasingly being used to drive in-store sales. Retailers need to "ensure that product information is consistent across platforms" by using signage and displays to help shoppers easily find whatever is promoted online. Additionally, if something like Back-to-School or holiday items are being grouped together, Deloitte recommends improving the customer experience by zoning off "promotion hot spots" within the store. Again, in-store signage, as well as digital maps, can be used to navigate shoppers to these areas.
Omnichannel Convenience Means Increased Purchasing
For consumers, seamless integration in a multichannel retail ecosystem allows for a customer journey that feels natural and is the most convenient to shoppers. In an omnichannel ecosystem, it matters less within the system where purchases are made because an omnichannel ecosystem is a self-reinforcing retail cycle. Meanwhile, stores benefit from the fact that shoppers who engage in omnichannel retail are more loyal and increase their purchasing due to omni's flexibility and convenience. Another HBR survey found omnichannel customers spend an average of 4% more in store, and 10% more online than single-channel retail shoppers.
And just as the BOPIS customer will buy more products once they come to a store for pickup, so too will shoppers who arrive at a retail location to make a return. The International Institute for Management Development (IMD) cites statistics that say about 80% of consumers that return a product to a store spend the refund in store, proving the importance of physical locations within the retail ecosystem.
Advice for Physical Retail
Physical retail should continue to focus on and grow customer-facing aspects of their in-store experience:
Be customer-focused via shopper feedback, input and data. As Zendesk advises, put customer needs first by incorporating characteristics like honesty in marketing campaigns and transparency in pricing.
Offer unique, branded in-store experiences. Think of Lush, where customers can engage in true experiential retail with hands-on product demonstrations and one-on-one advice from store associates. Lush also uses its stores to promote the retailer's stances on social and environmental issues. As we pointed out in our May blog, unique, branded, in-store experiences are a chance for stores to:
create intimate spaces that contain memorable shopper experiences
offer haptic interplay with product
dress the environment with enhanced signage, display and window designs that change frequently and remain engaging.
Cultivate a welcoming in-store atmosphere by offering spaces for relaxation and socializing. Once common, "third places" were largely lost during the pandemic after stores, salons, restaurants, bars, gyms and other social spots closed down. As urban sociologist Ray Oldenburg posits, third places—somewhere besides home and office—are essential to community and public life. Retailers can contribute to the movement by posting friendly signage encouraging shoppers to sit and maybe charge their phones. It's about giving consumers an opportunity to engage with store associates or fellow customers. In this age of Covid, small signs that tell shoppers the space is cleaned and sanitized might also help to encourage someone to stop and "sit a spell."
Finally, since 79% of customers say a negative checkout experience makes them less likely to return, according to Kantar Retail, retailers must work hard to make sure those last moments in the store are frictionless. Consider self-checkout versus associate-assisted checkout and having enough associates during peak and non-peak hours. Retailers also need to make sure checkout areas are clearly marked for customers, especially in big-box and department stores.
Physical retail will remain an important part of how shoppers acquire goods. As we move past the pandemic and our economy recovers and rebuilds, retailers will be turning to an omnichannel strategy as a proven method to grow and strengthen their business—with college kids and everyone else.
Reach out to Medallion Retail for help with building out your physical retail as part of that ecosystem. More than 60 years of retail experience has given us the expertise you'll need. For more insights, call Chris Gordon @ 646.677.5618.
Ready to connect to your customers in a more meaningful way?
CONTACT OUR TEAM