Strategy, Brand Positioning, In-Store Marketing, Consumer Behaviors
Pop-Up Prevails: Key Points of Reentry into Retail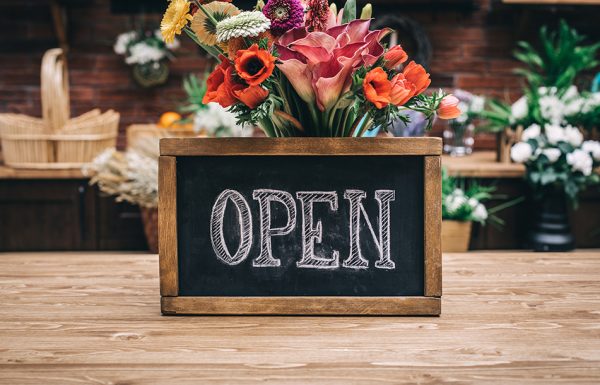 Right now, there are 10 things on my shopping list. None of these are even remotely related to cosmetics, apparel or jewelry. I don't think I'm alone in this.
Our shopping needs at the moment are focused on necessities, like food, medicinal items and, yes, toilet paper. And rightfully so. Basic things now take full priority. And for a time, this will be the focus.
However, and with absolute certainty, there will be a point when we get on the other side of what's happening. When shoppers will reemerge and join the marketplace once again. And retailers and brands will need to be there to greet them.
Undoubtedly, this won't happen overnight. Our guess is that as stores reopen and life begins to return to some degree of normalcy, this will happen in incremental phases. First small steps and then progressively larger ones. And as retail marketers, it's our job to look ahead and think about the new consumer psyche. Where we may have planned around seasonal events or holidays in the past, now we might be called on to approach the consumer in different, perhaps unique ways. But how?
You might find that in first getting back to the marketplace that your audience would rather experience your brand in small bites, maybe those that could be mobile or fixed. Maybe they're still a little hesitant to be in large stores or around masses of people. Your tactics in approaching this, of course, depend upon what your underlying goals are. But if getting to where your consumers are is part of that, a pop-up approach remains an excellent format for any brand, retailer or service to consider.
We've spoken about pop-up retailing on many occasions and from many different angles and strategies, providing our readers ideas and advice on executing a pop-up approach. Here, we offer our thoughts on a couple of those strategies and present some ideas on how to expand upon these as we prepare for our reentry in to retail.
Go to Where Your Customers Are. Go Mobile.
Put your pop-up on wheels. Or skis. Or behind a dog sled. Just make it move, across town or across the country. A mobile pop-up is ideal for brand building and buzz creation. But now, in situations where the public is just beginning to feel confident once again in venturing outside, maybe their venturing will at first be at a local level. Having a mobile presence might allow you to be where your local shoppers are and when they are, in multiple places.
Going mobile with your pop-up might allow you to be in areas or neighborhoods where your customers might be going to, like around grocery stores or strip malls. Map out where your shoppers might venture and set up a schedule of visits, promoting these mobile visits on your social media channels so interested shoppers know where they might expect to see you.
Here are some additional thoughts on this idea:
Get close with your local community. These small businesses have been hit hard, too. By establishing a mobile pop-up that is near a local luncheonette, pizzeria or hair salon, perhaps offering immediate or future discounts for patrons showing shopping receipts, your mobile pop-up could also draw traffic into these stores. Need proof of this? According to steadydemand.com, several years back, when Pokémon GO was the craze, 82% of businesses near PokéStops saw a 9% increase in foot traffic. Sales for over half of these businesses increased by an average of 12%. Talk about a symbiotic relationship with your local business community!
As the weather improves, how about cozying up your mobile store near a local dog park, riverfront or even picnic area. With long distance travel being put off for a better time, and as outside temperatures warm up, people will be looking forward to getting outside to stretch their legs (and those of their furry best friends) and enjoying the sunshine. A mobile pop-up in areas like this could offer an unexpected and pleasant encounter with your brand.
Partnering with other services or business entities through your mobile pop-up could also prove to be mutually beneficial. Whether it's joining arms with local restaurants and setting up a place for patrons to pick up their takeout orders. Or working with a coffee truck and offering customers a place to sit to enjoy their beverages and have the opportunity to interact with your pop-up while they do.
Specialty Build
A specialty build might have been seen previously as an expensive venture. But when you consider all the resources now at your disposal to create your own pop-up adventure, it's not as pricey as it might seem. All you need is a good dose of imagination and a little bit of ingenuity. And when your goal is to create a memorable and shareable experience for your audience, this might be something to give more thought to.
Dunkin' Donuts did just that with their 275-square-foot shipping container home. Promoting their Dunkin' Donuts Coffee at Home campaign, they turned a shipping container into a tiny home that runs on coffee grinds. The tiny home and its coffee-generated fueling capabilities were put on display in the middle of a Manhattan park for a few days, stoking interest and inspection by the public, as well as contributing boatloads of new consumer connections to market to. Making the best of an amazingly fun idea, Dunkin' Donuts then took the concept to the next level, offering fans the chance to stay in the tiny home with a 2-night rental listed on Airbnb.
And then there was Folgers coffee. They ingeniously took what was essentially a large garden toolshed and turned it into a real-life gingerbread house. Also set up in a high traffic area of Manhattan, the temporary structure was fully outfitted with holiday décor, complete with candy cane panels. Curious passersby could see inside—but even better than that, they could also register to win a chance for themselves and some lucky friends to enjoy a fully catered, gourmet sit-down brunch inside the gingerbread house.
With so many companies now out there to help with such a build-your-own experience, you are only limited by your creative capacity—and the desire to look at the pop-up experience in ways that catch the eye and interest of an audience that both wants and needs a little bit of fun distraction.
No matter what your choice is in pursuing the promotion of your brand, pop-up prevails. And as unique times call for unique and innovative approaches, it might be the right strategy to look at as you think ahead and plan for your reentry into the consumer's line of sight.
There are many opportunities out there to get your consumer to connect with you. Physically, virtually or both. You are only limited by your imagination, and now is the time to start thinking.
Got an idea to flesh out? Need someone to make it come to life? Reach out to Chris at engage@medallionretail.com. There's so much to talk about!
Ready to connect to your customers in a more meaningful way?
CONTACT OUR TEAM