Strategy, Creativity, Social Media Integration, Pop-up Retail, Retail Marketing, In-Store Marketing, Case Studies
Pop-Up Retail Moments at NYFW: Feminism, Color and Eye-Catching Experiences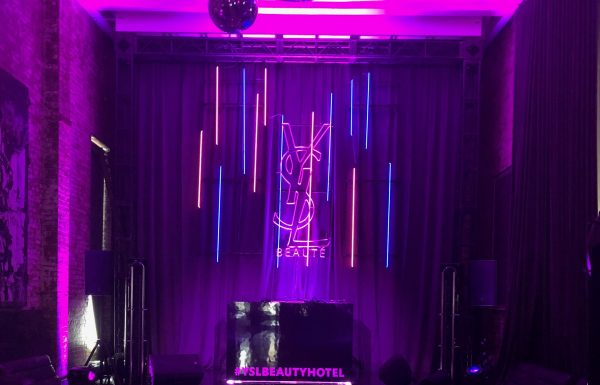 Around Manhattan, Labor Day signals two things: the end of the summer and the arrival of New York Fashion Week (NYFW). This year was no different, with designers, retailers, models and celebrities descending on the Big Apple for a week of runway shows, events, parties – and pop-ups.
[bctt tweet="As pop-ups rise in popularity, brands are using them more and more to cultivate a presence at high-traffic events. We tracked some exciting pop-ups for this year's NYFW, and here's what we found." username="medallionretail"]
YSL Beauty Hotel came to NYC
Few names in fashion are as big as Yves Saint Laurent. But even though it's Fashion Week, we're not here to talk about the iconic designer's clothing line.
YSL Beauty hosted an eye-catching and immersive pop-up in a SoHo townhouse – an experience fit for (rock)stars. The pop-up was similar to the Paris iteration that launched in January – it was dimly lit and glamorous with a distinctively exclusive feel. Though the event was free, ticketed admission was mandatory, and guests entered through velvet rope, led in by white wig-wearing models and a very imposing bouncer.
Immediately upon walking in, the "hotel" concierge handed us a guide pamphlet, with instructions to take plenty of pictures for social sharing, and pointed us upstairs to the first tier of experiences.
To tout their new Rouge Pur Couture The Slim Matte Lipstick, the hosts guided guests down a red line to a clear runway over water – capturing the walk on video for a hip Instagram post. Upstairs, the air smelled of the new Black Opium fragrance as a photographer took pictures of guests posing with guitars on a hotel "opium bed" for a true rock star experience.
But the best part was the top floor shop and rooftop terrace, where guests could test the newest products via augmented reality to see which lip color was right for our gorgeous pouts and even get our purchases engraved (for free!).
This pop-up experience was truly memorable. Though it wasn't entirely new, having been repeated from YSL's previous Paris event, the immersive experience was exciting, and reminds us that pop-ups can travel successfully – with plenty of press to show for it.
Rebecca Minkoff spoke to women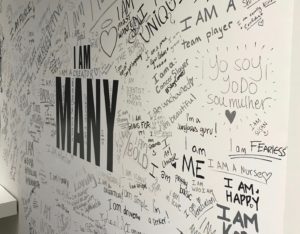 Pop-ups don't always have to be in unique or new spaces. Rebecca Minkoff proves that. Her new feminist line "I Am Many" launched during Fashion Week at an event in her permanent space on Greene Street in SoHo.
While not technically a pop-up, the launch event was an immersive and ephemeral retail experience marked with key pop-up traits.
The store was sleek, modern and bright white with branded bags and tees on shelves and tables. Models encouraged people to take selfies with the products and post them to social media. One wall was covered in positive, empowering handwritten mantras centered around the "I Am Many" theme of women as multidimensional, dynamic beings. and not defined by one characteristic.
The campaign was tied together by videos played on a loop, where a diverse group of powerful women (including Rebecca) talked about who they are and what they believe in. These videos and the entire collection launched on the designer's home page the same day as the event.
The idea takes pop-up for a cause to new heights – and Rebecca has donated every dime of proceeds from the line to women's organizations.
Denim Days kicked off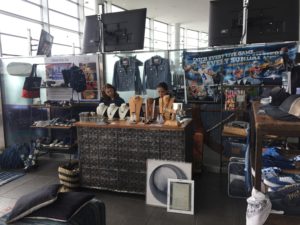 Denim products are iconic. So much so that they have their own festival at the end of September. As a prelude to this event, TENCEL, an eco-friendly textile company, hosted a mini Denim Days intro at the New York Waterways.
The pop-up was smartly located. At a busy travel juncture, people going between Weehawken, New Jersey and NYC could easily pop by. This pop-up was a riff on the newest theme of expanding Fashion Week beyond the confines of Manhattan. NYFW is exploring wider territory from across the Hudson in New Jersey to over the East River in Brooklyn.
Everything on display was made of denim or about denim. Jimmy Choo shoes, Paulita Carlotta jackets, and a rich mix of bags, pillows, headphones, mugs and more – all denim.
The pop-up did a good job of psyching me up for Denim Days. But unfortunately, if you didn't know the event was coming soon, the pop-up wouldn't tell you. There was no signage for the impending festival. It was a lost opportunity to truly maximize this pop-up.
Arche celebrated 50 years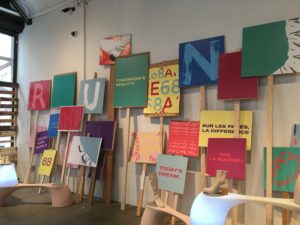 Known for the vibrant colors of their luxury shoes, retailer Arche just celebrated 50 years in the business with a new look. In celebration of this milestone, the French company held a traveling pop-up, ARCHE68, just in time for NYFW.
The brand used their pop-up to launch a new line of white shoes – the first color-less collection. Inside the downtown store on Greene Street, colorful signs contrasted with the pale inventory (of which there was a huge amount to try on). Though the product itself was devoid of color, the store literally popped with colorful signs, a provacative way to incorporate the radical vibe of 1968, the year the brand was launched.
Upon discussion with the attendant, we learned that the pop-up was also intended as a tribute to the French Revolution. At face value, the connection felt a little tenuous; the verbal explanation made it much more evident. Clearer signage could have helped in this effort, and info cards for guests could have effectively explained the goals of the installation.
But whether or not it was French "revolutionary," the pop-up had some fun services. Guests could design their own versions of two types of shoes, personalizing the look with different swatches of color using a computer.
Overall, the pop-up was solid and a great vessel to launch the brand's new products and concepts.
Clear Eyes saw connections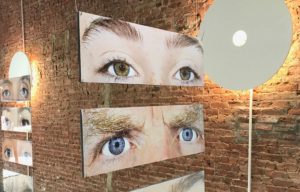 Clothing, accessories, makeup, and now, eye drops? Clear Eyes launched a campaign and pop-up to tie in with the timeliness of NYFW, called "My Shining Moment." The idea was similar in theme to Rebecca Minkoff's "I Am Many" – highlight great people and give back. Part of this campaign also meant partnering with The Nolcha Shows, which hosts a runway event for independent designers to celebrate up-and-coming talent. And as part of a separate partnership with Dress for Success, the eye drops brand also paid for a few lucky women to attend NYFW.
Clear Eyes' exciting, immersive pop-up experience was open to the public. In a sleek space near Madison Square Park, the brand welcomed illustrious photographer Bridges Aderhold to display his arresting work and take photos of guests' eyes. There was also a wall of Post-it notes where people had shared their "shining moments."  And naturally plenty of engaging opportunities to instantly share your personal "eye portrait" on social media and bring home the result.
Though there wasn't an inherent connection to Fashion Week per se in the pop-up, the beautiful and, shall we say, eye-catching campaign worked to attract visitors in town for the shows and gave them a unique and thoughtful experience. And isn't that the goal of pop-ups?
If you're interested in exploring new terrain and want to pursue a pop-up to get there, get started today by reaching out to Michael or Chris at engage@meetmrpopup.com.
Ready to connect to your customers in a more meaningful way?
CONTACT OUR TEAM