Strategy, Permanent, Temporary, Corrugated Display, Brand Positioning, Retail Trends, Retail Marketing, In-Store Marketing, Retail Display, Consumer Behaviors
QR Codes: Turning on the Magic with Strategy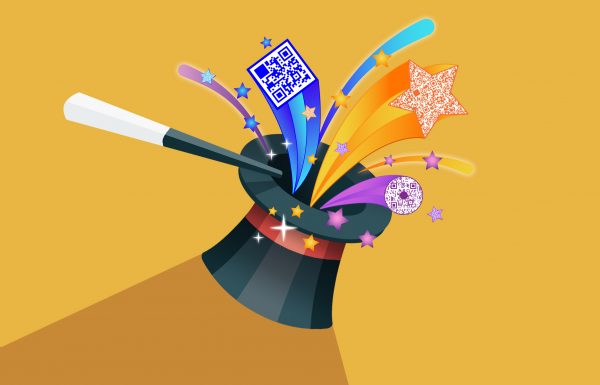 We've been writing for a long time about the virtues of QR code use in retail marketing. Even before the pandemic hit, we were exploring the seemingly bottomless cookie jar that these codes can offer in terms of brands being able to quickly and seamlessly connect with consumers, on their terms and on their timelines.
But it wasn't until there was an absolute need for a touchless experience with brands that quick response codes really came into their own as a marketer's BFF. And because of this sudden need and demand, their use in CPG, retail, PSAs, QSR, business services – the list goes on – caused adoption rates by consumers to go into overdrive. Turning these previously obscure, industrial, "what's that?" versions of barcodes into something that many now recognize and readily interact with. In other words, the general public not only became comfortable with interacting with these but came to expect that they provide a different way to go deeper for information, assistance and yes, experience.
And it's in the latter where we feel that the real story and evolution of the QR code phenomenon truly begins.
QR: Not a Gimmick – a Channel
Now, no longer relegated to the bottom corner on a package, hidden below a website address or buried below an ad campaign as an afterthought, QR codes have moved front and center, to a banner in a storefront, on a poster in a queue, on billboards, on apparel tags – heck, even on TV. And in each iteration and each approach, brands are beginning to realize firsthand that the QR code is not a gimmick or a flash in the pan. It is, in fact, a very pliable, dynamic and customizable channel for marketing to consumers.
And the stats back this up.
According to eMarketer, the number of US smartphone users scanning a QR code will increase from 83.4 million in 2022 to 99.5 million in 2025.
And with each iteration, the use of these codes in marketing campaigns has varied as widely as the number and types of brands using them. Equally, the experience of each encounter has also shown changes as brands go deeper in strategy.
Sometimes that strategy works with somewhat surprising results.
The Day QR Broke the Internet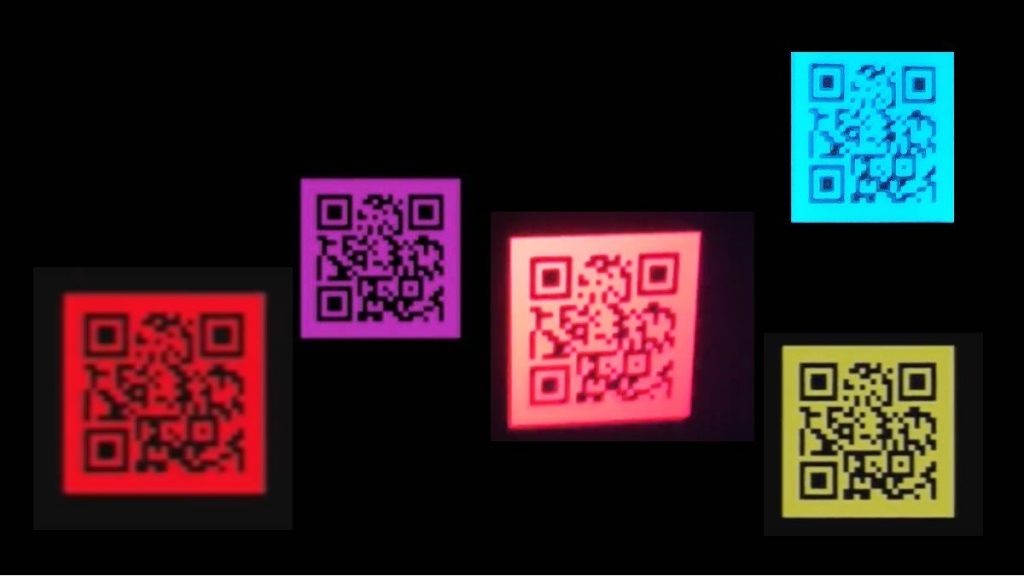 If you were like so many football fans this past February, watching the Super Bowl, you might recall a rather interesting television ad run by Coinbase that offered a QR experience like no other. Their approach? Scan the bouncing code and get $15 worth of free Bitcoin to new signups, along with a chance to enter a sweepstakes worth $3 million.
That ad, which cost Coinbase around $14 million, generated 20 million hits on their landing page within one minute (yes, one), causing their website to crash. Careful what you wish for, I guess. But in this instance, it wasn't even the user experience that counted, nor the actual purchase of a product – in this case, crypto currency. It was what happened next.
According to Sportingnews.com, as a result of the epic interaction with the code, Coinbase's stock price went up 4 percent as of noon ET on Monday. Sportico's Jacob Feldman assessed that Coinbase had added nearly $1 billion to its market cap after increasing 2 percent at 10 a.m. ET. So, it stands to reason that has now nearly doubled, to a $2 billion increase.
Pretty impressive, given the amount of money spent on the ad (mostly as a result of the media placement buy) and with no product purchased or services exchanged. But the strategy was brilliant. Find a big audience in one spot. Invite them to interact with an ad which was unique in its own right. Don't go out of your way to explain everything (element of the unknown – going down that rabbit hole experience). But promise something in return.
It's possible that Coinbase expected that their site would crash. But that might've been a risk well taken in order to achieve their overall objective: name recognition. Perhaps their site crash wasn't a mistake but part of their strategy.
After all, their aim wasn't to sell anything. It was to elevate their profile and boost their stock.
And it worked.
Epically.
Which is why having a strategy around how you use your QR code is an absolute must. Without it, the code won't get you to your intended destination, whatever that might be.
So, before you start to venture down this rabbit hole, here are just a few of the questions you may want to contemplate:
What is it that you want to affect? Increased website traffic? Name recognition? Product differentiation? Boost loyalty programs? Increase sales? Event promotion?
Who is it that you want to reach?
Are you an emerging product/brand?
Is it about creating an experience? Or just about a simple connection with the user?
Is it the desire to explain your product or services to a new audience?
I'm sure there are many more questions you can add to this list, and you should. Because as you understand where it is that you wish to get to, it will help you build a better map (route) to getting there.
Let's Get Inspired
From where the QR code once was to where it is now is akin to the transformation of rotary phones to smartphones – still serving the same purpose but delivering oh-so much more. And because of the QR code's most recent adoption by the general public during pandemic challenges, its use and seemingly endless value have only just begun to be explored and capitalized on by brands and retailers.
Back in March of 2020, when we first spotted the potential of QR code, it was just before the pandemic had landed its first punch. And at that time, barely recognizing that its use would quickly become more of a necessity than a multifaceted marketing tool, we wrote about its value, particularly around DTC brands.
Back then, some high-profile brands like Nike were already experimenting with QR codes, but accessibility to scanning on smartphones was still new and sort of viewed as a gimmick. One that the population at large would likely pass by, not knowing how or why they should interact with it.
How quickly things changed.
And since all of this seemed to have happened in a nano second, creative iteration of QR code use was kind of test-and-go at first – popping up just about everywhere, but not really having much of a strategy in terms of deployment. More like 'good to have' and 'fingers crossed' that people will get it and interact.
But incrementally, marketers began to peel back the layers, finding more and more prizes in the QR Cracker Jack box. A QR renaissance began, with codes popping up on everything from in-store displays and CPG to apparel, drones and now television. And with each approach, another opportunity was discovered; another use, another connection.
And it's still going on.
Because the beauty of QR code is that it is indeed the Alice in Wonderland rabbit hole, its use limited only by our imaginations. As Alice would say, "Curiouser and curiouser!"
Although there are many, many examples of QR code use out there, and with new approaches coming daily, we thought we'd give you some inspiration around QR code marketing by sharing 3 examples that were unique and well played strategy-wise – ones that didn't approach QR code as an afterthought but used this technology as a working and critically central part of their marketing campaigns.
Hallmark – Marrying Print with Digital
In an age of digital coldness, Hallmark leaned on its 111 years of making human connections though printed greeting cards, enhancing that personal and human connection further by incorporating QR code in its messaging.
Laura Steward, founder and CEO of Video Fizz, the company that partnered with Hallmark to marry the backend video acquisition and compilation technology with the physical greeting cards, said, "This is a completely new product innovation. Millions of QR-enabled cards are making their way to stores as we speak. The solution is so elegant. You just scan the QR code in the card you purchased, upload photos and videos from your phone, and then mail the card. It's so easy that my 87-year-old father is a wiz."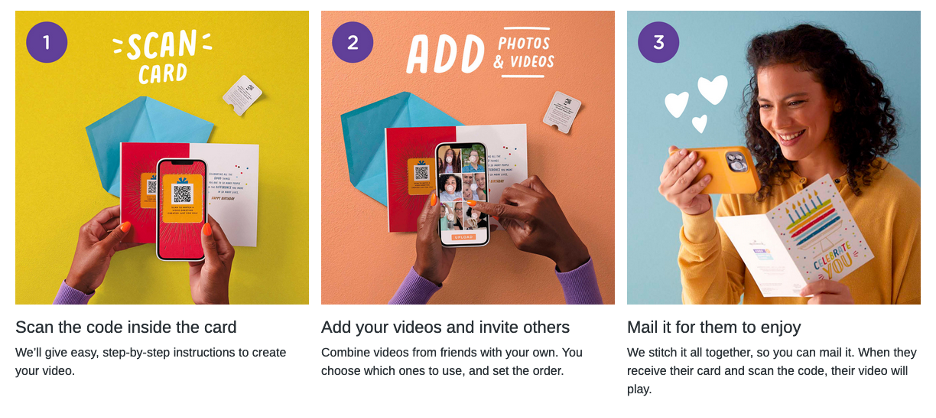 The idea is to ultimately take the personalization of printed greeting cards to a whole new level. Creating a happy, emotional and yes, very impactful bridge between print and media, permitting a one-of-a-kind experience that shoppers will seek out under the Hallmark brand. And let's not forget driving interest and foot traffic into their physical stores.
Genius.
Mountain Dew – Bringing Gamification to QR Code In-Store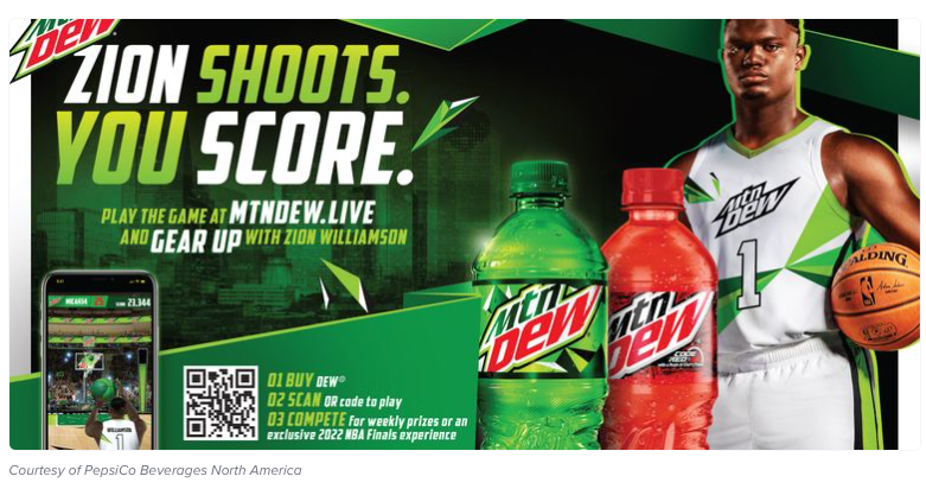 Marketingdive.com highlighted PepsiCo's exclusive mobile-web-based experience, "Zion Shoots. You Score.," a game that layered in a retail component to the campaign and placed point-of-sale QR codes at select stores that activated the game when scanned. Their strategy was based upon accessibility as a wider swath of consumers gravitate toward hyper-casual gaming.
"Zion Shoots. You Score." allowed users to control a digital avatar of Williamson whose shots were guided by swiping a smartphone screen or tilting a smartphone with motion controls enabled. The stronger the swipe or tilt, the harder Williamson shot the ball, with a meter reading the shot's power level on the side of the screen.
After completing a round, a score was tallied and the player could enter their email address to be eligible for a weekly prize drawing, with rewards ranging from basketball merchandise to tickets to the 2022 NBA Finals presented by YouTube TV.
After scanning the code with your phone, you were led through a series of screens allowing you to choose to connect to your Facebook, Twitter, Google or Apple accounts. Or, it gave you the option to enter the experience as a 'Guest.'

Ease of engagement is critically important. And in this, as Chauncey Hamlett, VP/CMO for PepsiCo Beverages North America's South Division said, "Authenticity is key … this kind of mobile-forward approach is something that we love about it. We tried to take a simple approach to this … even to the fact that you don't have to download an app."
And when talking about the strategic use of QR code in-store, Hamlett said, "People are naturally used to utilizing QR codes, they're used to having their phones in their hands and they're used to engaging them. Simplicity was the key here."
Gamification, especially when you enfold it into point-of-purchase display is a growing and dwell-inducing approach. And sports fans gravitate to joining in on the action – especially when it includes contests and sweepstakes with some healthy payoffs.
Marvel Studios Uses QR Code as the New Decoder Ring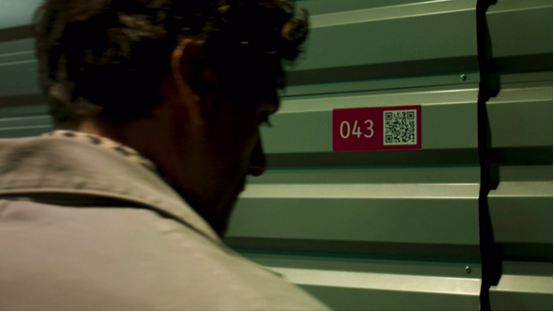 Saving the best and most unique for last…
In their approach to using QR code in their series Moon Knight, Marvel Studios has addressed the quandary faced by many who join in midstream. Who are the characters? How did the story begin? Is there more that I've missed?
Where's my decoder ring?
Bear with me. I'll get to Marvel Studios' initiative in a moment. But first, a little background on decoder rings as a marketing approach and how their use continues, albeit in a different format (hint: QR codes) to keep and grow fan base.
How an Orphan, a Crusader and a Malted Beverage Merged to Create Experiential Marketing
Since the days of marketing to kids via cereal boxes and radio shows, the idea of connecting marketing collateral to an "experience" has been at the root of creating an elongated and tethered relationship with the consumer. My reference to the decoder ring was a perfect example of such an approach that worked not only in retaining existing audiences but in growing brand recognition.
An extensive and very insightful article from mattblaze.org lays out where and how the 'decoder ring' phenomenon got its start.
Somewhere between 1935 and 1949, both kids and adults were often glued to their radios, and eventually television sets, in the evening hours, tuning in to their favorite serials. And, as you might guess, all of these shows had sponsors. So, to keep sponsors paying for airtime and the station operating, marketing to listeners was, as it is today, critically important. Marketing approaches that established loyalty to the network and to the brands who were advertising there. This is how many got their first introduction to cryptography: through encrypted messages broadcast at the ends of episodes of two popular radio adventure serial programs, specifically Little Orphan Annie and Captain Midnight.
Dedicated listeners could write in to join Radio Orphan Annie's Secret Society which later became Captain Midnight's Secret Squadron, and they would be sent a decoder that would allow them to decrypt each week's messages (generally a clue about what would happen in the next episode).
To become a member and receive a decoder for Radio Orphan Annie's Secret Society and Captain Midnight's Secret Squadron, an allegiance to Ovaltine was required. Proof of purchase would be in the form of mailing labels from Ovaltine packages which were then mailed in to Ovaltine. New pins and badges were issued annually, requiring additional labels to be sent in each year. The devices weren't always decoder rings. In some campaigns they took the form of pins, badges and the occasional whistle or signal mirror. But all were connected in some form to the show, and often called in to use during the actual live broadcast.
Who would want to be the only kid in the room without this special ability when the show came on? Can you say 'peer pressure'? And of course you drank a lot of Ovaltine, which you were happy to do, because the marketing said it was the drink that was so needed by "growing secret operatives." And so, brand loyalty was born, with new loyalists gained every week with each new show. And then sustained, as more campaigns were developed one after another.
Brilliant, right?
Marvel Studios, in their multilayered strategy, has taken QR code (the new decoder ring) and woven this into their promotion of Moon Knight, the Disney+ streaming series, with some measurable success.
According to Variety, ever since Moon Knight debuted on Disney+ on March 30, eagle-eyed viewers have noticed a series of semi-conspicuous QR codes in the background of scenes in the first, second and fifth episodes of the show. Scanning the codes sends viewers to a special website that contains a weekly, free web comic featuring the Moon Knight character through the run of the show, from his first appearance in 1975 through his most recent issue in 2019.
It's a savvy way to expand viewers' comic book knowledge for a character even serious Marvel fans may never have read about, and it's been wildly successful: According to Disney, the landing page has been visited over 1.5 million times, leading to over 500,000 full comics read to date.
Getting inspiration from places like the House of Terror in Budapest, where visitors can use their phones to scan QR codes to read captions in English or learn more about what they were seeing, Grant Curtis, executive producer of Moon Knight, wanted to find a way to bring in a similar kind of interactivity, giving viewers background information on characters that they may not have previously known about. Exposing a whole new audience to the full library of their comic books. Getting them connected to the trilogies. And maybe creating yet another channel for marketing to series enthusiasts.
This was a well-thought-out strategy that has so many arms and legs to it that I think Marvel Studios has only just begun to see the full potential here.
Wrapping Up
Creating an experience that draws your audience in closer is exactly the beauty of QR code. However, simply slapping these things on signage, displays, print media or even on television alone, doesn't mean that they work on their own.
You need to have a strategy. A smart strategy. And building one starts with the questions I posed earlier on and then creating a road map of how to get to your intended destination.
Without a doubt, QR code use in marketing has come a long way over the past 10 years, but certainly in the past 2–3 years that evolution went into hyperdrive as mobile technology made the codes more accessible and the challenges brought on by the pandemic increased acceptance by the general public.
At Medallion Retail we continue to see the value of using QR code in smart ways, to give shoppers an even deeper connection with brands and to help our clients build their own strategy around QR code use in their in-store marketing.
---
If you'd like to know more about how QR codes can work for your signage and display, give Chris Gordon a call at 646.677.5618. He's got lots of ideas and is just waiting to share them with you!
Ready to connect to your customers in a more meaningful way?
CONTACT OUR TEAM