Strategy, Creativity, Retail Marketing
Recommended: Creativity Podcasts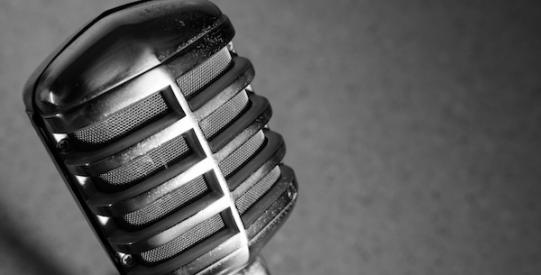 Who knows what evil lurks in the hearts of men? The Shadow knows.
But I bet the nocturnal hero can't recommend a great podcast. I figure that makes us just about even.
I have no clue about the evil levels in the souls of those around me, but I can recommend a great listening experience.
Though they've been around since the dawn of the internet, podcasts gained neither a name nor a wide audience until the early 2000s. Many of the early digital talk shows that took off were like old pirate radio stations, allowing hosts to sidestep the FCC and talk directly to specific sets of listeners.
But the real general listenership explosion didn't happen until fairly recently, with a little podcast from This American Life called "Serial."
Evoking the wildly popular episodic radio style of the '30s and '40's, "Serial," which reinvestigated the 1999 murder of Maryland high school student Hae Min Lee, drew a huge audience by stimulating the listener's imagination and tapping into his very basic desire to get lost in a story. Millions listened.
That rebirth of storytelling, coupled with the ubiquity of the smartphone, has breathed new life into the podcast.
According to the Pew Research Center State of the News Media 2015 Report:
The number of podcast listeners… has almost doubled since 2008 – 17% (up from 9%)
One-third (33%) of all Americans 12 and older have listened to at least one podcast
Podcast awareness has more than doubled since 2006 – 49% (up from 22%)
Publicly available data indicate a steady rise in number of active podcasts and number of download requests over the past three years
Mobile devices are the preferred way to listen to podcasts.
It is estimated that there are now 180,000 podcasts; it seems that everybody is podcasting. (BTW, if you've yet to set up a podcast empire, don't worry. It's relatively easy. Click here and here.)
A podcast can be a microphone to the world. As a listener, it's also a great way to be entertained, to learn from an expert, to explore a new horizon, to get a laugh or to be inspired. It's that last one – inspiration – I want to look at today.
Following is a list of what I consider some outstanding podcasts that stimulate creativity. Listen and get inspired.
This podcast focuses on the themes in the book by the same title. I like the fact that this show is aimed toward creative people, and that it's short. You can listen to a bunch of them in one sitting (or walk).
The guests on this podcast are very eclectic, and each provides a unique perspective on creating and creators.
By the Way: Conversations with Jeff Garlin
You may not recognize Jeff Garlin's name, but you've probably seen a movie or a TV show that has featured him. His show consists of live interviews with actors, comedians and other Hollywood creative types, who provide great insight into the creative. (Note: these are no-holds barred interviews, and the language can get colorful.)
TED conferences are renowned for featuring talks on all different kinds of topics. TED Talks Art is a video podcast featuring designers, artists and other creative types showcasing their work. It's great stuff that is inspirational and aspirational.
This podcast consists solely of people telling true stories. It's a person, a microphone, no notes and an audience—that's it. Some names are recognizable, others less so. All deliver tales that are fresh, weird, unexpected and not practical in any way. It's a must-hear.
Be warned: Risk! is not for the faint of heart. Their tagline says it all: "Where people tell true stories they never thought they'd dare to share in public." Sure, there are stories about nudist colonies and kink camps. But there are also thought-provoking pieces about families, responsibilities and relationships, and all of the complicated choices that come with them.
Produced by creatives, for creatives, this podcast offers both perspective and from-the-trenches wisdom, along with the chance to express yourself.
Originating as monthly in-person lectures by creative leaders, this podcast serves up not only advice and ideas from well-know thinkers, but authentic creative community as well.
This post is part of my ongoing series Recommended:, where I curate, sample and share awesome resources and ideas for creative marketers.
Ready to connect to your customers in a more meaningful way?
CONTACT OUR TEAM