Strategy, Creativity, Signage, Permanent, Temporary, Corrugated Display, Retail Trends, Retail Marketing, In-Store Marketing, Retail Display
Retail at Street Level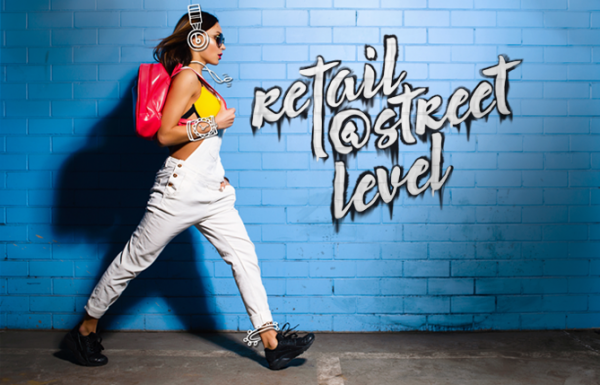 Retail marketing and in-store design evolve every day. To keep pace, the Medallion Retail team – a group of curious creatives, retail strategists and experience designers – regularly hits the streets to discover what's happening right now. Here's what we discovered in March.
Boundary Manipulation
When is a window display not a window display? When it spills out onto the sidewalk and into the shopper's experience.
As we walked the New York City streets, we noticed occasional breaks in the flat rows of store windows that lined the blocks. It looked as if visionary retail store designers had decided that they no longer wanted to stop where the glass began.
So they didn't.
In theater, they call this breaking the fourth wall. In retail experience design, we think of it as manipulating the boundaries. No longer hindered by where a display is "supposed" to end, smart retailers are expanding their physical footprints by continuing the display outside the window or into the store (and sometimes both).
Designers use signage, planters, trompe l'oeil effects, optical illusions and props to break the wall, redefine convention and set the brand free.
Amped Socially Conscious Messaging
A great store window or display will always have something to say – usually about a product or a brand or a category of shopper. But many retail brands are taking the conversation to a new level and speaking out about causes and issues that have real meaning and contemporary impact.
Social awareness among retail brands is not new. The environment, children in need, wellness and other issues or causes have often been used as brand platforms to demonstrate community involvement. Corporate citizenship, they call it.
But what we saw among the retailers we recently visited was commentary that went beyond the safe and generic, and into a space that could be considered provocative. The messaging we experienced was bold, relevant and fearless. These brands had very specific points of view and were not afraid to put them on display–literally.
This is a fairly recent development in retail marketing. Several years ago, brands worked hard not to stray too far from the middle. Doing so would cost them business in the short term, and their good reputations in the long term. Today, retailers are less hesitant to speak their minds and are more willing (even eager) to share a strong, unapologetic opinion.
In many of the stores we explored, bold declarations of #femalepower and #girlpossible were in abundance. Retailers also used climate, human rights and politics as centerpieces for visual campaigns.
Why are retail brands now so willing to take a stand? We believe it's because they have to. In this era of the wired and educated shopper, information is everywhere, and everyone is an investigative journalist. Shoppers demand to know what the brands they love think about the issues. Retailers that don't have a transparent position on the things that "matter" will have one created for them. That is work best left in the hands of the marketers.
Retro Inspiration
We are all familiar with the current popularity of all things patinaed, classic and once-dearly-loved. Vintage continues to be a huge trend in fashion, design, food creation and entertainment. We all know that twenty-something fashionista, duckpin bowling and sipping small-batch Scotch while wearing the 1940s dress she altered herself.
While a general vintage ambiance was beautifully evident in several of the windows and displays we saw on our travels, a specific vibe stood out: Art Deco.
Original Art Deco is characterized by smooth lines, geometric shapes, streamlined forms and bright, sometimes garish colors. Initially a luxury style (a reaction against the austerity imposed by World War I), post-Depression deco designers used mass-produced, less-expensive materials like chrome, plastics, glass and other industrial media. The middle class of the time had a strong taste for a design style that was sophisticated, glamorous and functional.
Today's shopper has a similar hunger, and retailers are feeding it. This in-store design trend – we call it Re-Imagined Deco – is about elegance, strong angles and unexpected color choices. We noticed Art Deco inspiration in mannequin design, props, material choices and backgrounds, even for products that had nothing to do with the style.
Product as Sculpture Medium
When is a dinner plate not a dinner plate? When an artist gives it fins and gills and makes it the centerpiece of a fantasy retail window display.
Designers are telling stories by using products not as they were intended, but as they might imagine themselves (if products had strong imaginations). A plate-turned-flying-fish is whimsical. A woman's portrait comprised entirely of lipsticks is the very definition of beauty. A monolith of vintage LPs is sheer virtuosity.
It's art meets commerce.
Competition for shopper attention is fierce, and smart retailers are using their windows and displays as part gallery, part battleground. Designers are giving shoppers something to stare at – and think about – by using unexpected juxtapositions of product and setting. By turning a product into something it's not, designers are showcasing everything it can truly be.
Ready to connect to your customers in a more meaningful way?
CONTACT OUR TEAM