Strategy, Creativity, Social Media Integration, Brand Positioning, Retail Trends, Retail Marketing, In-Store Marketing
Retail Experts Share Their Predictions for Q4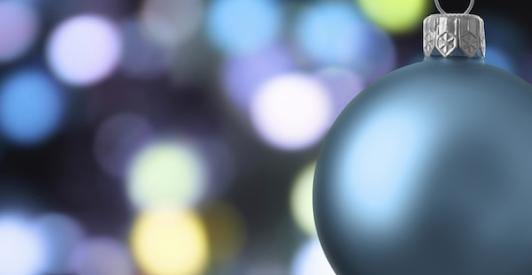 'Tis the season… for a sneak peek at Holiday 2015.
Christmas came early! On October 27th, to be precise. That's when retail and financial industry leaders offered their predictions for the upcoming holiday sales season at the Retail Marketing Society-hosted conference, Holiday 2015:  The Retail Outlook. Five heavy hitters shared their visions of what will be happening in-store, and in the minds of shoppers. Here are some highlights.
While the speakers represented different areas of the business – research, fashion, finance, trendspotting – there was a common thread: the shopper is in charge, and she wants an experience.
Sarah Quinlan, SVP of Market Insights at MasterCard Advisors, went so far as to title her presentation Consumer Spending: It's As Much About the Experience As It Is About the Product. She spoke of a busy shopper who seeks retailers that make her life easier. She wants an efficient and rewarding experience, driven by a "curate for me" attitude.
Quinlan believes "the store is king," citing that ecommerce represents just 6.3 percent of total sales. The shopper goes online, she states, to visualize and learn about products. The store must compliment that experience and close the sale.  Quinlan also busted some myths about a full holiday "season," noting that retailers can't make shoppers start early. "Last year, Black Friday sales were down," she said. "The seven days before Christmas accounted for 30 percent of holiday 2015 sales."
Quinlan sees a lift in overall 2015 retail sales numbers as the economy continues to improve, with experience categories – dining and travel – trending well in Q4.
David Wolfe of The Doneger Group, however, lamented that trends no longer exist, at least in fashion. "Things may be trending, but there are no more trends,"he said as he shared What's Fashionable in Holiday Fashion.
The fashion system is dead, unable to exert "pressure" on shoppers as it once could. The new consumer is confident, and is shaping the landscape herself. "Millennials are shaking things up," said Wolfe.
Fashion changes or evolutions (not trends) Wolfe sees for Holiday 2015:
Suede for men and women (a 70s recall)
Fur garments and accessories (real or faux)
Fringe (and if the fringe is suede, all the better)
Glittering embellishment (only category in which occasion creates the need to buy)
Performance tech and wearable tech (gadgets meet Athleisure)
Denim (though it has never really been out)
Star Wars (where the marriage of celebrity and fashion has been consummated)
Marni Shapiro, Managing Partner at The Retail Tracker, believes that technology and digital living are also in fashion. "Welcome to the SnapChat Holidays," she said, kicking of her presentation Softlines: The Shopping Mentality During the Holiday Season.
Not only is today's shopper seeking experiences, she wants those experiences to be extremely photogenic.  "Shopping has become a reality show," said Shapiro. "And the shopper is the star." She will not buy a product or service if it is not share-able, Instagram-able or Pinterest-worthy. (And interestingly, these "personal paparazzi" focus on above-the-waist purchases that "show" because that's what followers will see in the selfie.) And if you buy her a gift, make sure it is beautifully wrapped. The opening will make a great YouTube video
The shopper does not browse anymore; she arrives at the store fully informed by her online research, and expecting a continuation of that experience. This "digital + in-store" interaction is where the retailer/shopper relationship is created. "If you don't win the digital leased line, you're dead," said Shapiro.
And while the holidays are not the time when a shopper will try a new brand (the stakes are too high), it is a great time to reinforce brand loyalty. Highlighting the meaningful difference between "need" and "want," Shapiro urged retailers to find and own that intersection. "I need yoga pants," says the shopper. "I want Lululemon." Understand the shopper by communicating with her.
Greg Petro, President & CEO at First Insight, Inc. succinctly underscored the need for shopper-driven insights. "Listen to customers," he said, kicking off his presentation, An Inconvenient Truth: The $1.1 Trillion Global Retail Problem.
It is critical to engage shoppers in the development of products and retail approaches. The new product success rate is only 39 percent in North America. Asking the right question of the right people under the right circumstances will yield real, actionable information.  Why?
There is wisdom in crowds. On Who Wants to Be a Millionaire? the "call a friend" option results in a 65 percent success rate. Audience polling leads to 91 percent success. Pop-culture proof.
The customer is eager to share her opinion. She wants to influence the brands she loves.
Technology can separate the signal from the noise. Embrace analytics.
Data is ubiquitous, but insights are rare.  nformation is useless unless you do something with it.
Insights can drive financial results. Work smart.
And work bravely. "It is critical now that a company take risks and be willing to fail," said Petro. "Sometimes it's easier to discover what not to do."
Ready to connect to your customers in a more meaningful way?
CONTACT OUR TEAM