Strategy, Creativity, Pop-up Retail, In-Store Marketing
Five Reasons Retailers Should Give Thanks This Year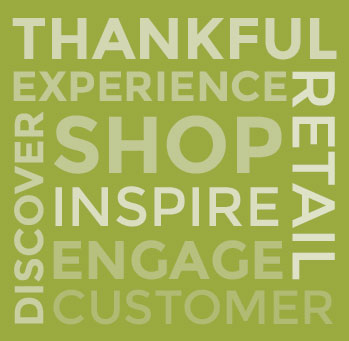 Our Thanksgiving tidings to you: A warm and wonderful holiday. An excellent 4th quarter. And five retail trends we are most thankful for.
We are thankful for the re-discovery of in-store as a critical part of omnichannel. As online retail and social media exploded as viable shopper marketing tools, many feared that brick-and-mortar retail would wane. But shoppers still enjoy the tangibles of shopping; the discovery, the sampling, the tactile. While researchers point out that 50% of sales will somehow be influenced by digital interactions (browsing online, for instance), only 14% of purchases will come in the form of non-store sales (primarily, e-commerce sales).
We give thanks that pop-up has taken its place as a viable, critical part of the marketing mix. Flexible, cost-effective, surprising and attention grabbing, a pop-up will take a visit to a location and elevate it to a shopping experience. It also facilitates in-store experiences where they might not have existed before.
We appreciate that in this time of huge retail noise and competition, the need for clarity and simplicity remains a signage/display must-have. Shoppers demand to be entertained and engaged. But when the sound and the fury drown out basic consumer communication, it leaves shoppers overwhelmed and annoyed. Simplicity of messaging diffuses the chatter and resulting angst, setting the customer in the right frame of mind to listen and connect.
We are thankful for the opportunity to communicate with customers rather than at them. Smart retailers listen, and use shopper-driven insights to build customer experiences, product offerings and shopper conversations. Retailers must "…move from a mindset of "always on" to a culture of "always engaging" – go from "supplied assets" to "supplied stories." Consumers believe that their opinions (and their stories) matter – and they're right. It's not about pushing coupons to a shopper. It's about being a part of her life.
Finally, we give thanks for a world of more discerning shoppers; those who demand not just retail goods, but retail experiences. Every phase of the transaction is under shopper scrutiny; they demand quality not only in the goods, but also in the experience of obtaining those goods. The in-store experience must deliver, or the consumer goes elsewhere. This evolved shopper challenges our strategy, drives our creative and pushes us to do our very best work.
Ready to connect to your customers in a more meaningful way?
CONTACT OUR TEAM