Strategy, Creativity, Social Media Integration, Retail Marketing, In-Store Marketing
Retail Marketing Redefined: The Sample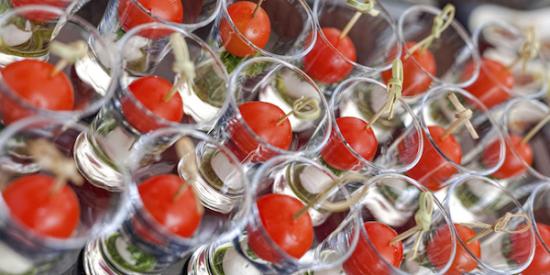 Who doesn't love a free sample while shopping? I know I do. Well, I did until that unfortunate incident involving the mini-corndogs and the overzealous, power-mad lady with the tray. (It's not like she was giving away her own food. And the security escort to the door was completely unnecessary, but fully indicative of this woman's poor hosting skills. Now I bring my own corndogs when I shop.)
For those who have never endured an in-store pork-product incident, a free sample is still very much appreciated. The right sample shared at the right time (I'm looking at you, clueless perfume spritzing people) makes the shopper feel welcome and special. Like nice little surprises along a shopping trail, samples are delightful discoveries that drive sensorial engagement.
Plus, they're free!
Sharing tastes and scents in-store is not new; food and grocery brands have been offering shoppers free samples for decades. But the practice has evolved, for a few reasons. Today's shopper is much more sophisticated and demanding. Digital technology has created entirely new platforms for sharing. And right now, retail marketing is all about creating satisfying shopper experiences.
We have seen the free sample table move away from the deli area (which is coincidentally what the corndog lady said to me) and into almost every department in any store. From big box locations to intimate fashion boutiques, the sample is enticing and engaging shoppers in new ways. Enter FreeSample2.0.
Clearly, a free sample is no longer just a cube of cheese or a swipe of fragrance across the wrist. Like many classic retail marketing tactics (e.g., the catalog, the display, signage), the free sample now takes many forms.
Here are 24 things a free sample can also be:
Downloadable makeup light
Phone charging station
"Choose-your-mood" pre-shop aromatherapy
VIP code to online fashion show
Mini wrist corsage
Ear buds and personalized shopping soundtrack
Canvas tote bag
Branded Instagram photo filter
Iced cucumber water
Introduction to a celeb
Mini makeover
Two-minute hand massage
A sneak peek
"Backstage" tour
Digital coupon
Mini-workshop
Downloadable ring tone
Code to VIP website
Branded mini-cupcakes
Downloadable how-to voiced by celeb
Virtual styling
Shopper's notebook
Wine tasting
"Summon an associate" app
What else might we add to the list? Let me hear from you.
Ready to connect to your customers in a more meaningful way?
CONTACT OUR TEAM