Strategy, Creativity, Pop-up Retail, Retail Marketing, In-Store Marketing, Case Studies
Retail Peep Shows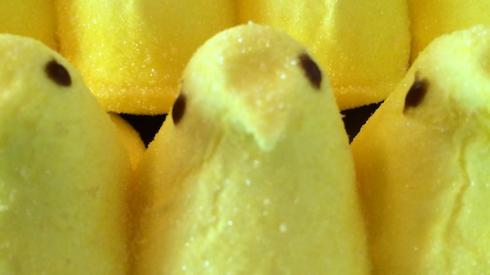 Peeps season has arrived!
Confection company Just Born can create the iconic marshmallow chick in about six minutes (down from the 27 hours it took in 1953).
How long will it take you, retail marketer? Because unlike worn out parents on a very long family car trip to Grandma's for Easter dinner, your shopper does want you to make a peep.
Easter marks one of the year's first big retail sales holidays. Consumers are eager to shake off winter and venture out into the warmth and color that is retail in the springtime. Shoppers want to celebrate this season of new beginnings with new stuff.
According to the National Retail Federation's Easter Spending Survey conducted by Prosper Insights & Analytics, total 2015 U.S. holiday spending is expected to reach $16.4 billion.The average shopper celebrating Easter will spend $140.62, an increase from the $137.46 she spent in 2014.
And for the most part, retail marketers are ready for her. The fact that Easter is a critical sales period is not news.  Forward planning for the season has probably gone on for more than six months. Promotions, special events, partnerships, advertising themes, graphics, signage and displays were long ago concepted, approved and created.
But it's noisy out there (all those peeps!). Competition for shopper dollars (and hearts and minds) is fierce. In our real-time world, does a retail marketing program created half a year ago attract the level of attention required? Will ideas developed last November resonate with the shopper today? How can a marketer make sure campaigns feel fresh?
The answer is to rethink the retail marketing planning process. Rather than creating an entire campaign six months in advance, put aside some time and budget to develop supplemental marketing tactics closer to campaign launch. Tap into pop culture; use (now) timely trends, styles, people, music, memes or events as a jumping-off point to build shopper experiences that are truly of-the-moment.
Obviously, digital executions are an efficient way to extend a campaign into the here and now. But in-store provides opportunity as well. (Of course, digital plus in-store tactics are the most powerful for this approach.) Consider:
In-store events (demos, mini-concerts, makeovers, tastings) with appropriate YouTube stars
Lounge areas where current hit songs/artists establish a mood
Supplemental signage featuring popular images or catch phrases
Pop-up experiences that extend in-store into the street (go where the action is right now)
Granted, this represents a major shift in the way retail marketers do business, and it won't be an easy one to make. Shorter lead time will necessitate agility, quick consensus building, faster production times and streamlined processes. But the result – timely retail experiences that satisfy shoppers' demands – will be worth it.
To retailers, and their peeps.
Ready to connect to your customers in a more meaningful way?
CONTACT OUR TEAM