Strategy, Creativity, Pop-up Retail, In-Store Marketing, Retail Display, Consumer Behaviors
Retail Pop-Up Solutions: Malls Aren't Dead – They're Evolving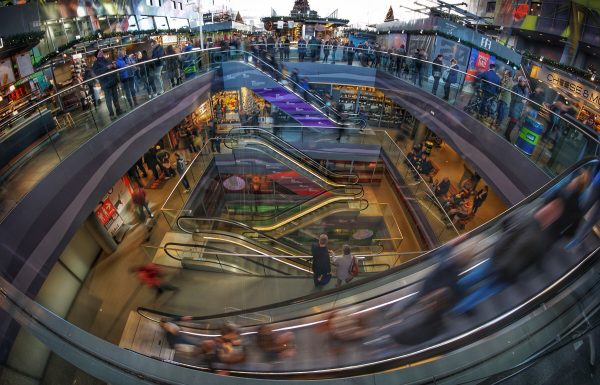 Thirty years ago, suburban malls were the center of life for Americans, especially American teenagers. Malls were where you went to find a prom dress or a new pair of jeans; the food court was where you gathered with friends or flirted with your high school crush.
Today's teens still prioritize these important tasks – but on Instagram, not at the mall.
The over publicized idea of "retail apocalypse" is nothing new. For over a decade, mall retailers have dealt with increased competition from e-commerce sites – and, of course, changing consumer habits. But while the U.S. mall-vacancy rate hit a new high in 2018, a new retail pop-up solutions could change everything.
And it all starts with the length of leases.
Shorter leases entice smaller brands
In 2018, mall titan Macerich Co. launched BrandBox, a radically new leasing program designed to entice e-commerce retailers. Once upon a time, retailers had to sign multi-year leases to land coveted mall real estate. BrandBox, on the other hand, offers 6 to 12-month "pop-up" lease contracts. With this lease structure, small or new brands can experiment with brick-and-mortar solutions without being tied to a location for years.
As Kevin McKenzie, Macerich's chief digital officer, said, "Instead of selling real estate, we're selling retail pop-up solutions."
Younger shoppers want in-person connection and experiences
If you're thinking this solution sounds like a rebrand of the tactic holiday retailers have deployed in malls for years, you've got the wrong idea. Macerich isn't just trying to fill a vacant space – they're testing a model to support evolving consumer habits. In 2018, shoppers – especially Gen Z and millennials – began returning to brick and mortar retailers. The unexpected trend is indicative of a broader "retail renaissance," but food court soft pretzels aren't what entices these shoppers – they're on the hunt for unique experiences and the chance to connect on a more personal level with their favorite brands.
To meet consumers' changing demands, many brands turned to pop-ups or flex retail spaces. But for younger brands, hosting a pop-up can be tricky: to be successful, you need real estate with the right infrastructure, the right location, and the right price. Macerich hopes BrandBox will deliver all three.
Malls offer brands an easier pop-up solution
Launching at Tysons Corner Center near Washington, D.C., BrandBox offers retailers the chance to call one of the most valuable popular shopping malls in the country home. The 11,000-square-foot space is huge – big enough to host at least six pop-up retailers at a time. Movable walls divide the space, so retailers can carve out their unique corner, giving shoppers a more memorable and intimate shopping experience. And, as far as infrastructure goes, BrandBox has it all: fixtures like shelving and lighting are already in place, and the mall will provide data on foot traffic, help with marketing and staffing, and radio-frequency identification tags for inventory.
These retail pop-up solutions remove many of the barriers to launching a pop-up for smaller e-commerce companies. "We view BrandBox as a safe environment to test our brand in a mall," said Matt Scanlan, co-founder and CEO of Naadam, one of the first retailers to sign on with BrandBox. "They have set us up with retail technologies and subscription software that are normally inefficient to install for a pop-up but can be transformative in terms of learning."
[bctt tweet="If its business model hits home, BrandBox has the potential to transform the American mall – not just in the short term, but possibly for generations." username="medallionretail"] Instead of navigating sprawling department stores and tired food courts, shoppers will experience malls as an eclectic incubator for up-and-coming brands. In turn, malls will thrive – regaining relevancy and earning market share.
Realtors and mall owners back the trend
Of course, BrandBox isn't alone in pushing the mall pop-up concept forward. On Black Friday, mall operator Simon showcased Launchpad by Simon, a pop-up highlighting new products and trends, at shopping malls around the U.S. Shopping center owner Kimco Realty began testing a short-term lease pilot program. And websites like Storefront and Appear Here offer Airbnb-esque services, pairing brands with short-term leases in retail spaces.
Mohamed Haouache, Storefront's Chief Executive Officer, thinks the pop-up mall trend has weight – and could change how we experience malls altogether. "It shows, for many malls, their revenue models are going to change entirely," said Haouache.
An evolution is underway
For shoppers, the change could be pivotal. Malls were designed to heighten the shopping experience – they were a space where teens could safely gather and families could visit on weekend outings. Moving forward, malls can be even more than this: they'll be a place to connect with new, exciting brands, support local businesses and have unique experiences, again and again via retail pop-up solutions.
What interesting pop-up experience have you had at a mall?  We'd love to hear your thoughts below.
With over 50 years of retail agency experience, Medallion Retail and MR Pop-Up is constantly evolving to keep ahead of changes in the retail-sphere. Let us help you with everything from pop-up ideation to implementation. Get started by reaching out to Michael or Chris at engage@medallionretail.com
Ready to connect to your customers in a more meaningful way?
CONTACT OUR TEAM