Strategy, Creativity, Retail Marketing, In-Store Marketing
Romance in the Produce Section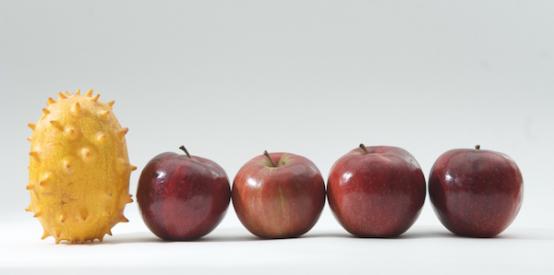 Personally, I am not a fruit-and-vegetable guy. When I wander into the produce department, it's only to marvel at the architectural mastery of the Red Delicious apple pyramid. Or to attend the ceremonial misting of the greens, but only because I can pretend I'm trekking through a rain forest. Frankly, my time among the fresh-picked is spent in constant fear that I'll encounter a Horned Melon.
OK, I'm a bit childlike in my appreciation of fruits and veggies. (Not picky. Childlike. And full of wonder.) I enjoy corn and potatoes and green peas. The tomato, a fruit known also as a "love apple," can be tasty, if your mom takes the seeds out first.
I know I'm not alone in my eschewing of fresh produce (obvious tomato expertise notwithstanding). However, with increased cooking, canning and snacking among Millennials, hipsters and boomers, the appeal of the produce section may be growing.
It's a tough time for large grocery companies. What with home delivery, supercenters, club stores, farmers' markets, food co-ops, specialty sub-brands and even Dash buttons that allow the home refrigerator to join the Internet of Things, competition for shoppers' dollars is vast and varied. The answer for chain grocers is to provide the best of large and small; the most effective of mass and personalized, the most powerful of shopper convenience and shopper experience.
It's a matter of romancing the produce shopper right there – among the love apples and the Horned Melons. Backdropped by bright colors and even brighter possibilities, the grocery marketer must connect with the shopper, elicit a response and activate an emotion.
Sure, apps might possibly be able to show some shopper love. But is a cold, digital solution sending the right message? In this time where words such as "artisanal," "local," "curated," "sustainable," "bespoke," "farm-to-fork" and "craft" comprise the language of a new, more democratic food culture, it makes sense that grocery shopper experiences be presented with hands-on sincerity and authenticity.
That means lifestyle marketing. When a grocer demonstrates knowledge of how the shopper lives (or wants to live) and what's important to her, and then makes it happen, a connection is forged. A shopper moment that carries emotional weight speaks not to the mundane purchase of produce, but to the possible creation of a feel-good family memory.
Some ideas for connecting in the produce department:
Redefine the tasting. No more "free samples." Instead, create hands-on moments of interaction between foodies and shoppers. Guest chefs, nutritionists or food authors provide a technique or recipe demo. Then the shopper tastes.
Cross-promote creatively. Put ideas into the shopper's head and surprise her with unexpected displays of non-produce products. Arm & Hammer baking soda – ideal for washing fruit – is next to the apples. Summer pitchers are presented near the mint and the lemons.
Offer healthy freebies. Appease hungry kids with a free piece of fruit from a special display. Mom will appreciate it.
Suggest menu ideas. Don't sell the mere ingredients for vegetable soup. Instead, provide the makings of a warm family gathering. Show the final product.
Tell stories. Share the provenance of an ingredient, or the history of a particular vegetable not native to America. Place a product in a specific time and culture. Hand-lettered signage and produce bags make great storytelling formats.
Confirm the value she's getting. The shopper wants a great deal, especially in the grocery store. This speaks to pricing, quality, accessibility and experience. Show her competitors' deals.
Link online and in-store experiences. The shopper's experience must be consistent across all platforms. Make sure to use the appropriate language and style for each medium. It's not what you say; it's how you say it. Let the venue dictate the delivery style.
Ready to connect to your customers in a more meaningful way?
CONTACT OUR TEAM