Pop-up Retail
Seven Ways to Successfully Launch a Pop-up Shop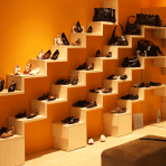 While digital media, social networking platforms, and a multitude of communication gadgets have been cited as major contributors to the shifting retail landscape, these challenges are not met without new strategies and tactics to help navigate the daunting retail market. The overarching goals to increase brand recognition and personal connections with customers have remained the same, but an increasing number of retailers have recognized the "instant gratification" nature of the consumer as the impetus toward temporary retail outlets. More commonly referred to as pop-up shops, this retail platform will likely be one of the most important elements of a successful retail marketing campaign in the years ahead.
Taking your products to your customer, as an online or brick-and-mortar outfit, will give you a chance to build loyalties with customers before the competition does, and with so much commercial real estate space sitting vacant – 10.1 percent, according to published reports – this should be a fairly simple process. However, finding landlords with space for lease to temporarily house your company's wares can be just the beginning of a hectic process, so keep the following tips in mind:
Start early: By planning several months out, you can increase the effectiveness of your pop-up shop and save considerable time and money. Make sure you create a budget and identify your objectives as early as possible.
Research the location: Finding the right neighborhood or store location is critical to ensuring the success of a pop-up shop. This includes doing due diligence on area demographics, other retailers present in the neighborhood, visibility, foot and vehicle traffic counts, and neighborhood safety. Speak to neighboring stores for the real scoop.
Consider lease duration: How long a retailer should keep a pop-up store open in one location depends on the business objectives and budget. Most pop-up stores are open for about three months. Make sure that you give yourself enough time to see results – at least three to four weeks.
Brand the space: Knowing how you want to set up your store – what products and how much of them you will be displaying, as well as lighting, decor, and theme – is critical in creating an atmosphere that speaks to your brand identity and will leave a lasting impression on consumers long after the store is closed.
Know your landlord: Has your landlord ever done a temporary lease arrangement before? How accessible are they? Are they willing to work with you to improve the location? These are key questions that need to be asked during lease negotiations, and will weigh heavily in ensuring the success of your pop-up store.
Educate and train: A pop-up store is an excellent way to educate your customers on all that is great about your products. Make sure your sales staff is educated and trained on the unique selling points of your wares, and that they have a clear understanding of how you want them to articulate these points to customers.
Follow up: Once you close your location, the benefits of having opened a pop-up shop can still be reaped. Retailers should take down email addresses of customers who visited the store and conduct follow-up outreach, either through emails or social media platforms, to keep the customers engaged and solicit feedback.
Source: DDI Magazine
Ready to connect to your customers in a more meaningful way?
CONTACT OUR TEAM