Strategy, Brand Positioning, In-Store Marketing
Shoppers Are In-Store, and They're Prepared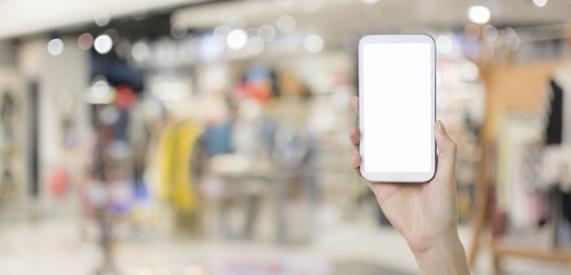 Showrooming? Please. That is so four years ago. We're all webrooming now!
That's the buzz out there on Customer Street. (Which is not really a street, but a device I'm using to create an imaginary physical space within which all shoppers speak and act.  But you knew that.) Webrooming, the practice of researching products online before buying them in-store, has all but become the new norm for today's connected shoppers.
Research shows that 88% of shoppers regularly webroom, while only 76% showroom (that's when customers visit a store, play with the merchandise and then go home and buy it on Amazon). These numbers are particularly interesting given that showrooming was once hailed as a death knell for traditional stores.
The shift has been fueled by the shopper's increasing demand for immediacy and product interaction, and empowered by a new wave of retailers offering same-day in-store pick-up. Webrooming feeds the economical and emotional (I really want it now!) needs of the shopper.
Webrooming poses its challenges. Shoppers are more educated about the products they're buying than ever before, and often know more about the merchandise than the sales associates. This impacts customer service and the ability to upsell. These webroomers know what they want before they get into the store, so driving that impulse purchase can be a challenge.
So it is more important than ever that the retailer eliminates friction between all customer touch points, and fully understands how shoppers interact with the brand along the entire path to purchase. A siloed, channel-specific approach will no longer work. A shopper sees a brand in total, and does not understand (or have patience for) inconsistencies or contradictions.
The solution is to extend the shopper's online interaction (with brand content, social recommendations, search results and reviews) into the physical store. Create for her a seamless shopping experience. Echo, expand and supplement in store those things she has already seen and heard and earned and appreciated online. How?
Ensure consistency between the look and tone of online and in-store advertising and promotions. Create signage and display with the same tone, taglines, color families, fonts, language and offers that she's seen in your online presence.
Create real-world extensions of online promotions, contests and games. Thematic displays are as great way to give the shopper the opportunity to complete the experience she started online in-store.
Allow for in-store space for product trial and interaction. That's why she's coming into the store, after all. And make the "you can test it!" message clear in all online communications.
Empower sales associates to communicate with an informed shopper. Make sure they are knowledgeable; help them understand the "why" of the purchase so that they can upsell within a lifestyle context.
If the website says the product is available now in-store, make sure it is available now in-store. "It's not in stock" is something you really never want to say to a webroomer.
Offer the shopper free Wi-Fi. She expects it, and might be suspicious of what you're hiding by not having it. (She loves that price matching.)
Ready to connect to your customers in a more meaningful way?
CONTACT OUR TEAM