Strategy, Signage, Retail Marketing, In-Store Marketing, Consumer Behaviors
Signs of the Times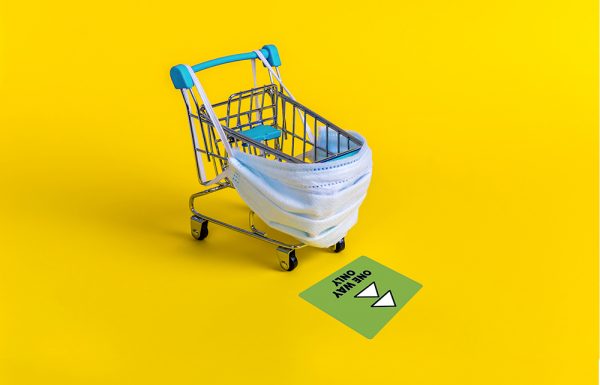 Back when the coronavirus shutdown began in the U.S. (was it really just two months ago?), consumers who ventured to the few retailers deemed essential were met with safety protocol signage in the form of handwritten signs regarding mandatory masks or new hours, and taped X's on sidewalks and store floors served as rudimentary directives about where to stand while waiting to enter or check out.
While a lot of protocol signage has improved since those initial efforts were slapped into place, this strange, new socially distant world could continue for quite some time, depending on when COVID-19 runs its course. In the meantime, signage can serve to not just quell shopper anxiety regarding safety measures, but also serve as a marketing platform to connect with consumers.
As more openings get underway, prudent brands and retailers will attend to safety concerns up front, allowing consumers to feel cared for, whether they're outside or in-store.
Addressing and Quelling Consumer Concerns
BMO Capital Markets' Simeon Siegel, managing director, told Retail Dive that retailers will have to consider the uncertainty of the consumer frame of mind.
"The questions are, first, how long will the virus actually be here? And then, how long will it be in people's psyches?" Siegel told Retail Dive.​ "Right now it's very unclear how long this impact will be—not only because we don't know the duration of the virus but because there's a latent fear that's emerging as well. The longer the impact, the more lingering the fear and the more evolution there will be of consumer processes."
For skittish customers who spent months avoiding stores and other people, indoor and outdoor signage can go a long way toward easing their apprehension.
It will be important to have instructive signs whose messages include mask requirements, distancing rules or new occupancy regulations. But just because it's advisory signage, it shouldn't be cold or anxiety-producing. Rather, retailers can craft warm, funny or engaging messages for consumers who will perhaps be spending more time in lines than they ever imagined.
Recognize Opportunities to Connect—Differently
Merchants should also keep in mind that this signage does not have to be static, thanks to the ease of QR codes. Such codes are relatively inexpensive and their content can be changed often, even hourly, if desired.
Let's say consumers are waiting in line outside of a store. Since people usually have their smartphones in hand, a window- or ground-level social distancing sign could instruct them to aim their phone's camera at a QR code.
When swiped, a list of indoor safety protocols could come up, so shoppers know what to expect inside—anything from traffic patterns in the aisles to contactless payments to reduced hours that allow for extra cleaning and disinfecting by associates.
As the weather warms and more people go outdoors simply for fresh air, outdoor signage can also encourage passersby to come inside and explore. A sign with a QR code might offer promotions or discounts, in addition to supplying safety protocols. In this way, one sign can both calm fears as well as engage and persuade a hesitant consumer.
Once in-store, signage can be placed in strategic areas that take advantage of the fact that consumers are engaging in social distancing while waiting in line. These signs also provide a chance to promote store brands, which lately are proving to be a good alternative for shoppers, according to Acosta, a sales and marketing agency for the consumer packaged goods industry.
Consumer Changing Habits and Approaches
In a recent research report, Acosta found that 40% of shoppers are buying more store brands since the COVID-19 outbreak. Of those shoppers, 57% are doing so to substitute for their usual store brand, which may have sold out. Another 35% switched to store brands to save money. The firm also found more than half of all millennials (57%) and more than one-quarter of all baby boomers (29%) are buying more store brands. Further, 63% said they would stick with buying "at least some" store brands once the pandemic ends.
Additionally, Acosta points out stay-at-home restrictions due to the COVID-19 virus accelerated e-commerce growth, which presents an opportunity for click-and-collect and curbside pickup capabilities.
The signage at designated pickup stations offers another window to connect with the consumer. For instance, signs at a restaurant's parking lot pickup station can include a QR code where waiting customers can order more menu items like an appetizer or dessert. The code could also include entertainment, such as a brief video that distracts hungry customers while they wait.
Of course, curbside marketing could also include incentives that inspire the customer to visit the location again, like a discount on their next purchase.
At an uncertain time for everyone, signage can provide reassurance to those uneasy about rejoining public spaces. After soothing fears, it can dovetail into connecting with the consumer. Retailers should look at this new signage not as a mandate, but as a different mode of opportunity to be seized upon.
Need more valuable insights and approaches on in-store safety protocol signage that you can employ as your business gets back to business? Download Medallion Retail's "Returning to Retail" brochure now.
Ready to connect to your customers in a more meaningful way?
CONTACT OUR TEAM