Strategy, Creativity, Brand Positioning, Pop-up Retail, In-Store Marketing, Consumer Behaviors
Super Bowl In-Store Marketing: A Story to Be Told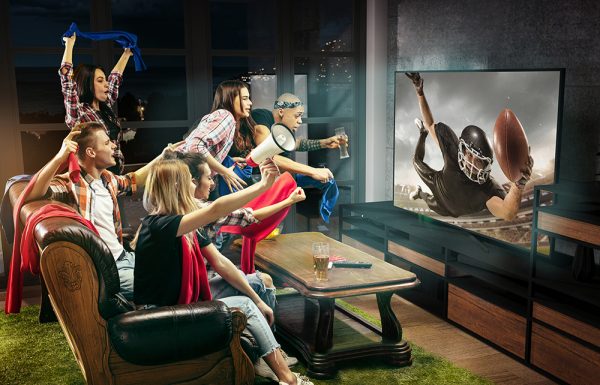 While most people are stocking the fridge with drinks, decking out in team colors and making sure their new home theater is ready for the crowd on Sunday, we're already thinking about Super Bowl 2021. Specifically, how to make the season even better next year.
There are plenty of fans going to the stadium in just a matter of days, but there are even more fans planning tailgating and home parties. According to the National Retail Federation, a whopping 43 million people plan to host a party this year, with the average viewer spending 14% more than last year. No big surprise then to see increases in searches on Pinterest for "home theater design" at 368% and "audio room" at 803% over last year at this time.
If football is an entire season, the Super Bowl is its biggest holiday. Every year, people expect the major brands to dominate advertising with pricey commercials, expensive in-store displays and big contests. But why should these brands grab all of the spotlight? Why not give the lesser-known brands and your customers the gift of the unexpected for Super Bowl 2021?
Shake It Up
Our thoughts? Join the party and shake things up. [bctt tweet="Encourage new perspectives and create an exciting retail playing field that gets more brands off the bench and into the game for Super Bowl 2021." username="medallionretail"] Make those popular Pinterest searches come to life by creating brand partnerships and translating them into visually exciting store environments. 
Brand Partnerships Help Tell the Story
 Imagine heading to your local grocery store, Game Day list in hand, and coming upon an elaborate Game Day Party Pop-Up right in the seasonal aisle. There, you could:
*Test the luxury of the latest leather sectional from La-Z-Boy while marveling at the true cinematic quality of the enormous new LG Signature Z9 88" 8K Smart TV.
*Shop for your favorite team gear by scanning a lifestyle photo that's been invisibly tagged to take you to a myriad of purchasing options on your smartphone–instantly.
*Use your smartphone to scan an icon on a Tostitos bag or display to open a Snapchat filter—which lets you "paint" your face with your favorite team colors. Then post the photo on social media using a hashtag to be entered into an online contest! (All from the comfort of that awesome sectional).
Expand Your Reach
While hanging out in a 25-degree parking lot in January isn't our pint of beer, plenty of people wake up on Game Day in anticipation of doing just that—so why not set up a Tailgate Zone in your store parking lot? The shift in location from indoors to out provides an opportunity to go bigger and do more:
*Partner with a local car dealer and bring in a luxury SUV or pickup truck for some swank realism.
*Set up a tent and invite a local chef or food truck to demonstrate how to best cook favorite tailgating recipes while "on the blacktop."
*Showcase outdoor heating units, furniture and sound systems. Invite a local kitchen store to provide a line of sturdy cookware for the demonstrations.
The eclectic nature of both the in-store Game Day Pop-Up and the outdoor Tailgate Zone allows brands with limited budgets to have a presence in locations they ordinarily would not have access to, while introducing their products to new audiences. For the shopper, these memorable, curated happenings are an arena for unexpected encounters, brand combinations and sensory experiences that are both memorable and sharable. And that's one big touchdown for the retailer.
We at Medallion Retail believe that retail is a story to be told in unique and unexpected ways, at every turn of the consumer's journey and at every touch-point—and we believe the numerous opportunities for you to tell your own story are only a conversation away. Let's get in touch!
Ready to connect to your customers in a more meaningful way?
CONTACT OUR TEAM