Strategy, Pop-up Retail, Retail Marketing, In-Store Marketing, Consumer Behaviors, Case Studies
The New Face of Medical Retail: From Primary Care to Point of Sale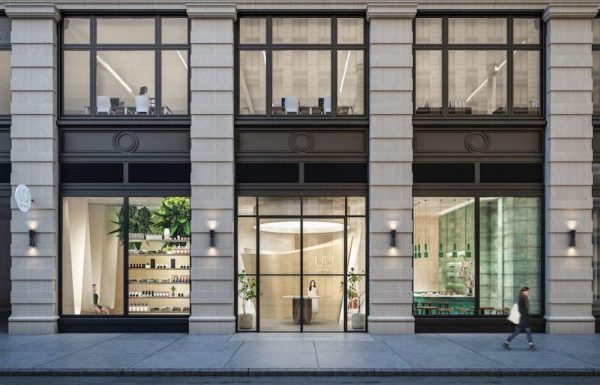 Prior to the wellness boom, most people would only visit a doctor for the dreaded annual physical, or when something felt seriously wrong. There were clear lines separating medical and merchandise—but these lines are now blurring. With an increasing shift toward wellness as an essential part of our daily lives and the emergence of membership-only clubs, medical retail offices are becoming places to be seen—and to shop.
From prime real estate locations to techy touch screens to showroom-style layouts, doctors' offices are taking cues from retail—and offering medical retail—to elevate their medical practices. These new tactics increase products and services awareness and tantalize consumers' appetite for self-betterment.
De-stigmatizing doctor's visits
The new breed and increasing popularity of premium doctor's offices comes partially due to the domino effect of wellness.
In a pre-goop era, healthcare was prosaic. It was something to be checked off your list, not to be luxuriated in. Then, almost overnight, the concept of diagnostic healthcare was eclipsed by preventive wellness. Modern wellness—encompassing the idea that proactive maintenance could prevent sickness, increase longevity, and subsequently be commoditized by corporations—became a sensation.
With this new trend, the medical field is seeing the benefits of medical retail branding, messaging, social media posts, and in-office promotions. Taking a cue from the retail sector, doctors' offices are emulating Instagram-worthy destinations like the Glossier showroom—an environment consumers are more apt to want to fit into their schedules, and one that draws more visits andconverts new clients.
Mapping wellness as a destination
New members-only wellness clubs and innovation-laden medical retail practices aren't just a visit-as-needed option. In a market that's becoming increasingly competitive—where consumers are spending their own dollars instead of or in addition to insurance money—emerging businesses are putting themselves on the map. These premium destinations boast multiple services, one-on-one attention, robust retail offerings, and even cafe elements that encourage guests to stay awhile.
Between medical offices becoming retail storefronts and traditional retail storefronts like CVS and ShopRite becoming more medically service-based, the health and wellness industry is infiltrating almost every street corner to keep up with rising demand.
Face first: medical retail as an entry point for consumers
[bctt tweet="To capture their audiences in a crowded space, new health and wellness spots are starting with the familiar—retail—to pique curiosity, increase social sharing, and draw new eyes to their storefronts." username="medallionretail"]
One such club with locations in New York, San Francisco, and Los Angeles is Parsley Health, a functional medicine practice that employs a membership model. Founded by Robin Berzin, M.D., Parsley Health combines cutting-edge science with the art of ancient healing. And for those who may not be members, the practice offers supplements via their offices and e-commerce. Medical retail shelves in the physical space are filled with probiotics and plant proteins—all illustrated by bold signage. Health buzzwords run rampant, but the average customer may not know the difference between Ashwagandha and Reishi (or what they do), so it's especially important for the medical retailer to paint a vivid picture.
WTHN, a holistic acupuncture space in New York City, is gaining traction not just for their Instagram-worthy space, but for their impressive range of herbs culled from Eastern medicine. It's a combination of visually engaging displays and product merchandising that draws an audience through its Flatiron doors.
Also in New York, a new all-encompassing space, THE WELL is a department store-like space offering holistic healing and personal care services. A self-described "complete ecosystem for wellness," THE WELL's offerings include everything from the more familiar, like meditation and sports medicine, to "woo-woo offerings" like vibrational energy healing—and let's not forget the attached full-service restaurant. As one can imagine, all of these offerings can become confusing, but THE WELL relies on signage and structural elements like lighting to lead the way. The space also boasts a visually appealing storefront where the retail and cafe sections can lure in a new audience at street level.
Tantalizing crystals, adaptogenic powders, and beauty products can make a foreign-seeming environment easier to grasp, and keep customers coming back for more. By utilizing creative retail elements, medical professionals can appeal to a population hungry for novel treatments, holistic approaches, and all-natural products.
Digital integration
Healthcare and medical offices are also becoming increasingly tactile for patients—one of the most popular ways is via digital platforms that enhance service and visibility. At Forward in Manhattan, patients can visit the high-tech membership space and step onto a digital machine that uses artificial intelligence to analyze your height, weight, and health data in real time, instantly sending this information to your smartphone.
The machine's interactive interface empowers patients with a window into easily digestible results. The technology enhances the experience of coming to a doctor's office, decreases wait time, and guarantees that "what you see is what you get," letting the consumer track their results instead of navigating clipboards, file folders, and phone calls.
But this shift isn't limited to start-up wellness—global medical leader Mount Sinai has set its sights on retail hotspot Hudson Yards in New York, with the announcement of a shiny new members-only club opening on the horizon. Mount Sinai's plan is to make their limited-service facility more friendly for patrons by implementing digital signage and touchscreens galore (how else will patients navigate the 18,000-square-foot space?). These innovations will make the center more accessible to their audience. In a world now filled with choice, the enhanced experience is what makes a patient choose your practice over another.
And the retail wellness trend has extended to much more specialized medical services as well.  Fertility and wellness clinic, kindbody employs beautiful and upscale retail "storefronts" and is even introducing traditional retail strategies such as a mobile "fertility pop-up".
What this means for wellness
Today, wellness is often considered "The Wild West," and with good cause. Thanks to a high volume of services and new products emerging daily (not all with scientific evidence vouching for their benefit!), it's hard for consumers to know what to choose or where to seek care.  Doctors want to amplify their connection to patients and, let's face it, not leave money on the table. After an appointment, why should your patient walk down the street to buy products or experience holistic services when they can do it all in your office? And, on the other side, medical retail locations want to make delivering health and wellness as commonplace as … well, walking into your neighborhood pharmacy.
The model for health and wellness sales has evolved lightyears from where it stood just 10 years ago. To keep up, anyone involved in the sector needs to rethink their offerings and how they offer them. Signage, display, messaging — it's all part of the chemistry in the new face of medical retail.
Take your retail brand's well-being seriously.  Medallion Retail will bring state-of-the-art retail marketing strategy and creative vision to your ever evolving in-store opportunities. Reach out to Michael or Chris at engage@medallionretail.com to learn more.
Where have you seen retail and health intersect lately? We want to know!
Ready to connect to your customers in a more meaningful way?
CONTACT OUR TEAM