Strategy, Creativity, Social Media Integration
The Pinterest to Retail Revolution: Leveraging the Platform to Inspire Younger Shoppers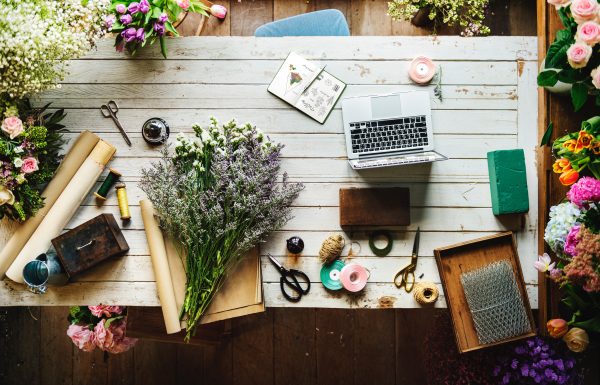 Decorations for a birthday cake. Patterns for a knit sweater. Innovative ideas for bedroom organization. Pinterest to retail. Pinterest has become the place for finding inspiration for retail DIY projects.
This is especially true for the younger generations. Sixty-seven percent of Pinterest users are millennials, and one out of every two millennials spends time on Pinterest each month. And it's no secret that the up-and-coming Gen Z is obsessed with social media – 80 percent of their purchases are influenced by social media.
While Pinterest is known for many things – fashion, food, travel, even automotive – what it  promotes better than anything else is DIY projects.
Craft, DIY and home stores can please this massive demographic of younger shoppers by taking inspiration from Pinterest to retail.
Bring youthful modernization to life
Millennials are crafty. Forty-one percent of crafters are between the ages of 18 and 34.
And yet, the stores selling the crafts are, in many cases, antiquated. Some millennials even compare the current DIY shopping experience to the 1970s or 1980s.
Pinterest is sleek, modern and clear-cut. Consumers who look to Pinterest to retail for creative and innovative ideas will be disappointed by the "grandma vibes" they find in physical stores. It's clear that the majority of arts and crafts retail stores need to modernize.
Following Pinterest's lead, Jo-Ann Fabrics – or JOANN, as it's newly called – is probably the best example of a successful rejuvenation. By first and foremost dropping "Fabrics" from their name, the DIY chain is telling customers that their stores have much more to offer.
Their biggest change, though, is their commitment to new concept shops, starting with their Columbus, Ohio opening in June. Blanched in modern white with accents of gray and their branded lime green, the shop is modern and almost minimalistic – right on trend with the millennial minimalism preference.
Add interaction to inspiration and education
Above all, consumers look to Pinterest to retail for inspiration.[bctt tweet=" They're aspirational searchers looking for exciting ideas. Once the millennial pinners find creative projects, they need to become equipped" username="medallionretail"] – it's the hunt for the right materials and how to put together all of the pieces.
Pinterest to retail is as educational as it is inspirational. And the in-store experience has to follow suit – taking what Pinterest offers to a level that can't be duplicated online and can only be achieved in-person.
DIY and home stores can be a seamless place to fulfill consumers' desire to express creativity and personality. Say someone comes in with a plan to create some trendy jewelry. Further inspire them with a jewelry box to house their new designs.
Or go even further. Consider creating a dedicated Pinterest Spot (similar to a store-within-a-store) that constantly evolves to showcase leading Pinterest trends. According to their August insight, Pinterest noted that searches for sunflower field pictures were up by 1,069 percentfrom July. Put together brushes, yellow paint and canvases with sunflower designs, and let consumers create these wall decorations themselves.
You can even anticipate popular holiday projects – you have the opportunity to create an enticing display of lights, decorations, costumes and snacks, making more than a haphazard section of orange and black products for Halloween. Become the must-see source of inspiration and empowerment.
The real edge that permanent stores have over e-commerce is the opportunity for activity. JOANN's Creator Studio is a large community space not just for classes and demonstrations, but for consumers who want a place to work on their own projects independently. They can even rent supplies like sewing machines to get the job done.
The bridge that creates online and offline cooperation
In line with their infatuation with social media, the younger generations (especially Gen Z) want to see more technology in retail. Innovative tech, as we've seen with mass merchandisers, gives stores the ability to enhance the shopping experience.
At their Cut Bar, where fabrics and ribbons are cut to measure, JOANN now has tablets for a mobile "check in," allowing customers to shop while they wait and receive a text message to let them know it's their turn in line. This simple addition makes the shopping experience more convenient and efficient – and less stressful. It also creates an oasis for staff to interact with shoppers and knowledgably answer their questions.
But more than that, tech (especially data) can be a way to bridge the gap between the online and offline worlds – bridging Pinterest with brick and mortar to the benefit of both channels.
On their website, Michaels offers a range of project ideas, complete with step-by-step instructions, demo videos and full supply lists. And these ideas are supported in-store, though, it's harder to see this connection. Of course retailers can't solely group products together for singular projects, but they can be strategic about the specific projects they choose to highlight in-store. They can have idea cards at the entrance that recap top projects and the aisles where materials can be found.
Which brings us back to Pinterest and JOANN. Based on data from top pins, JOANN saw that searches for DIY personalized shirts rose 250 percent in 2017. As a result, they created a dedicated area for custom t-shirts complete with electric cutting machines and various materials. If you choose to create a Pinterest Spot, include a screen that constantly updates to show the most popular projects by number of pins, creating a real-time digital experience.
Throughout your store, rely on signage to effectively inform, educate and inspire your consumers. Beyond using tablets for easy sign-in to the Cut Bar, Joann could add more digital signs throughout the store, allowing consumers to find specific projects on Pinterest. Allowing the consumers to toggle easily back and forth from Pinterest to retail gives shoppers the digital, high-tech experience they crave.
What started out as purely a digital innovation has become a boon for brick and mortar stores as well. Pinterest to retail has revitalized DIY. Now it's time for retailers to take this exploding interest and run with it.
It takes a strategic team to effectively bridge the gap between online and in-store. Medallion Retail has the insights and the experience to do it for you.
Ready to craft new signage and displays? Reach out to Michael or Chris today atengage@medallionretail.com.
Ready to connect to your customers in a more meaningful way?
CONTACT OUR TEAM