Social Media Integration, Retail Marketing, In-Store Marketing
The Rise of the Retail Marketing Machines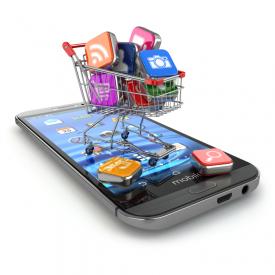 A savvy shopper in 2015 needs two hands: one to touch the merchandise, and one to use her smartphone.
Google Shopper Marketing Council research tells us that 84% of smartphone owners use that phone to help shop while in a brick-and-mortar retail location, and that shoppers who frequently use their smartphone in-store spend 40-50% more.
Showrooming notwithstanding, the rise of the smartphone is a huge opportunity for retail marketers to up their in-store game. That intersection of online and offline – that space where digital benefits cross over to the physical shopping experience – can be omnichannel Nirvana.
Retailers that use in-store mobile strategies to create instant, personalized interactions with shoppers will increase customer satisfaction, brand loyalty – and profits. (And by the way, give the shopper free WiFi. She expects it.)
This year, we will see unprecedented growth in the mobile in-store technology space. Interactive displays, magic mirrors, beacon technology, smart shelves, wireless sensors and more will all connect to that device in her hand.
It's already started. Here are 25 things the shopper can do in-store with her smartphone:
 Check a competitor's price
 Retrieve a coupon
 Email a pic of herself in the outfit she's considering
 Scan in-store codes for info and deals
 Look at product reviews
 Pay for her purchases
 Receive receipts
 Seek fashion advice among her Facebook friends
 Add to her Pinterest pic collection
 Research a brand's carbon footprint
 Build a shopping list
 Be alerted to a sale on her favorite yogurt
 Facetime with friends to gather opinions
 Check her bank account
 Text the garage so she can pick up her car
 View a Fashion Week video on YouTube
 Consult an image app
 Tweet about a great deal she's found
 Download an online recipe for an ingredients list
 Confirm her loyalty points
 Consult store map to find the kitchenware department
 Scan her wish list
 Preview a new CD
 Question a virtual sales rep
 Search for restaurants in the area (for après shopping)
Oh, and she can make a phone call…to gush about her great experience.
Ready to connect to your customers in a more meaningful way?
CONTACT OUR TEAM