Pop-up
The Ultimate Guide to Everything Pop-up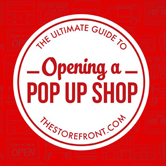 Our partners at Storefront have just released an exciting new eBook—The Ultimate Guide to Opening a Pop Up Shop—which offers a step-by-step walkthrough of everything from negotiating the cost of your prospective temporary space to constructing a one-of-a-kind shopping environment. We're proud to be a part of Storefront's efforts to share the wonders of pop-up with brands of all shapes and sizes, and are thrilled at the opportunity of partnering with Storefront to provide you with a one-stop-shop for all of your pop-up needs.
Let's Create a Meaningful
In-Store Experience!