Signage, Permanent, Temporary, Corrugated Display, Pop-up Retail, Retail Marketing, In-Store Marketing, Consumer Behaviors, Case Studies
Timberland's Flex Retail Marketing: Pop-Ups That Don't Feel Like Pop-Ups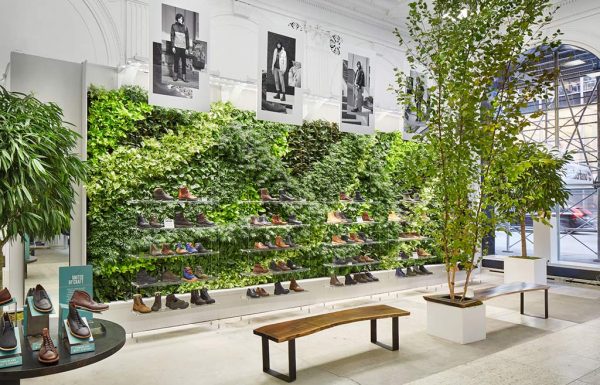 In the world of pop-ups, ideas fly fast and furious.  But who would have thought that one of the freshest would come from a legacy brand out of Stratham, New Hampshire? We'll call it flex retail marketing. Timberland recently launched a "flex" retail pop-up store that is full of life – literally. The 3,500-square-foot retail space (conveniently located on NYC's trendy Fifth Avenue) is full of 2,000 "native New England plant species." Birch trees and terrariums dot the floor, and one wall is completely covered with hanging plants and moss. Off of the main room are "engaging weather experiences" – including a digital "rain room" and photo-ready winter scene.
[bctt tweet="This isn't just a pop-up – this is a full-on wilderness experience in the middle of the Big Apple.  It's bona fide retail theater." username="medallionretail"]
The Fifth Avenue store is one of five Timberland flex retail spots opening across the country for the fall and winter season. "Flex," or flexible, stores signal a major shift in retail space conception. These stores are easy to assemble and innovate, like a pop-up, but include many elements of a traditional retail experience, such as longer staying power and larger retail space.
Easy assembly and maximum customer benefit
For Timberland, flex retail spaces are conveniently available for customers when they need the brand most – and for New Yorkers, that's the first freezing rain or winter snowfall. Timberland aims to appeal to urban dwellers whether they are fervid hikers or casual meanderers – and to tempt curious passersby with Instagram-ready backdrops and unexpected design elements.
This isn't Timberland's first foray into flex retail. Last year, the footwear manufacturer launched several flex-retail pop-up spots throughout the country. Kate Kibler, Timberland's vice president of direct-to-consumer retail, explained that the pop-ups are designed for easy assembly – and to stand out from traditional brick-and-mortar solutions. "The thing with retail today is every store shouldn't be the same," says Kibler. "That one-size-fits-all approach is a thing of the past."
Flex retail helps Timberland connect with customers offline without having to commit to a yearlong lease in a pricey location. Unlike pop-ups, flex retail is designed to last for several months at a time – and is set in a larger space, so customers can browse a full range of products. The concept is easier, and less expensive, to develop than traditional brick-and-mortar stores. Timberland's flex stores are designed beforehand and consist of easy-to-assemble components. All in all, it only takes 3–6 days to assemble the pop-up. But most importantly, the initiative provides customers with a unique, in-depth brand experience.
Flex spaces can stand the test of time
Timberland isn't the only company finding innovative ways to offer their customers memorable offline experiences. This summer, French beauty company L'Occitane en Provence  reimagined its flagship Manhattan location by incorporating optimum opportunities for customer experience. The store, located just a few minutes from Timberland's Fifth Avenue flex shop, uses digital backdrops and stationary bikes to let shoppers feel that they're in the French countryside. But L'Occitane doesn't stop there. Every three months, the setup will change– enticing customers to return periodically and take part in a new brand moment.
In the race to lure customers back to brick-and-mortar retail, flex retail rides the line between the all-out fun of pop-ups and the consistency and reliability of traditional retail. Customers may initially head to Timberland to snap photos alongside the foliage, but they'll return again and again to immerse themselves in the experience – and stock up on boots and outerwear.
Don't just offer a product–invite an experience
It's not surprising that more brands are putting their creative minds to work in developing store concepts that provide customers with more than merchandise. This holiday season, shoppers are predicted to be out in force, as the economic mood remains bullish. But online retailers, especially Amazon, are expected to account for 57% of all purchases. To compete, brick-and-mortar stores can't just put out a new display of sweaters – they need to give their customers a unique, valuable experience.
Consider the pop-up shop that Wild One, a de facto lifestyle company for pet owners (yes, it's a thing), is hosting in NYC's Nolita from October through January. As you might expect, Wild One invites you and your dog to explore the space while indulging in beer, wine and dog treats.
The fun doesn't stop there. Pet owners and animal lovers are encouraged to return multiple times, thanks to Wild One's lineup of interactive events: movie nights, intimate concerts, pet portraits by local artists and ongoing puppy adoptions. The result is another flex experience, thanks to the pop-ups' longer stay and reliance on theatrical opportunities. Wild One is hoping to capitalize on millennials' shopping habits: 51% report  they'll buy gifts for their pet this holiday season.
For all the hype that the "pop-up" trend has elicited, flex retail suggests that the fascination with experiential shopping is legitimate. Millennials and Gen Z shoppers aren't just looking to find the right product for their needs – they're eager to immerse themselves in the look, touch and feel of a brand. Marketers should take heed. Now more than ever, it's vital that companies consider their holistic brand aesthetic and pinpoint the experiences customers may enjoy while using their products. Then, they can find ways to develop a brand environment that excites shoppers and showcases products in their "natural" setting.
With nimbleness and speed, Medallion Retail can help you launch a "flex" retail marketing experience of your own. Reach out to Michael Decker or Chris Gordon today to start brainstorming innovative ideas at engage@meetmrpopup.com.
Ready to connect to your customers in a more meaningful way?
CONTACT OUR TEAM