Strategy, Permanent, Temporary, Corrugated Display, In-Store Marketing, Consumer Behaviors
An International Brand's U.S. Retail Launch: Designing the Display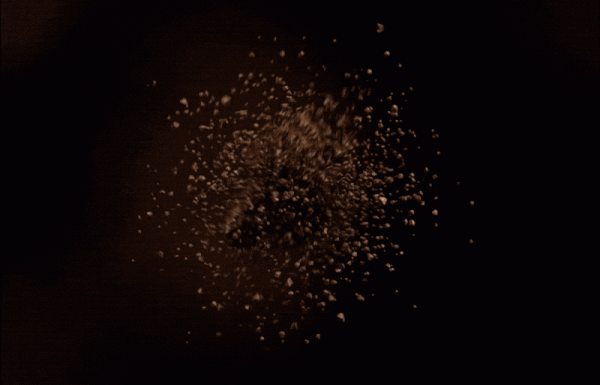 At-home coffee brewing has always been a mainstay of U.S. households. The industry has seen everything from percolators to Mr. Coffee, but nothing revolutionized the market quite as much as the introduction of single-serve capsules. The global market for coffee pods and capsules is expected to grow at 7%–8% annually and reach $23.6 billion by 2024, with much of the increase coming from North America.
K-fee®, a Germany-based brand well-known throughout Europe for its brewing systems and coffee pods, is part of the coffee capsule phenomenon. When K-fee was ready to debut into specialty mass-market stores under its own name, starting with end-cap displays at Bed Bath & Beyond, the company chose Medallion Retail to design and manufacture their very first POS display.
Rising to the retail display challenge
Walk into any Bed Bath & Beyond and you can see how vast—and competitive—the coffee market is. Our challenge was to introduce the K-fee Twins II & Latte system to an audience that most likely had never heard of the company and was more familiar with K-fee's closest rivals, Nespresso and Keurig. The K-fee display needed to stand out and stand apart. It also needed to impress Bed Bath & Beyond's management and prove the brand is worthy of a national rollout in their stores.
As stated by Jennifer Lieberman, National Account Manager, Krüger North America, "It was of utmost importance to educate the U.S. consumers about our unique duo-pressure system and compatibility with the Starbucks Verismo system. The Medallion Retail team completely understood K-fee's message from the very start of the project and implemented it successfully."
"Every aspect we wanted addressed in this display was beautifully executed per our specs, and the end result conveyed our message and brand image exactly how we desired."
K-fee has three factors working in its favor to break into the U.S. market—all of which are highlighted in the display. The first is the brand's high-end image, which sets it apart from Keurig. For this, the Medallion Retail team pulled luxe influences from K-fee's branding and packaging to reinforce the elegant warmth of the brand essence. Also, K-fee's compatibility with the Starbucks Verismo capsules gives the European brand a highly popular name to promote, so that needed to have prominence. Finally, we needed to show that K-fee's in-house Mr & Mrs Mill coffee capsules and Milly Moo Milk Capsules—which are extremely successful in Europe—come in an array of varieties and intensities. Between Starbucks Verismo and Mr & Mrs Mill, K-fee has a coffee capsule to suit every taste.
But the crème de la crème is K-fee's unique duo-pressure system, a feature that the display showcases. K-fee owners love that the machine offers the best of both worlds: low pressure for brewed coffee and high pressure for espresso and smooth lattes—something no other machine at this price point can do.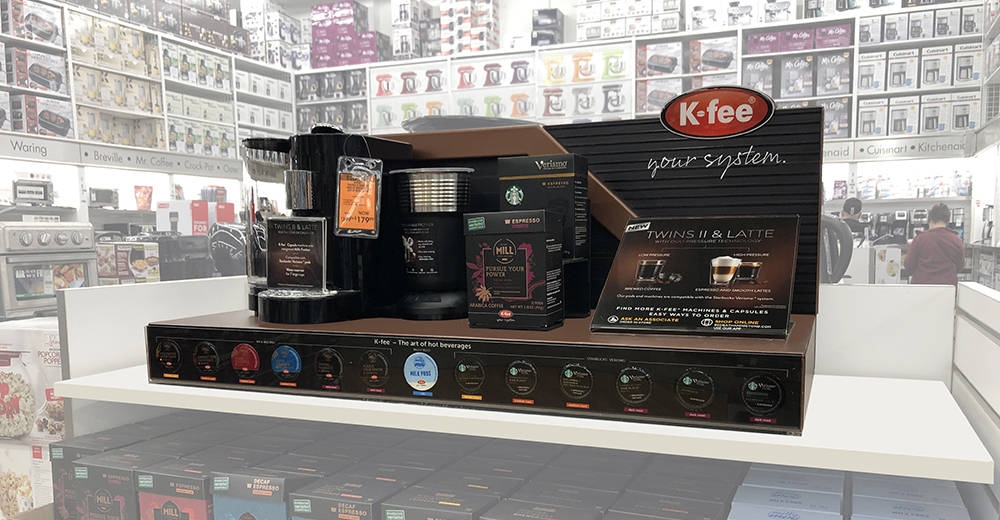 Because the display was a limited run for 150 test markets, value engineering was critical. Materials were carefully selected to convey the brand's aesthetic and to stay within budget. Safety was another important consideration. The client wanted to encourage hands-on engagement and interaction. All pieces had to be secure, including fastening the display to the base. This last element involved testing an array of solvents to achieve the perfect balance of adhesive and aesthetics so that the retail display can be shipped fully assembled. Once the unit arrived at the store, the only thing that needed to be done was to open the box and lift the display onto the end cap. The result of repeated testing ensured that nothing got damaged or fell off during shipping. There wasn't one report of breakage or denting. All display units arrived exactly as produced.
Adapting a global brand to U.S. shopping habits
While delicious coffee is a language spoken across the world, effective retail display styles vary from country to country. In Europe, shoppers like to read and engage with text-heavy displays. The opposite is true in the U.S.: here, shoppers like their information delivered visually with brief snippets of text. Medallion Retail avoided long paragraphs, opting instead for inserts with short sentences and bullets that are placed in plexiglass holders. And while the plexiglass protects the integrity of the inserts, it also allows K-fee to interchange messaging should it want to test alternative visuals or copy.
Launching a new brand into the market is a strategic exercise. It requires a creative partner who understands the nuances of your product, your shopper and your retail venue. For more than 50 years, Medallion Retail's displays and signage have introduced brands—and helped them grow. We consider every angle for in-store displays that yield results. If you want to learn how Medallion Retail can help your brand, reach out to Chris at engage@medallionretail.com.
Ready to connect to your customers in a more meaningful way?
CONTACT OUR TEAM