Strategy, Creativity, Brand Positioning, Pop-up Retail, Retail Marketing, Consumer Behaviors
Pop-Up to Keep Up: Our Top 6 Reasons Why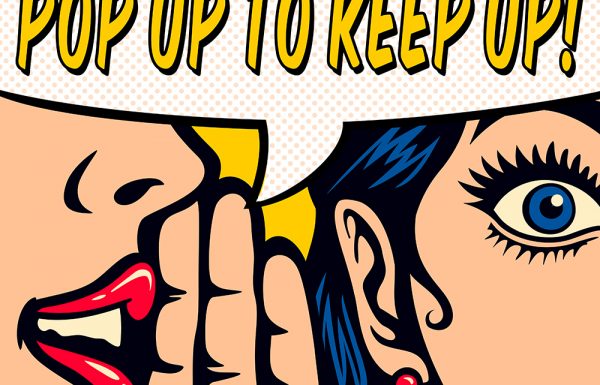 In today's digital world, we can easily diminish the importance and power of physical interaction. This is especially true in retail.
While retailers and brands such as Sephora, Nike and Warby Parker are pursuing AR and VR technology that allows for complex virtual experience, these companies realize that nothing can replace the compelling engagement of "being there."
Sensory interactions with products—known as haptic marketing—create memorable and lasting moments. According to retaildive.com, "56% of consumers surveyed say that they still visit retail stores to first see or touch products before buying online." L'Occitane has made an art of this.
Whether you are a legacy brand or a rising digital native, pop-ups can provide a cost-effective way of experimenting with your brand, generating hype for new ideas and gauging consumer interest at a more tactile level. Pop-ups can be used for different outcomes, but all effective pop-ups start with a strategic plan.
Here are Medallion Retail's six reasons to do a pop-up:
1. Brand Building
Pop-ups allow you to experiment with tone and positioning, all without the expense of a major overhaul to your existing stores. Another valuable perk: you're able to monitor feedback directly.
2. Test & Review
A pop-up can supply qualitative and quantitative intel for your brand. Are you currently looking to expand out of the digital space, or want to determine where a new location might work best? Implementing a pop-up space in a new geographic location can provide a small step before larger investments are made.
You can gather insight and data about your customer; which products are popular or what type of store layout provides the best user experience. This could also be a time to test partnerships or sponsorships for your brand.
3. Introduce a Product
Providing a special retail experience will highlight your newest line, a holiday feature or partnerships you want to publicize.
Pop-ups are a proven way to allow shoppers to touch and try new products and satisfy your customer's tactile needs.
4. Point of Sale
Consider transforming the traditional "shop and pay at the register" experience. A pop-up can sell in a variety of ways, but it's not always necessary to include a stockroom full of product or a counter of registers.
In fact, thinking of new ways to shop can be what delights and drives your customers. A pop-up without merchandise can also take away the burden and expense of stock and payment logistics. An example of a cashless pop-up is the current collaboration between Wallplay and IZI at the Seaport District. Customers can fulfill the need to see, touch or try on a product in person, followed by a memorable purchasing experience—in this case, one that uses QR codes.
5. Create Buzz
Any size pop-up can be a major PR opportunity—and your pop-up success is directly correlated to the press time you give it. Creating buzz for your brand is one of the best ways to connect with new consumers or re-energize a connection with current shoppers.
No matter what your objective or strategy for a pop-up, great buzz is an obvious benefit. Timberland did a long-term pop-up installation in midtown Manhattan where they created green spaces within their store. This creative oasis gave consumers a feel for nature in the midst of a city, while providing a personal connection to Timberland's brand values, as well as plenty of inspiring Instagrammable moments.
6. Reinforce Shopper Relationships
Data has shown that a fully connected customer is 52% more valuable than a highly satisfied customer. Creating experiences that connect with your customers in new, fun ways can improve brand loyalty and create ambassadors willing to share your brand with new audiences.
An "exclusive pop-up" can incorporate ideas like limited access to VIP members, or special invite/event times for cardholders. Pop-up experiences like this help customers feel important and acknowledged for their connection to your brand. Pushing an exclusive event can also create added hype (and positive FOMO) for a broader target audience.
Retail is still a major player in consumer purchasing, but it needs to adapt with the needs of the consumer. Pop-ups provide a guaranteed opportunity to connect with customers, who will feel and be more engaged with your brand and products.
We'd love to talk pop-up with you! Reach out to Chris at engage@medallionretail.com
Ready to connect to your customers in a more meaningful way?
CONTACT OUR TEAM