Strategy, Permanent, Temporary, Corrugated Display, Brand Positioning, Pop-up Retail, In-Store Signage, Retail Marketing, In-Store Marketing, Retail Display, Consumer Behaviors
Shopper Education: Tuning into the Shopper's In-Store Channel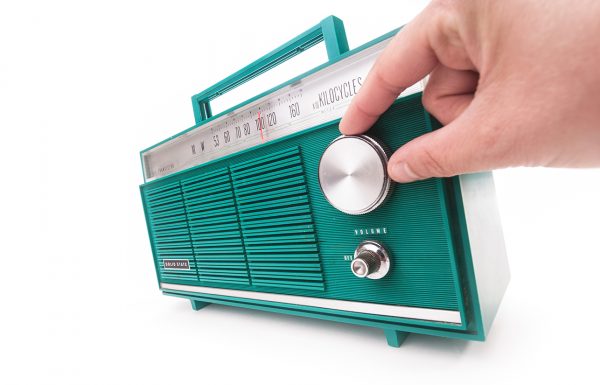 If the pandemic taught us anything, it's that whatever type of product we want can usually be at our doorstep in no time at all.
Some things that were ordered on a Monday afternoon would show up Tuesday. And show of hands: How many ordered something and, if it didn't arrive in a few days, would check to see if it was lost? That's how much our expectations were raised. We also spent more time on social media, where we were hit with more advertising than ever. But these ads helped us learn about new products in a matter of, say, 20 seconds. If it sounded good, we'd click a button and make a purchase.
The fact is, Covid-shopping has spoiled us. The challenge for brick-and-mortar retailers is providing that same kind of online ease at store locations.
This is important for consumers and retailers. Consumer behavior is still leading shoppers to go in store for both the tangible and social aspects. But merchants need to give them a reason to make that purchase or shoppers may cling to their newfound e-commerce habits.
What shoppers really want from marketing in store and online
Retailers need to consider a recent study by Global Web Index (GWI) that finds the majority of Americans (50%) look to ads for product information. That is significantly higher than those who said they look for ads that provide product discounts or special offers (40%). The GWI survey found consumers also look to ads to teach them something new (33%), be relevant (29%) and make them laugh (29%).
So the digital customer experience—while selling to the shopper—is able to give a quick, easy and entertaining dive into product attributes. Consumers quickly learn about something and why they need to have it. Contrast that with, say, the typical Sephora store, which, according to Wikipedia, is 11,380 square feet and carries an eye-popping 13,000 products. That's a lot of turf to cover and a lot of product for any shopper to navigate through. While the displays are all beautiful, their messages are all, "Buy me!" "No, me!" It could be overstimulating and overwhelming to the point that it impedes buying decisions. But Sephora has its trusted "cast members," or beauty advisors, to answer questions, demonstrate product and help navigate their wealth of offerings so each shopper finds the perfect products.
Contrast that with the local big-box store. According to the Institute for Local Self-Reliance, Walmart or Target "supercenters" combine their usual merchandise with grocery and specialty services, bringing their size to an average range of 180,000-to-250,000 square feet or between 4.1 to 5.7 acres. And FMI, the Food Industry Association, says 40% of that operating space can be devoted to grocery items.
Now toss in this from an article in FoodDive.com: The Food Marketing Institute says "Walmart, the world's largest retailer, carries 142,0000 different items at its Supercenter stores that can average 187,000 square feet, or more than three football fields in size."
It's mindboggling to think about all the ground consumers have to cover just to find what they need, never mind be romanced into buying something they hadn't previously considered.
The "Moment of Truth" is still in store
But brick-and-mortar stores and the brands they carry still hold the cards. Even in the pandemic, the U.S. Commerce Department says e-commerce sales accounted for 14% of total U.S. sales in 2020, meaning the large majority of shoppers still headed to store locations to shop. And in store is retail's greatest opportunity to persuade shoppers at the "moment of truth."
If you don't believe that there are such "moments of truth," then you have never experienced walking into a Sam's Club or BJ's Wholesale with a shopping list of rudimentary items and winding up pushing two full carts out the door.
Retailers and brands are missing an opportunity when they rely solely on digital channels to introduce, educate, entertain and influence shoppers. There are many daily occasions when merchants can use retail marketing to attract shoppers at perhaps the most influential moment on their pathway to purchase—their physical encounter with a product.
Sure, some stores are using their locations as showrooms for online retail purchases. Or as distribution points in their supply chain. But the fact remains that there are many products and choices coming to market that have no ambassadors in the aisle to introduce, explain, help and influence the in-store consumer.
WIIFM—Your shopper's favorite channel
Store and brands have always had the opportunity to reach shoppers at that all-important "moment of truth" through strategic use point-of-purchase (POP) signage. But now more than ever, it's imperative to revisit the how's and the "what" of that strategy because that connection with the shopper must be swift and entertaining but informative, mirroring the online or social media experience.
When done right, your store and those "moments of truth" become a lure back to your business by consumers because they know you'll not only give them what they need, but also what they want to know. And as Sy Syms once said "An educated consumer is our best customer."
But beyond simple product information, shoppers will always tune in to their favorite station: WIIFM ("What's in it for me?"). They not only want to learn how the product will benefit them, but they also want to know what they'll gain by its use, how the product will better their lives, days, dinners or their world at large. And this needs to be fully understood and embraced with in-store marketing—especially now, when all of this and more must be delivered into the consumer's hands and minds in 20 seconds or less.
Some smart brands and retailers get this and demonstrate their take on how POP can serve as both a learning and inspiration point for shopper engagement.
How some are "getting it"
Take, for example, Native, a direct-to-consumer (DTC) brand that started its business through a subscription model and wound up negotiating an end cap display at Target stores. The witty point here is that while their products are natural deodorants and body washes, the most prominent feature of their in-store display is their "sustainably made packaging." Nothing in this display talks about the product's attributes. The packaging is the star. And that's okay. Consumer education about the product comes from online advertising and social media channels.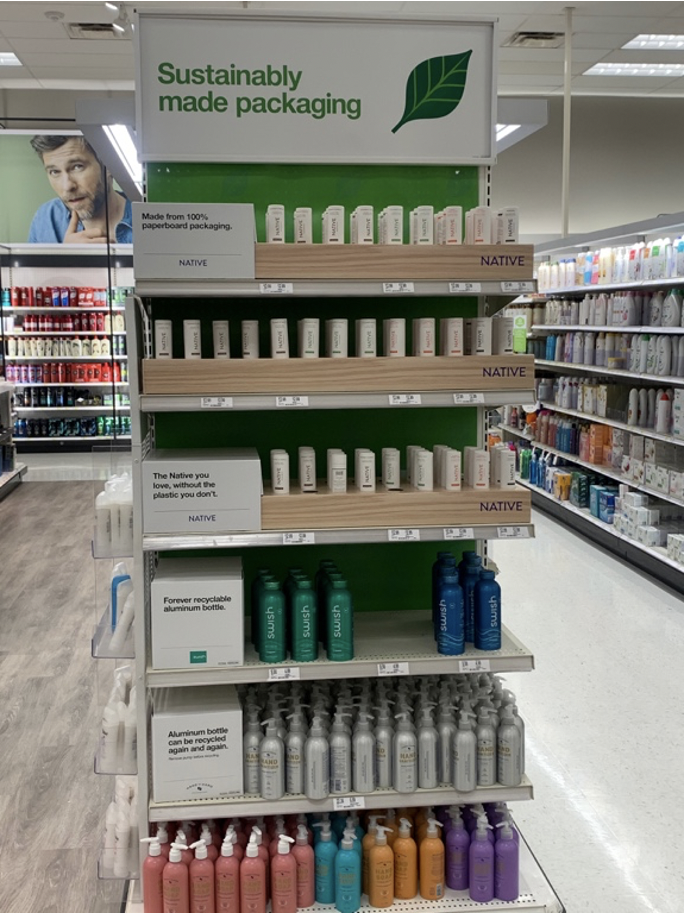 But Native's main point is that it's environmentally friendly. And that's a big audience demographic like for shoppers at Target. The store and brand understand the audience and have targeted it correctly. They understand the value proposition here—that you can sell a product that's green inside and out.
---
Another engaging in-store display comes from L'Oreal. It walks the shopper through a survey of sorts to determine what shade or gloss product will be right for them.
The consumer engagement aspect of this display is the ability for shoppers to scan the QR code and reach a Hair Color Concierge that will further assist with more information on which product type is right for the shopper.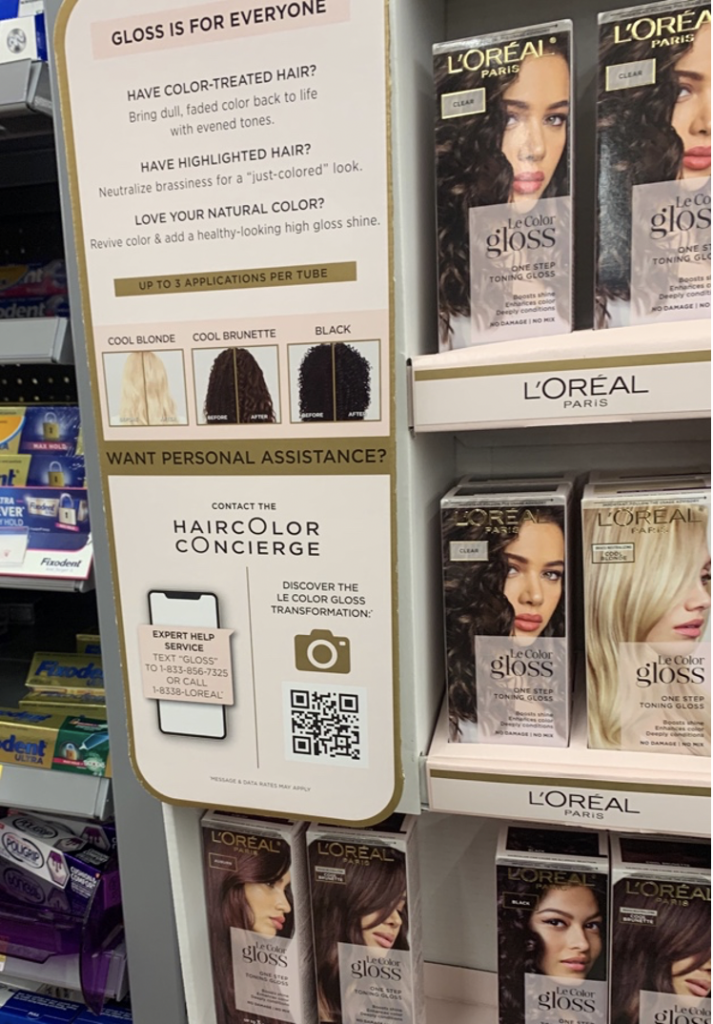 This is truly a great example of how signage can inform, engage and personalize the offline retail experience. This sign is L'Oreal's version of Sephora's "cast member"/beauty advisor.
And no doubt, through the use of the QR code, L'Oreal's marketers are measuring the level of contact with each shopper through their technology-embedded signage, giving rise to the point that signage can be a two-way experience for shoppers and brands.
Now, take a look at All Good's in-store display. It's hard not to notice this diaper brand, and its message that it's a company that gives back. In this case, for every product purchased, All Good will donate a day of diapers to a family in need. These types of mission statements are often buried under a lot of marketing hype. But All Goods clearly gets to the point and builds its messaging on product attributes (in a fun and visually appealing way) as well as its altruistic endeavors. This type of consumer marketing—over any of the larger "corporate" sponsored products—is more sincere. Shoppers can instantly get it, and isn't that the point of great POP?
---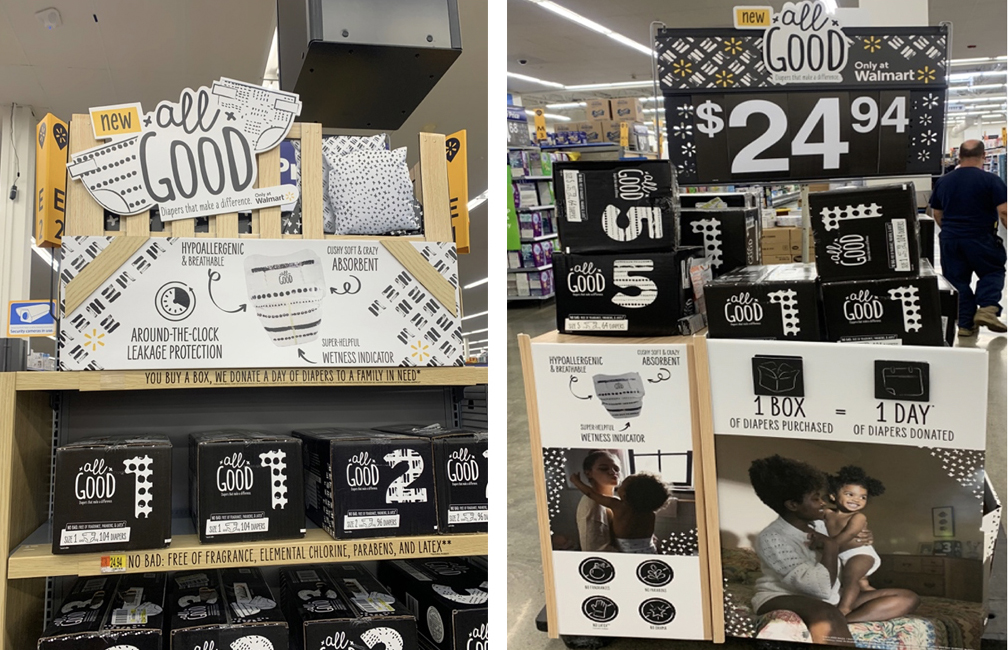 Finally, check out an excellent example of how QR codes can sell services as well as products. On this one sign, Home Depot has made it easier for its customers to find contractors for everything from flooring to water heaters.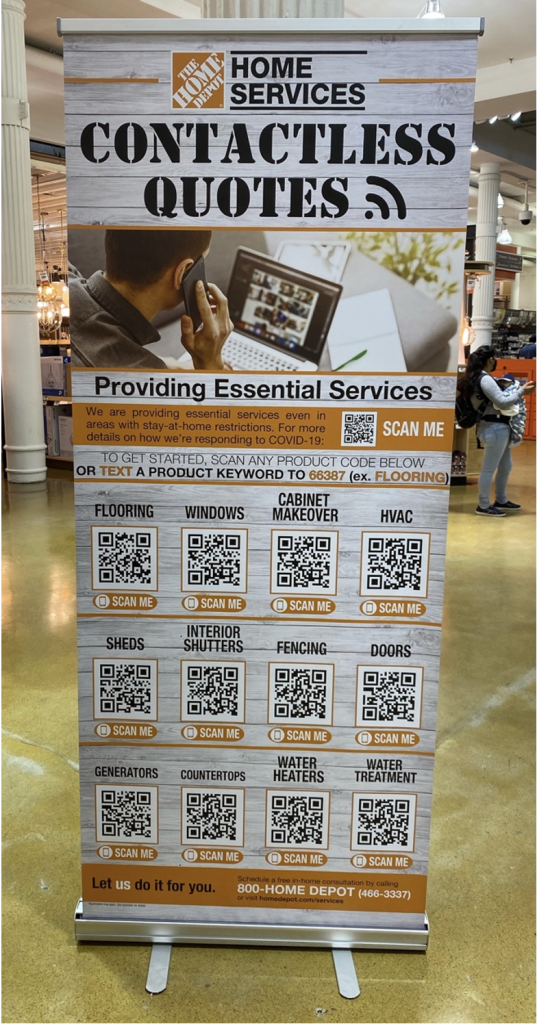 Instead of shoppers wandering around over thousands of square feet to find someone to give them this information, here they're able to simply scan the applicable QR code, which then leads them to resources suited for their specific needs.
Sometimes the "moment of truth" is actually creating a frictionless journey for the shopper. This is something digital experiences do quite well. In this case, Home Depot latched on to that and capitalized on it in store with a novel display that crosses into phygital territory. With this piece of in-store marketing, they also removed a pain point for the shopper. In-home repair and related services save shoppers from one less burden—and from walking thousands of square feet!
In a recent article in Fast Company, Dan Frommer, founder of the publication The New Consumer, said he ultimately sees online shopping as a replenishment platform for items like lipstick and T-shirts.
"The mindless shopping is going to stay online," Frommer said. "The intentional shopping—the browsing, discovery, socializing, learning—will continue to happen in stores."
What have we learned?
Well, let's summarize
Shopper's expectations on immediacy (on anything related to product, knowledge, engagement, purchase) has grown in leaps and bounds.
The expectation is that the shopper's in-store experience should mirror the online one.
Shopper's desire—above many things, product information. And they don't want to have to search for it.
The "moment of truth" continues to exist in store. In fact, it's likely a stronger opportunity for a retailer or brand to sell because the physical product is right within reach of the consumer. But that encounter with the brand needs to be as engaging as any social media post, digital ad or website homepage. It's got to be of value to the shopper in addressing their pain points and quickly be able to tune in to their own channel (WIIFM) and broadcast accordingly.
At Medallion Retail, we have a deep understanding of the consumer pathways to purchase. We understand the immense benefits of the physical, tangible and haptic shopper experiences in store and the tremendous value that point-of-purchase displays and signage plays in that experience.
While consumer shopping habits may have been altered in the past year, our basic human nature hasn't changed. We still desire to interact in our physical environments. And if retailers and brands can give their shoppers a fast, easy and safe way of exploring that physical world at retail, they will be continuously rewarded with new, loyal and repeat shoppers.
For more insights on engaging your shoppers with informative and interactive signage and displays, contact Medallion's Chris Gordon @ 646.677.5618
Ready to connect to your customers in a more meaningful way?
CONTACT OUR TEAM