Strategy, Creativity, Signage, Permanent, Temporary, Corrugated Display, Production, Retail Marketing, In-Store Marketing, Retail Display, Consumer Behaviors, Case Studies
Window Display Goes Big Just in Time for Holiday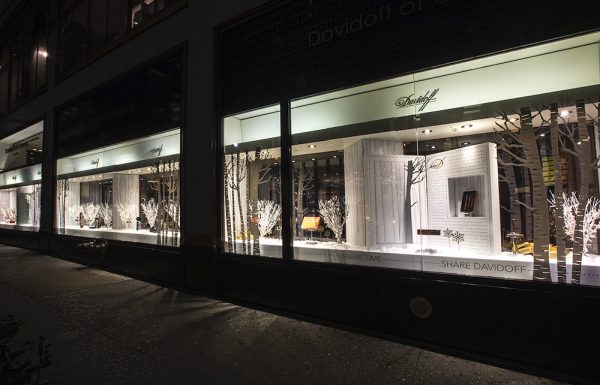 In a world where we are bombarded with constant information, art is still one of the biggest forms of inspiration. When harnessed in the retail sphere, art draws customers in, evokes emotion and tells a story. Window display is a highly visual experience and in high-volume foot traffic environments, where hundreds—if not thousands—of customers pass a store each day, window displays can be a defining factor driving store traffic. [bctt tweet="Window display has been around, well, as long as anyone can remember. Today, with advanced materials and technologies, brands can leverage the art and science of window storytelling in new ways." username="medallionretail"] By creating a narrative, retailers reach customers in an organic way, piquing interest, communicating values, and more. And as the holidays approach, it's more timely than ever to think about crisp weather, cheerful music, and breakthrough window displays (and we use breakthrough intentionally—to see why, read on).
Let's pull back the curtain on ways retail can think bigger with window display for the holidays—and all year round.
Window Display: the retailer's version of curb appeal
 What makes a window display stop a customer in their tracks—whether it's Main Street in a suburban village, a multi-level shopping mall, or a bustling urban center?
We've talked about how brands can leverage retail as a theatrical stage. Retail is embracing multi-sensory, immersive experiences to good results. But what happens when there is a wall—albeit a glass one—between you and your audience? The challenge becomes greater. You have tools are your disposal—the key becomes leveraging them to your advantage.
You have just seconds to entrance passersby before they are onto the next storefront. Window displays can stand out through a mix of four key elements that help break through the noise of the surroundings, create intrigue, and delight customers:
A pop of color can inspire joy or breathe invigorating energy into a display —making all the difference against monochromatic (same-old) city streets. Color can also overcome having your displays washed out by bright sunlight or dim street lighting.
A window doesn't have to be static or stationary. Think of the surprising ways you can portray a scene. Just as our days vary, so can windows—and if a consumer walks past the same window every day, changes can make them take notice. Sound like a lot of effort on your part? Not really, if done with a little creative strategy.
Whether it's the drape of fabric or fancy digital displays, movement can light up a window (literally and figuratively).
As with theater, to dazzle an audience, think multi-dimensionally. Varying materials and depth can turn any window into an evocative mise en scène.
Together, these components spark feelings and create lasting resonance. The majority of purchases are made based on impulse or emotional decisions, so the ability to forge a  connection is paramount for capturing foot traffic.
Storytelling in action
Medallion Retail hit the streets of Manhattan (considered by many to be the epicenter of window displays) to illustrate what's winning over shoppers with visual brand stories. Especially in a highly trafficked areas—whether New York or a mall rotunda—shoppers are engaged with visuals that pique their curiosity and drive engagement.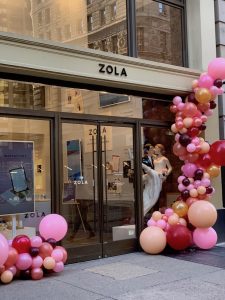 The Zola pop-up was bursting with bridal glee—the spirit spilled over into the street from January to June. The bold, pink colored balloons seen outside the storefront projected the brand's celebratory spirit and put consumers in the mood for love. Lest you think with all the pink, that this was a Valentine's Day window, it wasn't.  The exuberant color palette, the whimsical balloon arrangement, it virtually screamed "reach out and touch."  Or, take a photo and share on your social media. In either case, it drew shoppers closer to the store, where they couldn't help but see the delights that await those who come inside.
We caught a dynamic scene at Loft in the Flatiron District that celebrated spring's first blooms. To accentuate spring product displays in green hues, the mannequins were interspersed with green blades of grass. A week later, spring had sprung with flowers along with a new set of outfits. The changing display was the perfect way for the brand to project its fun, confident energy into the city streets, and give passersby something "new" to look at. Even better, it took store personnel just minutes to effect this cheery transformation.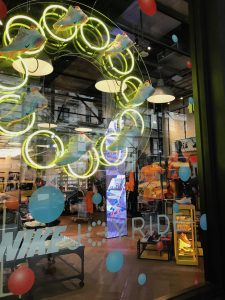 Nike's Soho location has ever-evolving window displays that employ custom neon signs and colorful sculptures to create movement. From a wall of white shoes to a fleet of runner mannequins, the brand's rotating displays depict athleticism through an aesthete lens. The signature windows emulate the brand's hip, experimental, and always on-the-move mentality.
Modern bohemian retailer Anthropologie treats its windows like a multi-layered museum piece. Each and every store has custom seasonal artwork tailored to its location, exhibiting a variety of textures, materials, and more. If the #AnthroWindows hashtag on Instagram is any indication, the store's windows have quite a following.  Store personnel are empowered to create windows that resonate in their particular location and hyper local shopper personas. Given the tools and latitude, creativity thrives and fosters the brand's commitment to being unique and individualistic.
All of these examples communicate their brand particularly well. Even before they see a name on the door, customers understand the identity of a retailer—and the spirit behind it. Check out our Pinterest page for even more window inspiration.
Using your words
Creativity is compelling—but visual art for art's sake doesn't always send a message. We can't discount the power of words to punch up a good display and make it a great one. Adding wordplay into the mix can help your message come through loud and clear. And sometimes, a minimalist display that relies on words can go just as far as a maximalist scene.
These windows captured outside of outdoors and apparel retailer Orvis clearly communicate the brand's values: they love dogs—probably just as much as their shoppers do. Orvis clearly has an insight into their shopper personas. We'd venture to guess that the Orvis enthusiast is also a passionate canine lover. Imagine heading out for a fall hike in your gear with your trusty hound at your side. While apparel in the windows may not illustrate that Orvis carries dog products, the dog-friendly messaging is sure to entice pet owners who pass by, and might even encourage a few to shop for and with their furry friends.
Medallion Retail played with both words and visual storytelling for the ultra sophisticated holiday windows we created for premium cigar brand Davidoff of Geneva.  Our windows, a full city block long in NYC and slightly less grandiose in major markets across the country, captured the luxury of time in a wintry scene that conveyed indulgence, pleasure, and classic style. These components all work together to illustrate the brand's message that leisure time should be shared and enjoyed with a cigar in hand.
Sharing your brand's story
Vibrant windows bring your brand vision to life. When determining how to depict your brand during the holidays and beyond, ask yourself the following:
Are your windows communicative or merely creative?
What story are you trying to tell—and are you thinking outside of the box to narrate it?
Are you incorporating color, dynamism, movement, and texture into your displays?
Are you tapping into your brand's shopper personas and creating displays that resonate with their motivations and behaviors?
How can you use wordplay to strategically highlight your message?
Do your displays spark emotion and help the consumer build a connection with your brand?
Medallion Retail has a legacy of over 50 years of brand storytelling and creativity. We can help you share your story and capture foot traffic with breakthrough window displays. Reach out to Chris at engage@medallionretail.comto learn more.
Ready to connect to your customers in a more meaningful way?
CONTACT OUR TEAM