Strategy, Creativity, Signage, Permanent, Temporary, Corrugated Display, Brand Positioning, In-Store Marketing, Consumer Behaviors
Retail Personalities:
How 5 Brands Excel at Expressing Theirs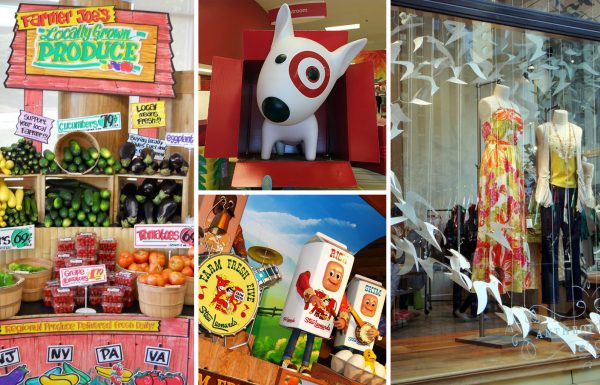 I had an interesting childhood growing up with a mother who dressed windows and retail displays in Southern Florida. Many memories of tagging along with Mom while she draped windows in fabric, outfitted mannequins and stapled lots of things to walls. And on the rare occasion, I was lucky enough to go with her when she had gigs at a local department store, after hours. Exploring a darkened department store might have creeped out many less adventurous kids (think The Twilight Zone when the mannequins come alive), but for me, it was like a trip to my own amusement park.
Strolling down the empty aisles, looking up at the perfectly dressed mannequins with their exquisite lacquered coifs, peering through the Tiffany display cases at the sparkling jewelry… I remember thinking then, this is just about the best place on earth – ever.
That was the beginning of my emotional love affair with retail.
The sometimes-emotional connections that are made at retail – no, not digitally, but in brick-and-mortar stores – should not be underestimated when it comes to forging long-lasting and progressive relationships. In a time when there are so many choices, how customers feel about you is currency. And if the relationship between you and your customer is a strong and mutually beneficial one, that "friendship" can outlive a lot of the challenges (like pandemics) thrown in your way.
But in this age of digital and online, how do some retailers or brands create a physical representation of themselves, their value, their story and their personalities?
At the risk of sounding trite, maybe it just comes down to knowing who you are.
A few years back (pre-pandemic) I was in a mall, sitting on a bench facing an Apple store while waiting to meet a friend. I like to watch people in stores, how they move about, where they dwell, their reactions, facial expressions and interactions with each other and store staff. And the Apple store had this expansive window from which I could view almost everything going on inside.
There are multiple things happening in a physical store, many of them at the same time. As a retailer, no digital experience can give you all the insights and nuances of human interaction with the environment better than actually watching it happen in front of you. I mean, a digital transaction can't track a smile, or a frown. Well, maybe there is technology that can, but most stores don't. And it is these small, frequently occurring encounters that tell you so much about who your customers are; what they like, what they gravitate towards and what connects with them emotionally.
As I watched the shopper traffic in the Apple store, particularly the many interactions with store personnel, it suddenly hit me. I wasn't looking at just a store…
…I was looking at a computer.
With the clean and linear design of the store, devoid of clutter, product wasn't the star here. Information and answers were.
The store literally mimics a computer. Its staff are microchips aligning with every shopper request (just like a keystroke). Instead of wiring and circuitry, Apple employees served up help, advice and direction, quickly. Expeditiously. Confidently. Yes, in the end, this will likely lead to a purchase – but really that was almost a given. The shopper was, after all, in the store to explore Apple's products in the first place.
What the shopper really was saying was – "I have a need, can you help me?" And just like you've come to expect from a computer, the exchange was fast, customized to each inquiry and provided a resolution that addressed the needs of the user.
Apple's personality is that of a computer. Maybe it's not warm and fuzzy. That's okay. Does it need to be? After all, you don't expect your computer to hug you. But, you do want it to work, help answer questions for you, make life easier – faster – more aligned. Seems to make sense, right?
In thinking about this small yet interesting revelation, I wondered further… Are there other, perhaps not as obvious, examples of brands or retailers that embed themselves into the hearts and minds of their shoppers through a "personality"? Perhaps one that is not so obvious but subliminal? Less about what you see and more about how it all makes you feel? The answer is yes…but the bigger question is…how?
In this piece we'll explore five brands/retailers that have crafted and perfected their own unique personalities. Some are obvious ones in terms of their success in being able to translate who they are and have it resonate with their customers across all touch points in-store and out.
But when you begin to associate the "what they are" with the things they do, you'll come to realize it's not just about product or price, it's about the sometimes-subconscious emotional connections that are made that signal to the shopper, "Hey, I like this place," as if it were a close friend.
Target – It's a surprise party!
And it's a party filled with fun, cool grab bags. You're never sure what your prize will be, but you know it's going to be great.
It's colorful, playful, lighthearted! Think of confetti and party balloons.
It's about cool ideas, on-trend products, exploration. If it's new, just launched, you will meet it at Target.
And it's easy. Just like a party – you get the invite, you go, you have a great time, walk away with cool stuff and you don't have to clean up afterwards!
Target is the micro-sized department store that keeps it cool, modern, fun and ever-changing. Though you know where the departments are, Target constantly refreshes, and it doesn't get boring. I mean – who goes to a party and expects boring? It seems like there's always a surprise around the next aisle. Something new. Something different. Something you haven't seen before. And if you have, they do such a great job of merchandising – you experience your encounter in a different way – like it's the first time you're seeing it.
It's the small things that they really focus on as well, like cleanliness, lack of clutter, grouping of merchandise (particularly around holidays big and small). Everything seems to be where you need it. Don't get me wrong, I love Macy's Herald Square. But the idea of having to navigate multiple floors, directories and escalators to find what I'm looking for is not my idea of fun.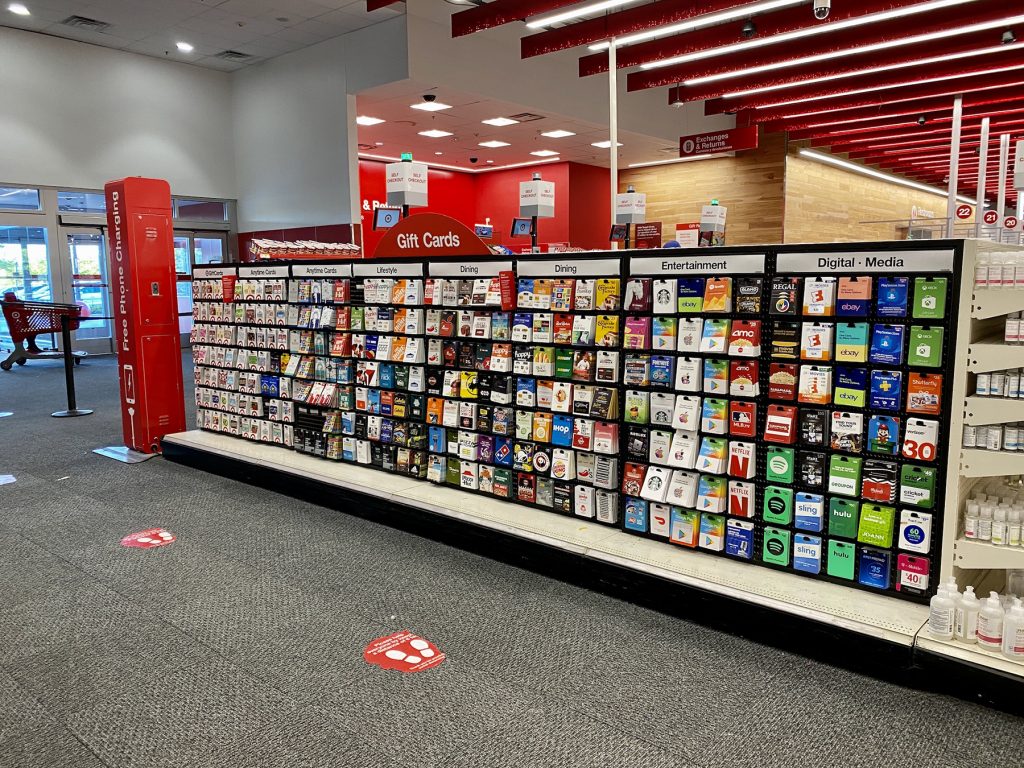 Having your household department only an aisle or two away from your cosmetics department saves time and effort. Making things easy is something we all need today. Time is currency to shoppers. I mean, where else will you encounter a wall of gift cards displayed by category, like in a library. Gift cards may not be sexy, but when you have to do some quick shopping, why should you have to sacrifice quality and options over convenience, and wander all over the store to find them?
Ace Hardware – It's your favorite Uncle Bill who lives next door – who knows a lot of stuff you don't.
They know what you don't know, but don't judge you.
They are mini-consultants (without the consulting fee) who can give you the best advice for everything from what lawn seed is best to taking care of that wasp's nest under your roof overhang.
Their recommendations are often tried and true – meaning they frequently use the very products they're recommending and can give firsthand advice.
They know you, your family, your next-door neighbors – heck, they even know your dog's name because they're locals.
It's little wonder why Ace Hardware is the choice for many over big-box players like The Home Depot and Lowe's. They're part of the community, owned and operated by people who actually live in the neighborhoods they operate in. The employees know you like a neighbor and can provide you not only with advice and ideas, but also local resources to get the work done.
Online is not their thing. Person to person is. Because their focus is on the maintenance and repair of one of your largest investments – your home – they help you troubleshoot and fix your problem, or at least help you make your situation better rather than level everything.

The diversity of offerings is also one of Ace's strengths. Because their stores are franchises, local owners who have a personal and financial investment in the success of the store can make the decision to carry certain merchandise. In a local store that I often shop at, they actually have a small boutique in-store that sells women's apparel, jewelry and accessories as well as decorative items for the home. Not something you'd see in Home Depot. It's no wonder that J.D. Power put Ace at the top of its customer satisfaction ratings, and has done so 11 years in a row.
It's not only the diversity of offerings by region or locale, but also that here size counts, or should I say, lack of size. The typical Ace store is roughly 8,000 sq. ft. as compared to a Home Depot at 100,000 sq. ft. Try finding answers to your questions across 100,000 sq. ft., let alone finding a person to answer them.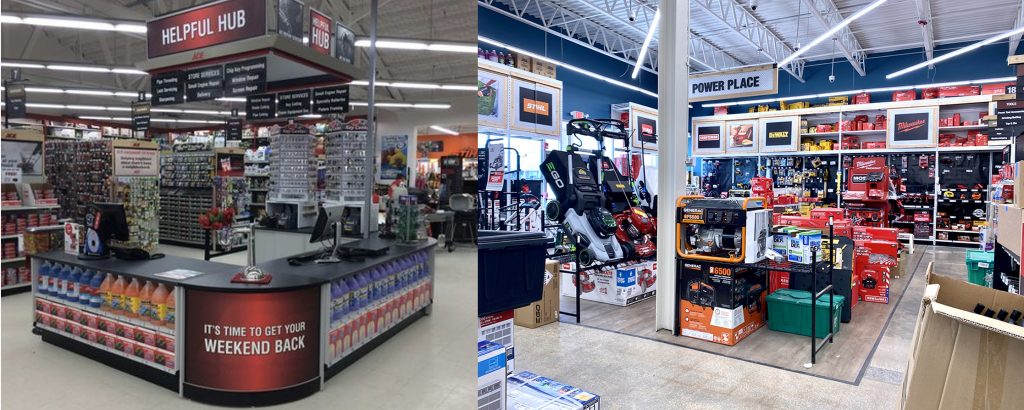 We've written about the dilemma of having help in store and leaning into the pain points and questions of the consumer. Small, curated experiences, like the ones that Ace offers, speak volumes regarding its ability to reassure the shopper: "You've come to the right place."
And like your Uncle Bill's house, you won't need a map to find him or his help.
Trader Joe's – Your grandmother's neighborhood butcher shop run by an eccentric uncle (Bill's older brother Joe)
It's like a toy store for adults who love food – especially different food and new flavors – and looking for culinary diversity.
It's a family store – meaning you feel like it's been in your family a long time.
They have a sense of humor. Unpretentious. A little corny, but funny just the same.
Let's face it, over the years Trader Joe's has become this quirky but resilient player in the grocery category; disrupting and almost completely rewriting what the grocery experience has become; harkening back to a time where life was simpler and an excursion to the market to shop could actually be one you (and your family) looked forward to.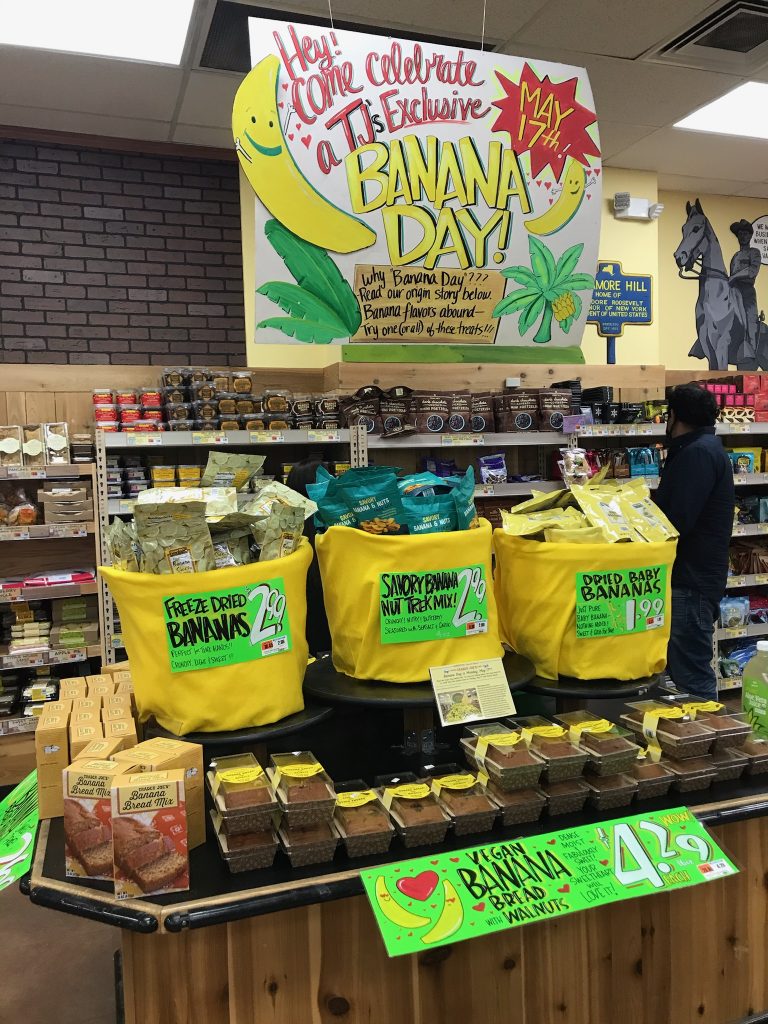 Much of their success has been attributed to their unconventional and sometimes unorthodox way of connecting with their shoppers which has led to almost a cult-like status with young and seasoned shoppers alike. And why? Because they've taken that routine trip to the grocery store and turned it into a nostalgic, nutty and fun adventure where something new awaits you every visit in-store. Where tongue-in-cheek signage not only serves up helpful advice but does so with a healthy dose of cheeky humor that just about anyone can relate to. Where staff are hired for their "sense of adventure," their ability to make people smile and their absolute love of food.
And these small personality traits of their people influence the store's overall personality, bringing it to life, every day. Where else could you go grocery shopping and find such great food that's fresh, different and delightful and have your kids be as easily entertained as you are?
And as if you weren't made happy enough, let's not forget about their newsletter, the Fearless Flyer. This extremely funny publication is made available to shoppers in digital and print form and never fails in its ability to make people burst out laughing while reading mundane things – like a pot roast recipe.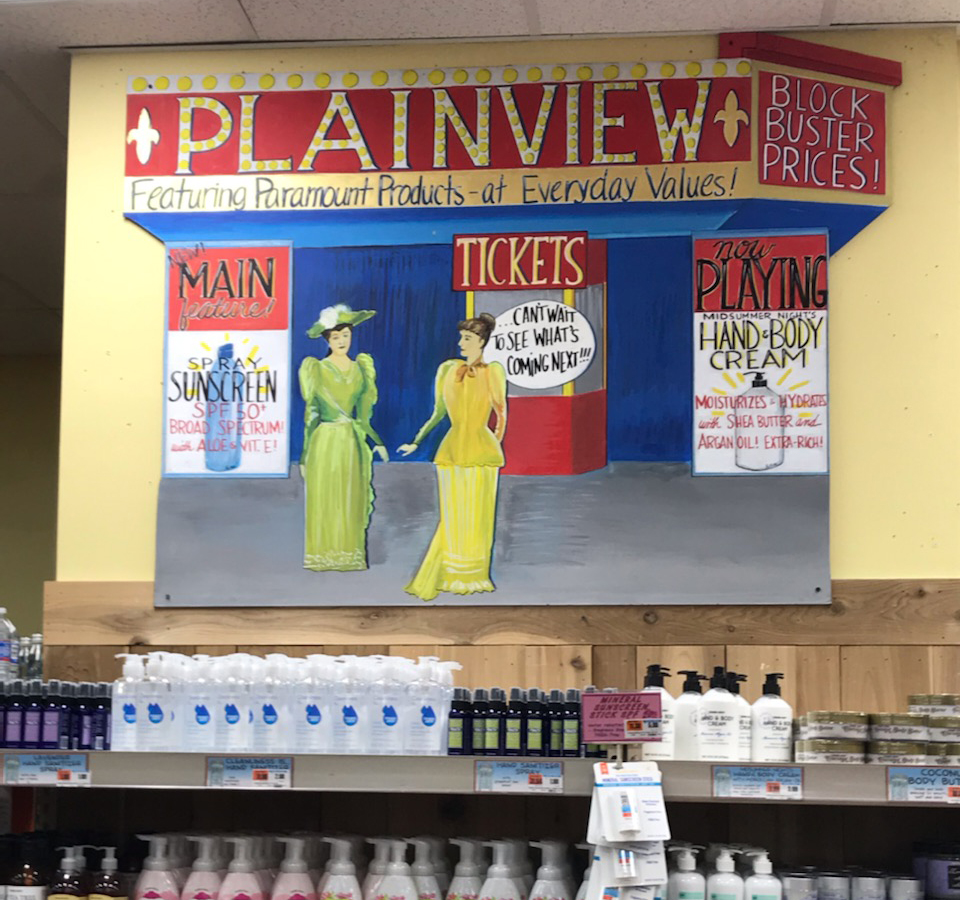 At Trader Joe's, details matter. From hand-lettered signage created by local artists, to overhead placards that play off of words, sayings or song lyrics or that present interesting local factoids – celebrating their community and heritage.
Spending time in a Trader Joe's is a culinary and comedic adventure that continues in your mind (and tummy) long after you have left the store. And it is the reason why people have such an emotional connection with them and why people continue to return to shop with them.
Stew Leonard's – It's not a supermarket. It's Disneyland (but with much better food)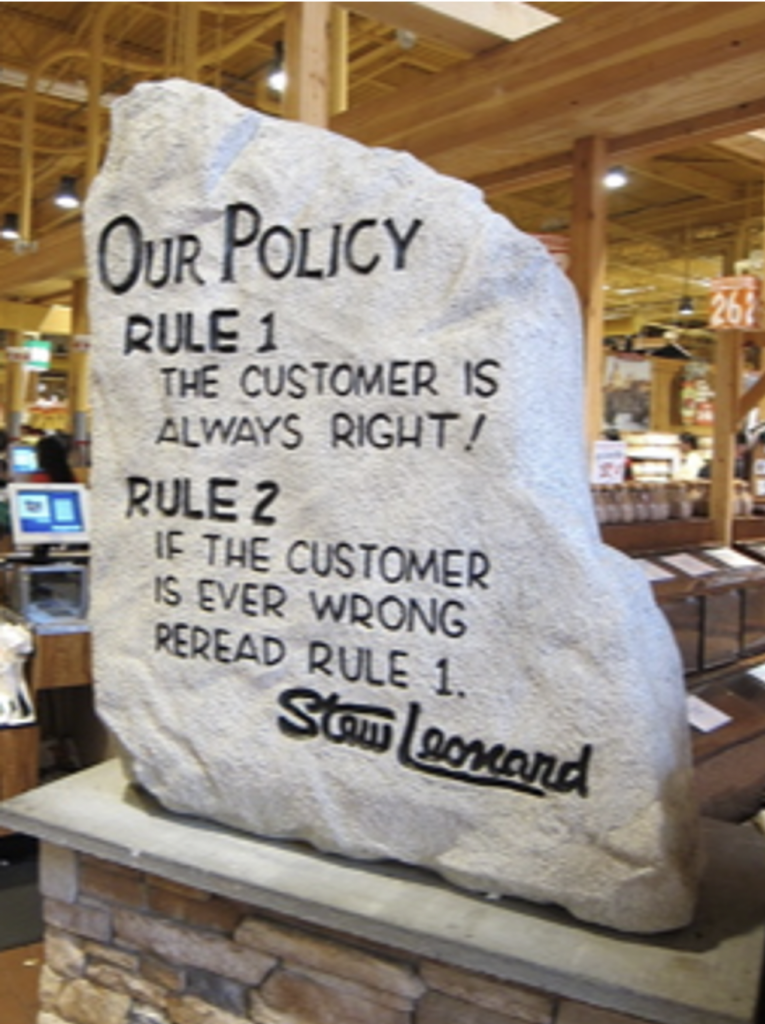 It's a state fair, a backyard barbeque, an amusement park, a farmer's market.
It's familiar but encourages discovery. It's like a family reunion where you meet new cousins (and you actually like them).
Since their humble beginnings back in 1969, when founder Charles Leo Leonard had to rethink his business model when a planned highway was set to run right through his Norwalk, CT, dairy store, Stew Leonard's has grown to be a grocery business unlike any operating today in the United States. Their original idea of letting children watch cows being milked while mothers went about doing their shopping was a novel one at that time, but who would've guessed it would grow to such popularity and become a pioneering leader in experiential retail.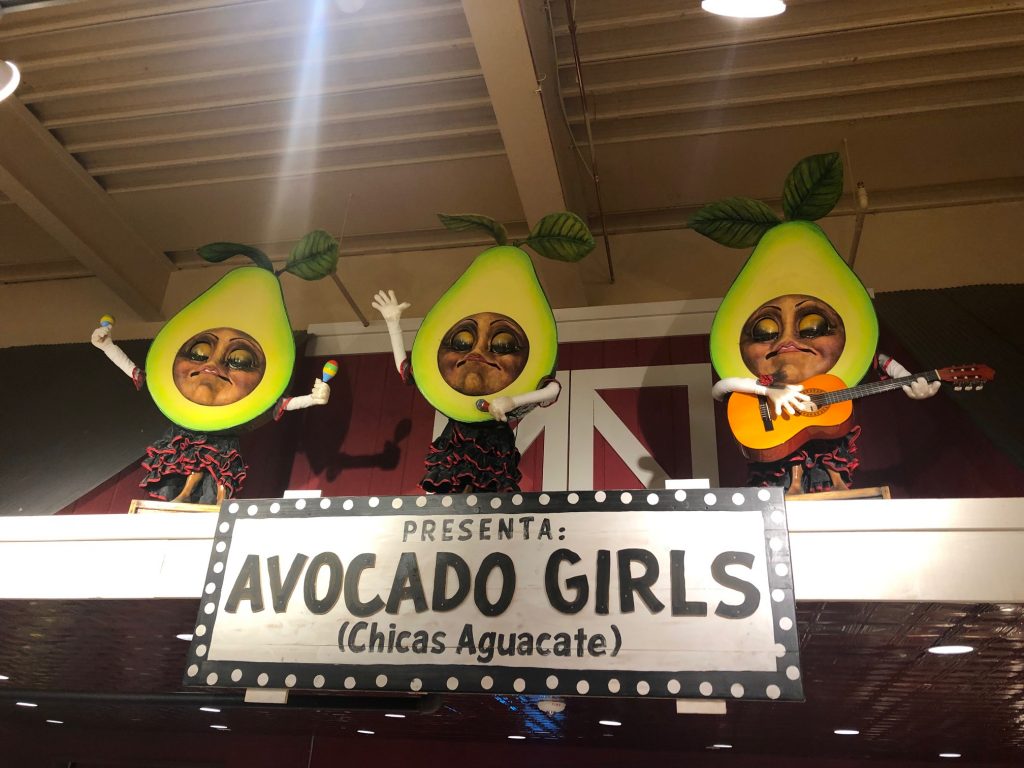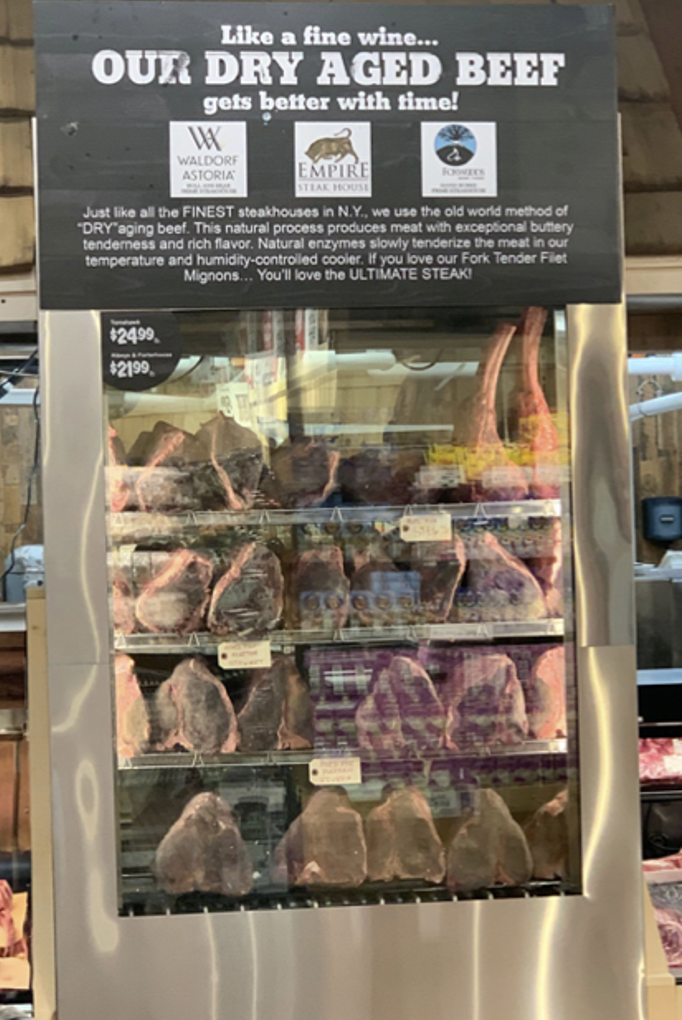 In 1992, Stew Leonard's earned entry into The Guinness Book of World Records for having "the greatest sales per unit area of any single food store in the United States." I guess their business philosophy of "Take good care of your people and they in turn will take good care of your customers" rings true. It's the experience, not just the price points, that counts. And Stew Leonard's has long since recognized the importance of paying attention to their customers and making them feel happy, entertained and fulfilled.
Walking into a Stew Leonard's is like a visit to the state fair – except you don't have to buy a ticket to get in. And the fun only just begins at the petting zoo. Everything is meant to cause curiosity, joy and engagement, and savoring the experience – like eating a delicious cake, one small bite at a time.
All things keep the human factor high on the list and hit all age demographics. From the distracted mom who needs to get her shopping done and junior entertained, to the picky millennial who wants only the best in fresh produce and grass-fed beef. They ask, watch and listen intently to shoppers. And they demonstrate that they've listened carefully by giving their shoppers what they want, and more.
Like creating "half pies" (created in their on-premises bakery that opens at 3 a.m. every day) so shoppers won't have to commit to just one flavor. Or doing what they call "show and sell" the Stew Leonard's way, by taking a 100-pound tuna and brining it out in the aisle, cutting it right in front of the customers.
And as if you needed more, there are the animatronic stage productions going on overhead. From a singing Chiquita Banana to Clover the Cow who moos at the push of a button, these whimsical distractions are all designed to have you imagine yourself not in a grocery store, but in a happy and magical place (yeah – like Disney World). Some place you want to definitely come back to and maybe bring some friends. When was the last time you wanted to bring your friends and family to your local chain supermarket?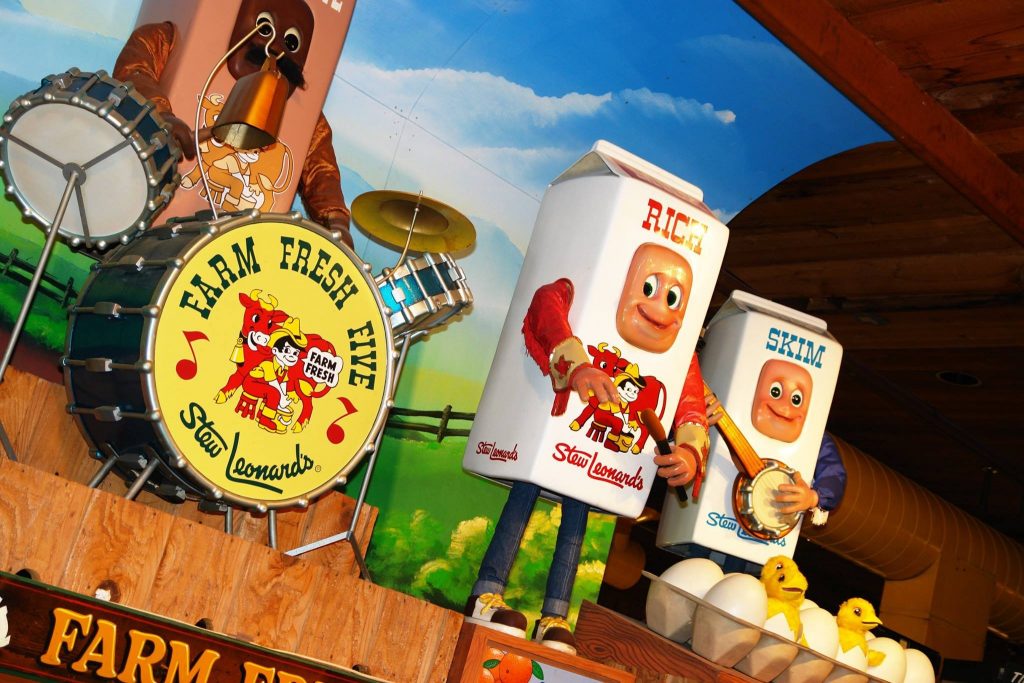 Anthropologie – It's not a clothing store, it's a stage set. A live inspiration board. An art gallery.
Fantasy evoking displays, makes you feel like you're walking onto a stage set.
Textures, details and things made out of everyday items like coffee filters, buttons and wine corks.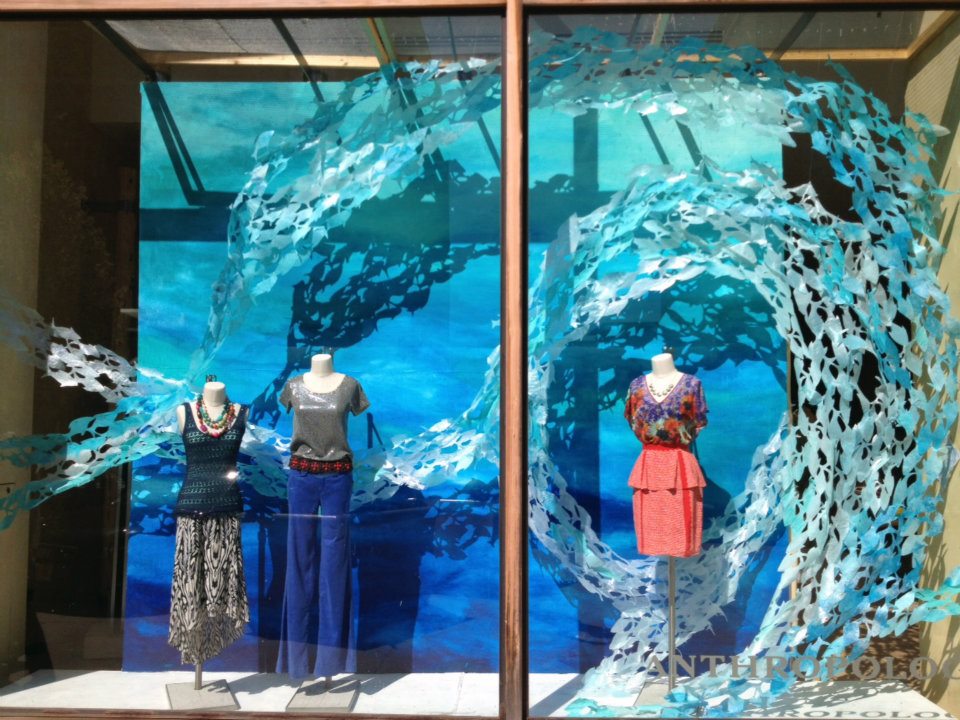 It's hard not to walk into an Anthropologie store and not feel some long-denied crafting goddess stirring in your soul. Everything and every area within the store is designed to be explored and taken in one small piece at a time – and often that doesn't even include the clothing. In a recent interview with Racked, Creative Director Missy Peltz said "We have this romantic notion that people still want to be inspired. Not only by a garment or gadget, but by an experience or scent. We want to immerse the customer in a complete experience by appealing to all of her senses."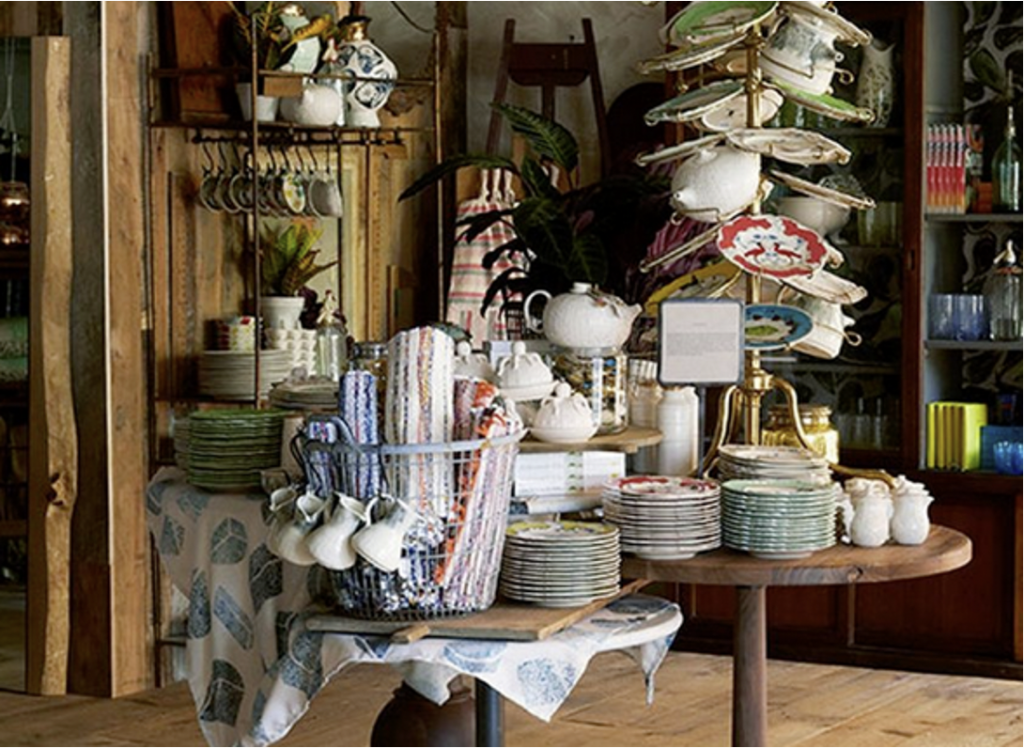 Even down to the glass cabinet knobs on some of the vintage wardrobes where they display vintage-style teacups and matching plates, the store is like an inspirational collage where bohemian gypsy chic sets the stage and embroidered peasant blouses adorn the actors.
With 1.5 million followers on their Pinterest page alone, Anthropologie has developed a devoted and engaged following, and remarkably, the interest is driven by their visual presentations rather than their clothing. In fact, people are so obsessed with their displays that they actually seek to purchase them. According to House Beautiful, if you see a display or piece of furniture in one of their stores, ask a sales associate if you can make an offer to purchase it and it could be yours – with the money then donated by them to charity (a win-win).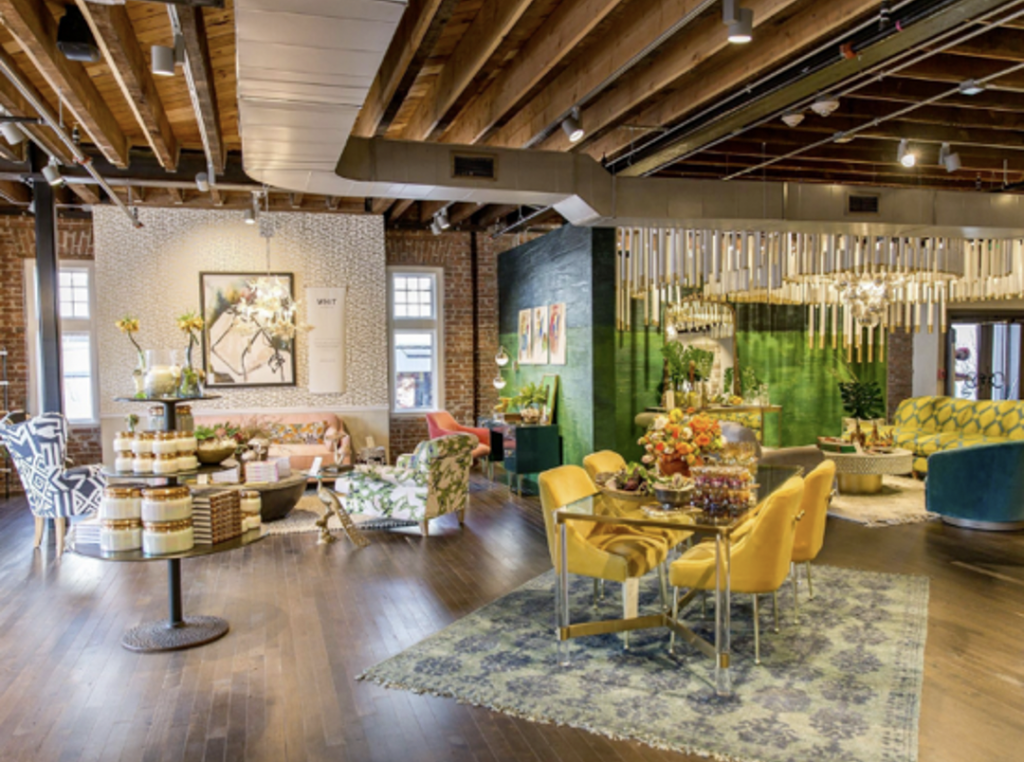 The thing is, Anthropologie is a place you visit in order to downshift. You feel it the minute you walk through their doors. From the light and fragrant scent of burning candles wafting through the store, the explosion of colors and textures, to their indie playlists, it's meant to set up a calming and relaxing journey of inspiration and visual recreation. No pushy sales staff. No one to wake you from your meditative state.
Even if you don't buy anything (but you will), you will want to return again – because you know they'll have something new to explore and become entranced by. It's true that there are other places where you might go to pick up that blouse or espadrilles (and there are many that go out of their way to tell you that).
But what draws the shopper to Anthropologie is the way they make you feel about the shopping experience overall. The merchandise is just icing on the cake.
Suffice to say that there are many, many elements at play when shoppers enter a store.
Their mood can be influenced by what happened earlier that day, or the mission they're on or even the weather. Much of it you don't have control over.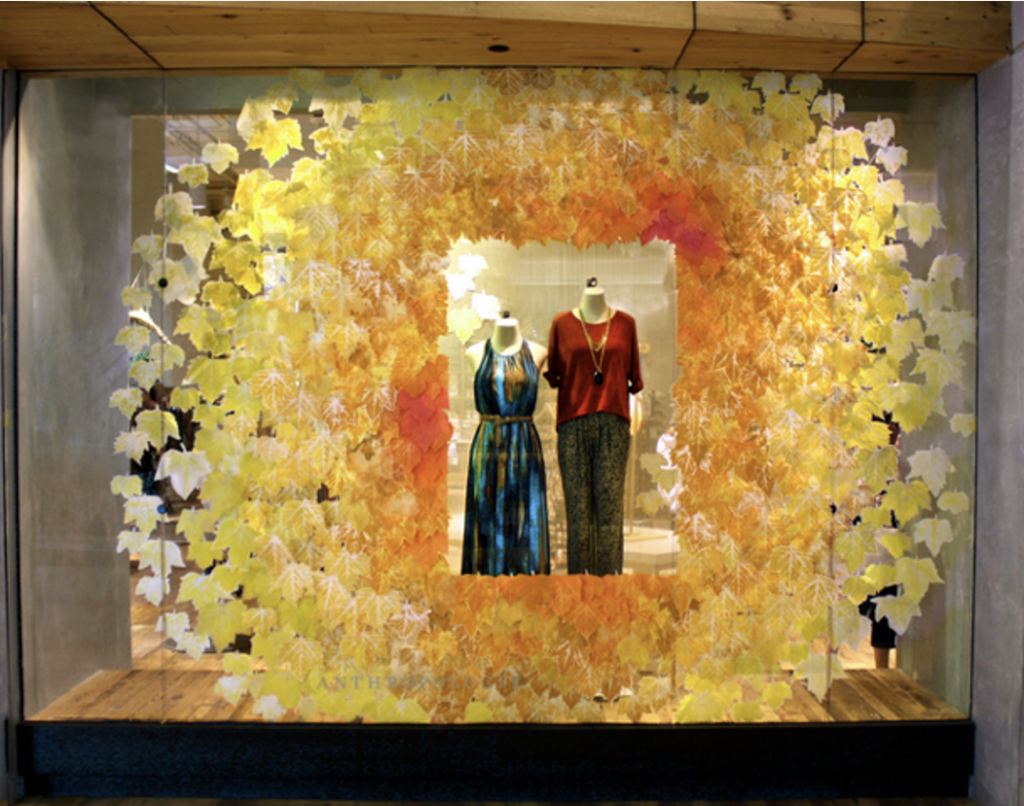 But what you do have control over is helping to transition the mindset of shoppers as they cross over your threshold, to one that is willing, open and receptive to your messaging. Sometimes that's a formula of many different ingredients like nostalgia, entertainment, education or pure wonderment. But in order to understand what motivates, stirs or resonates in the heart and minds of your customers you have to understand why they might seek you out in the first place. Then, don't just deliver it, but create it right before their very eyes, in a multi-sensory experience that sets you apart from others. And then repeat, repeat, repeat.
The trick is not just giving your shoppers what they came for, but giving them something more, something that they didn't expect. That's showmanship. And that's what your personality will be known for – and will guarantee that shoppers continue to come back for more, time and time again, no matter how many other choices they might have.
There's so much inspiration to be found out there. Especially now, when brick-and-mortar stores are revving up their experiential motors in an attempt to entice shoppers to return in-store. Although we've spotlighted better known and established brands here, there are also many independents worth mentioning, forging new frontiers and creating memorable experiences at retail and worth exploring.
Stick with us for Part 2 of our "Store Personalities" series where we take a look at some independent brands and retailers and what they're doing to redefine the in-store experience and create memorable and distinct personalities for their brands. Something you'll also want to read.
Did we strike a chord with you today? Are you looking to embrace your brand's in-store personality to the fullest and have your shoppers do the same? Then give Medallion's Chris Gordon a call @ 646.677.5618. You'll like his personality – but even better, you'll love his ideas!
Ready to connect to your customers in a more meaningful way?
CONTACT OUR TEAM