Strategy, Creativity, Brand Positioning, Retail Marketing, In-Store Marketing
A Retail Marketing Force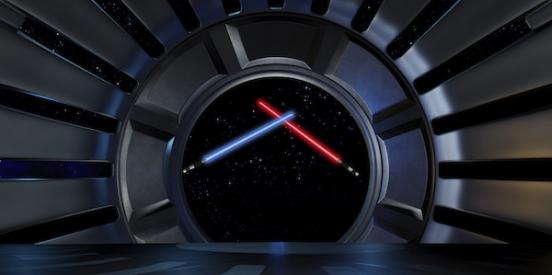 You'd have to be living on Tatooine to not know that the seventh installment of the world's most beloved space saga opened last week. After months of speculation and anticipation, The Force Awakens has exceeded all artistic and financial expectations.
Fans greeted the film with rapturous jubilation. Critics also had great things to say about it, and director JJ Abrams.  The consensus is that Abrams has worked the same regenerative miracle with the Star Wars franchise that he previously pulled off with his Star Trek movies, taking the series back to its roots while giving it a fresh look and contemporary sensibility.  (Clearly, I was impressed.)
The money guys were too.
The Force Awakens launched with a box office of $238 million dollars last weekend, the biggest three-day opening in Hollywood history. (Sorry, Jurassic Park.)
According to Rentrak's PostTrak exit polls, 88 percent of moviegoers said that they would recommend The Force Awakens to a friend, while 54 percent said Episode VII exceeded their expectations. Ninety-five percent of those polled said they knew five people who were going to come out and watch The Force Awakens in the days to come.
The record-breaking opening and early-run business will only serve to stoke merchandising and licensing sales, which analysts project will hit $3 billion.
I'm not sharing all this to inspire you to click around the interwebs for some sweet Kylo Ren merch before it's all gone (though you should). Rather, I present the premiere of The Force Awakens as an example of a never-before-seen marketing juggernaut (and yes, it doesn't hurt to be iconic in popular culture). What are the big takeaways that retail marketers can use to create epic in-store experiences?
Be a tease. The Star Wars marketing machine made sure that fans were given just enough info to make them crazy for more. Fun facts and visuals were parceled out slowly, building curiosity and buzz. The told just enough of the story to be maddeningly intriguing, yet held enough back to create FOMO among fans.
Keep secrets. Allow for the thrill of discovery, and the follow-up pleasure of knowing something before others do. Details about the film's plot, cast and effects were slowly dripped to a hungry press and public over the course of months, but there were many specifics that were saved for the actual movie-going experience.
Activate brand advocates. A huge part of the attention swell for The Force Awakens was created by hardcore fans of the franchise. Movie marketers identified their biggest supporters, and treated them like insiders by giving them advanced information and visuals. These influencers then shared what they knew – and what they suspected – all over social media.
Time it right. They say good timing is everything. Whoever they are, they're right. The December-timed premiere of The Force Awakens was a strategic choice to take advantage of the increase of movie consumption over the holidays.
Go big. 'nuff said.
Ready to connect to your customers in a more meaningful way?
CONTACT OUR TEAM